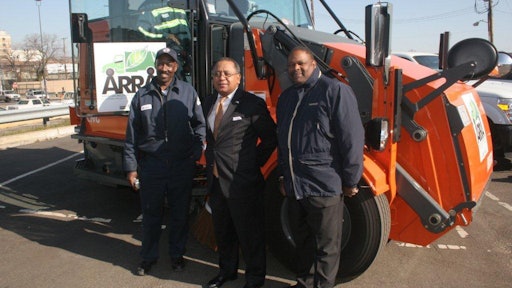 Elgin Sweeper, a manufacturer of street sweepers for general street maintenance, special industrial and airport applications, announced that the District of Columbia has added two new compressed natural gas-fueled Pelican broom sweepers. It has also added two CNG-fueled refuse trucks and six ethanol-fueled heavy-duty trucks to the city's public works fleet. The new alternative-fueled vehicles will be used for street sweeping, trash collection, snow removal and other services.
"The vehicles we are putting into service symbolize our commitment to taking a Sustainable DC to the next level," said D.C. Mayor Vincent C. Gray. "We have more than 1,400 alternative-fuel vehicles in our fleet, which is a 47-percent increase over 2010. By investing in heavy- and medium-duty vehicles that use alternative fuels, we will achieve a higher per-vehicle reduction in emissions."
The District has been recognized in recent years for its leadership in the use of alternative-fuel vehicles and has ranked among the top 20 green fleets for pioneering the use of alternative-fuel vehicles.
The Pelican is Elgin Sweeper's flagship product. This three-wheel broom sweeper features outstanding maneuverability, visibility, a 10 foot sweeping path and the heavy-duty No-Jam debris conveyor. The Pelican sweeper may also be powered by liquefied natural gas (LNG) or liquefied petroleum gas (LPG).
The alternative-fueled, single-engine Pelican is powered by the ultra-low emissions Cummins B5.9-195G engine that is certified to U.S. EPA and CARB standards and Euro V and EEV. The engine offers low emissions without sacrificing performance and efficiency.
A clear, odorless, and non-corrosive gas, CNG has become an ideal energy source for the future. LNG is an alternative fuel that is economical, abundant in supply and produces approximately 10 percent of the pollutants normally emitted by traditional gasoline or diesel engines. LPG, or propane, is a low-emission, economic and easily used fuel with a long and varied history in transportation applications since its inception as a motor vehicle fuel. Vehicles powered by CNG, LNG and LPG are used in a wide variety of commercial applications, including light-duty trucks and sedans, medium-duty trucks, and heavy-duty vehicles like sweepers, refuse haulers and transit buses.