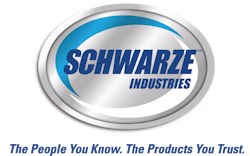 Schwarze announces leadership changes including president, vice president of sales and marketing, natinal sales manager, customer service manager and plant manager.
Howard May has been appointed President of Schwarze Industries Inc. effective immediately. May, who has been on assignment at Schwarze since November 2011, joined Schwarze's Selma, Alabama based sister company, Bush Hog, in 2007 as Vice President- Operations. 
Greg comes to Schwarze as the vice president of sales and marketing. He comes from Heil Trailer International, where he served as their Global VP if Sales, Marketing & Customer Service. 
As the national sales manager, Joe Hendrickson will lead the Dealer and Contractor sales force. Joe has held several roles within the Sales and Marketing department during his 5 year tenure. 
Brenda Bell has been promoted to Customer Service Manager Brenda has held several positions roles in Sales as well as finance during her 10 year career at Schwarze Industries. Reporting to Brenda will be Parts Sales Representatives Carla Cagle and Daniel Akins.
Kevin Lozen has joined the Company as its Plant Manager. Kevin comes to Schwarze from Florida Production Engineering Inc. where he served 5 years as its Plant Manager.