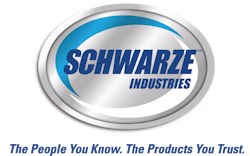 Schwarze Industries announced the hiring of Cesare Bernardi as Regional Sales Manager of the Western Region. Cesare will report to Greg Heyer, VP of Sales, Marketing, & Customer Service at Schwarze Industries.
Cesare comes to Schwarze with a diversified sales and business management background. Cesare has 17 years experience in the sweeper industry with Elgin Sweeper Company, where he held increasing levels of responsibility in domestic & international sales, management and marketing.
Cesare resides in the San Diego, CA area.