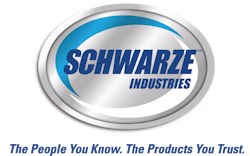 Schwarze Industries, has developed a patent pending, fuel-efficient, stainless steel, low profile twin engine sweeper on a Half Ton V6 chassis.
The new design optimizes hopper capacity while keeping the height at 6'8" and weight below the chassis' GVW rating when full. The patent pending design includes several new features including a redesigned storage area and increased screen area.  
 
The Updraft is extremely powerful, easy to clean and allows clear access and visibility to all valves and fittings. The low profile is ideal for parking garages and areas where height is a concern.
The new SuperVac Updraft comes in response to customer feedback and ideas to better meet the needs of all sweeping contractors. Greg Heyer, Vice President of Sales, Marketing, Product Management & Customer Service at Schwarze, explains: "We've spent time researching similar products in the marketplace and have worked closely with our customers to understand the design features and desired benefits that are important to them in this type of product. We are extremely excited about the new SuperVac Updraft. Our product development team has done a fantastic job of designing, engineering and testing such an innovative and cost efficient sweeper." 
The SuperVac Updraft is available for immediate demonstration and sale. Please contact the Schwarze factory at 800.879.7933 or visit www.schwarze.com for further information and to schedule a demo.