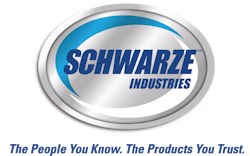 Schwarze Industries is pleased to announce a special sponsorship with Free 2 Teach, a not-for-profit organization that provides free resources to more than 3,800 full-time classroom teachers and their 52,000 students in Madison County's three public school systems.
The sponsorship is part of Schwarze's ongoing commitment to support and make a meaningful difference in the Huntsville community. Greg Heyer, Vice President of Sales, Marketing, Customer Service & Product Management of Schwarze explains, "In this growing area, Free 2 Teach plays an important role in fueling growth, improving the educational experience of our children and strengthening our community's future workforce."
Students need supplies to learn. Teachers need tools to teach. Our community needs young people to drive our future.  Free 2 Teach is the connection point for these needs.  Connecting teachers with a multitude of resources including traditional school supplies, office supplies, math and science resources, craft items, room décor, books, furniture and more.
Teachers spend between five-hundred and fifteen-hundred dollars of their own money every year to buy supplies for their students and classrooms. Free 2 Teach is committed to easing the personal financial burden of those teachers. Each teacher who shops at the Free 2 Teach store leaves with an average of $400 in free classroom resources. 
Schwarze will continue to actively support Free 2 Teach events held throughout the year. Earlier this year Schwarze was pleased to support the Paper Chase 5k Race held by Free 2 Teach in Huntsville, Alabama. Over 200 runners of all ages participated in this event and a total of $25,000 was raised.