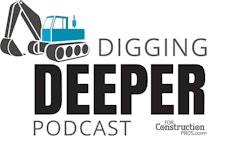 In February 2019, Toro announced its acquisition of Charles Machine Works – parent company of the iconic underground utility construction equipment brand, Ditch Witch. While attending The International Construction and Utility Equipment Exposition 2019 (ICUEE) October 1st, 2019, Equipment Today's Becky Schultz got a chance to speak with Toro's Group Vice President, Construction Businesses, Rick Rodier about the brands' futures and the acquisition's potential impact on customers.
What Led to the Acquisition?
According to Rodier, "We've shown over the last number of years that Toro has an interest in investing in growing our portfolio in the construction markets. Whether it be on the ground or landscape or commercial construction, [there are a lot of different types of] construction equipment. It shouldn't be a surprise that Toro is looking to create an even bigger footprint in that space."
He goes on to say that it makes sense that a company like Charles Machine Works can help Toro hit the strategy of increasing its industry footprint in more significant ways.
Rodier said it was important to build trust and relationships between the brands' leadership staff. "You get to know them well enough to learn what they do well and how they operate. If you can get to a 'meeting of the minds' – then I think you open the door to take a further examination of how you'll fit into [their company]. That's how it's worked for us in the past, and that's what happened with Charles Machine Works."
Rodier said it was also crucial for Charles Machine Works to be sure that Toro invested in products and protected its future and prestigious legacy.
Read Next: The Toro Company Reflects on Ditch Witch Merger and What the Future Looks Like
Read Next: Exciting Wave of New Construction Equipment Takes Center Stage at ICUEE 2019
What Can Customers Expect?
The Ditch Witch brand is a valued asset to workers in the construction industry and professionals who rent or purchase underground machinery. Charles Machine Works and Ditch Witch are known for having a very down-to-earth, customer-centric vibe. When asked what changes customers can expect considering this new merger, Rodier said there would be few – if any.
"The Ditch Witch dealer network has established themselves as such a strong foothold in the underground industry, and they're experts that know what they're doing. We don't want to change that," Rodier said.
He believes Toro can find ways to better support the Ditch Witch and Charles Machine Works brand with its vast resources and technologies, so the only changes customers might see would be improvements such as quicker product turnaround.
At the end of the day, this is a merger between two of the most popular brands in the industry, and construction workers should certainly benefit from it.