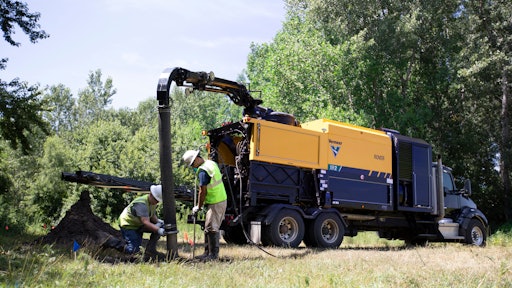 Vermeer XR2 Vacuum Excavator
Equipment Today's Christoph Trappe and Becky Schultz are live at The International Construction and Utility Equipment Exposition 2019 (ICUEE) where the construction industry's top companies are unveiling and showcasing equipment designed to make your jobs easier, safer and more efficient. From Vermeer's new XR2 Vacuum Excavator to Hyundai's 30AZ-9AK (which enables changing of bucket attachments from the seat), check back here for an updated list of products you're going to love.
Vermeer XR2 Vacuum Excavator
Vermeer's XR2 Vacuum Excavator enables workers on hydro-excavation projects to stay on the job site longer – thanks to its innovative on-board material separation system. Learn more here.
You can also watch our Live Stream of the unveiling on Twitter and listen to them discuss rebuilding after an F-3 tornado on our Digging Deeper Podcast. 
Hyundai 30AZ-9AK Compact Excavator
Hyundai's 30AZ-9AK Compact Excavator includes a dual-lock coupler that allows for changing of bucket attachments without leaving the seat. Check it out. 
Ditch Witch Super Witch
Ditch Witch demos their iconic Super Witch on our Twitter Live Stream! 
Hyundai 140 LC Excavator
Hyundai showcases its new excavator with an available Engcon tiltrotator attachment in our live Facebook coverage. 
Case Construction Equipment N-Series Backhoe Loader
Watch a live Facebook stream of Case Construction Equipment's exhibition of their newly enhanced N-Series backhoe-loader. 
Get More Work Done on Your Job Site with Pettibone's Heavy Machinery
Visit the Pettibone heavy machinery booth at ICUEE 2019 via our 360-degree viewing experience.
The Barko 930B is an industrial wheeled tractor outfitted with a mulching head. It enables efficient clearing of debris from construction sites.
Pettibone's Cary-Lift 204I is a heavy-duty forklift with a maximum lifting capacity of 20,000 pounds and the ability to lift loads up to 16 feet high. Use it for power and transmission poles, as well as for materials such as pipes.
The Aroco AMT 400 (Articulating Multi-purpose Truck) shown in our video sports a dump-bed – but can also be equipped with a nearly endless range of other attachments (such as a flatbed, pipe trailer or seismic drills).
VMAC Adds New Multifunction Power System Options
Check out our video on VMAC's unveiling of new developments in power system functions, including one powered by a CAT engine and a new 5-in-1 multifunction Honda engine powered system. 
Toro on Ditch Witch Merger
Watch this video of Toro reflecting on what the future looks like following a merger with Ditch Witch. Toro Vice President, Construction Businesses Rick Roder also joins our podcast to discuss the acquisition.
R35E Compact Excavator
Video: Learn more about Hyundai and Cummins Inc.'s collaboration on the electric prototype R35E Compact Excavator. 
Podcast with Cummins Inc.
Becky Schultz spoke with David Venable, Director of Off-highway Sub-segment for Cummins Inc. about electrification. Listen to our podcast here.