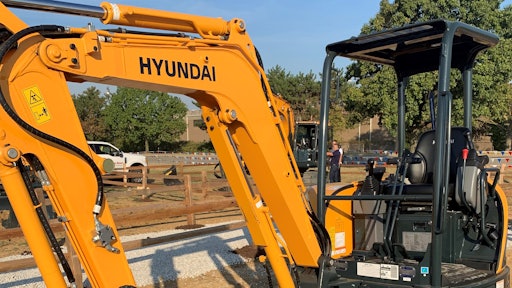 Christoph Trappe
At the International Construction and Utility Equipment Exposition 2019 (ICUEE) Christoph Trappe of Equipment Today got a chance to meet with Hyundai's Justin Thompson.
Thompson was showcasing the Hyundai 30Z-9AK Compact Excavator, which is designed to make switching tasks quicker, safer and easier.
Features
The 30Z-9AK's hydraulic, dual-lock quick coupler enables changing of attachments from the seat. Operators don't need to leave the machine to change attachments – leading to better efficiency, higher productivity and improved ease of use. The dual lock quick coupler also promotes safety with a mechanism that spring locks back into place to prevent injury or accidental bucket dislodging.
A compact design and zero tail swing radius allows the operator to work in small or confined spaces – such as close to buildings, and in crowded urban areas. The boom can also be offset left or right in accordance with operating range.
It also features a Kubota diesel-powered engine, advanced hydraulic system, surprisingly spacious cabin, impressive safety features, an in-cabin monitor and strong, slim tubing that make for impressive structural integrity.
Hyundai's 30Z-9AK weighs approximately 6,000 pounds and is compact and nimble. It is made for construction workers who need to operate efficiently and quickly in tight spaces.