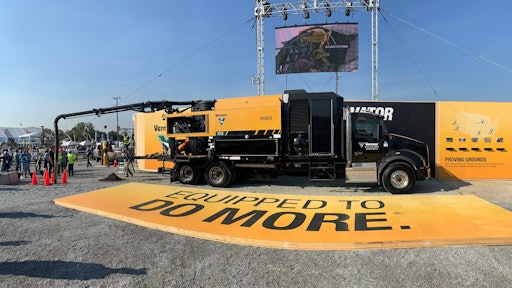 Christoph Trappe
The International Construction and Utility Equipment Exposition 2019 (ICUEE) got off to an exciting start on its first day when Vermeer President and CEO Jason Andringa unveiled a piece of equipment aimed at changing the entire hydro-excavation game. 
The Scene
The nearly standing-room-only crowd in Louisville, KY, gathers excitedly around a huge crate marked "Not to Be Opened Until ICUEE." A banner above the crate reads, "Can't Be Contained." Applause and chatter meet the announcement welcoming Andringa to the stage.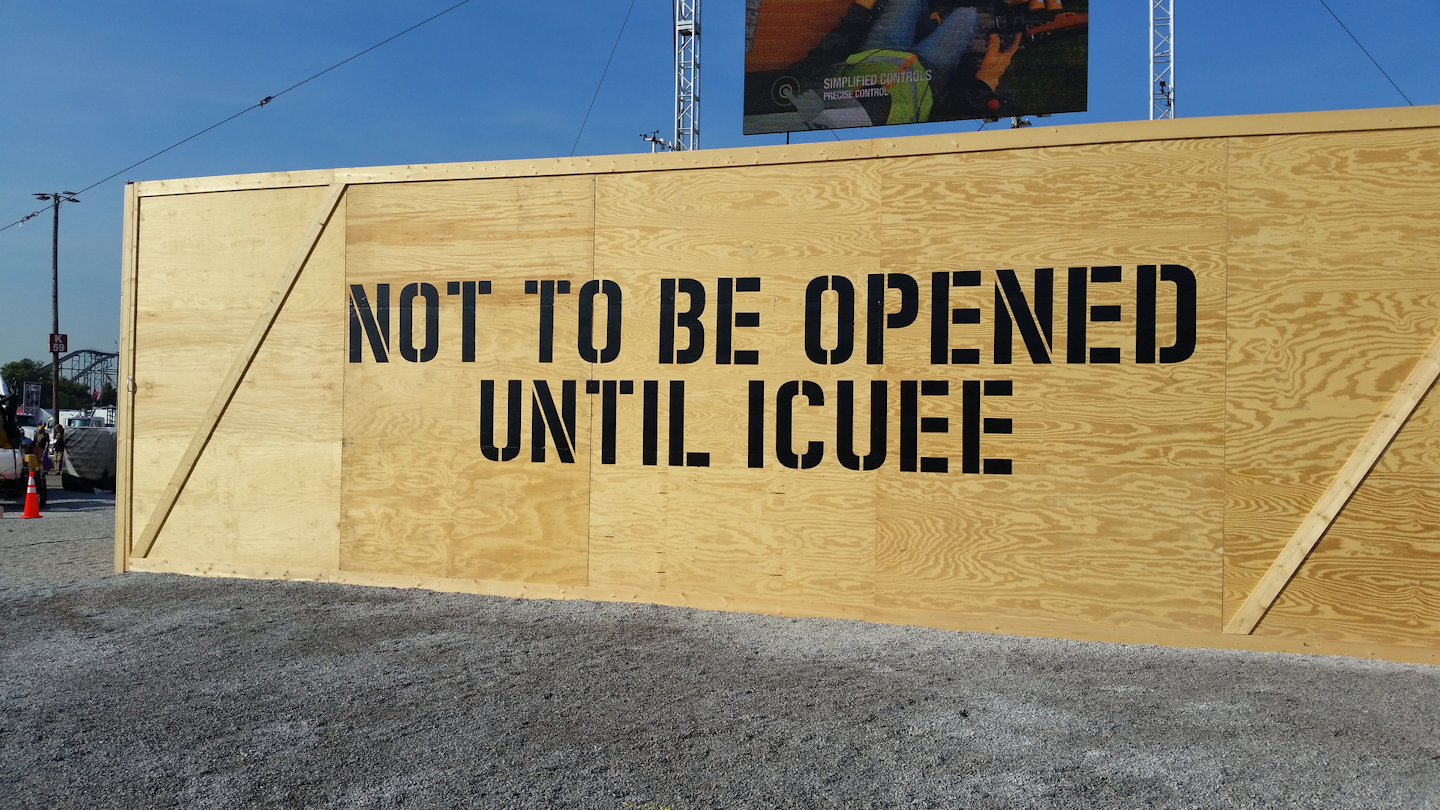 "Good Morning, it is great to be here with all of you. It is great to be back at ICUEE," Andringa says. He then speaks about the unbelievable heat at this year's expo and invites attendees back to the Vermeer booth at 1 p.m. for ice cream before launching into his speech.
"We are extremely excited and proud for the innovative products that we have on the Vermeer booth today," Andringa says. "We have some tremendous new products; we have some tremendous updated/refurbished products. But behind this box is the most unique, innovative product that we are excited to share at this ICUEE. This product will definitely equip our customers to do more. This is a product that solves a specific problem in this industry and is designed with the opportunity to be a unique solution to something we've been hearing about from our customers for a long time. It cannot be contained in this box any longer."
Andringa then invites Vermeer President of Industrial Doug Hundt to discuss the problems their new product is aimed at solving. Hundt explains that customers now utilize hydro-excavation and soft-dig as integral parts of their business in improving the safety of underground construction. He continues to cite two primary issues reported by customers:
Difficulty in finding places to dump spoils.
Vac trucks being away from job sites for too long, affecting efficiency.
Hundt then cuts to a video with dramatic music as workers drop the sides of the crate to reveal the Vermeer XR2 Vacuum Excavator.
Material Separation
The Vermeer XR2 Vacuum Excavator offers a shaker deck that separates liquids from solids – enabling workers to "stay on the jobsite longer, work more efficiently and reduce disposal expenses." Solids are moved down a conveyor to the rear of the vehicle, allowing for easy removal. Liquid slurry is pumped into one of the four holding tanks for disposal, as fresh water is replenished. Fresh and dirty tank levels can be viewed from the control station at any time.
The shaker deck is equipped with automatic leveling capabilities up to a grade of 10%, and the deceleration tank houses six cyclones for quicker, more effective separation. The machine's remote can control the foldable, 14-foot conveyor for moving solid materials.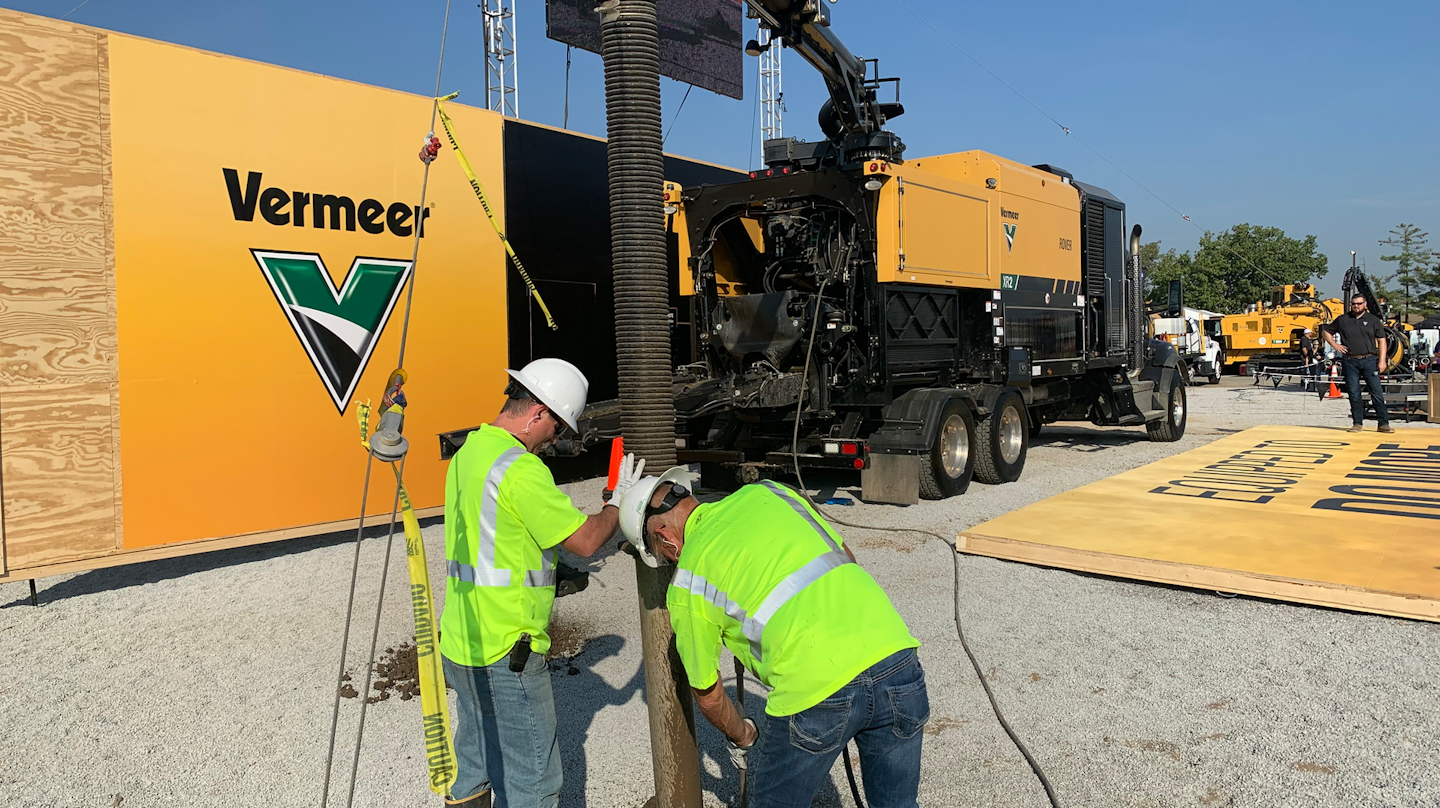 XR2 showcased at ICUEE 2019Christoph Trappe

Digging
The XR2 can hold up to 1,500 gallons of fresh water, which can deliver up to 150 hours of wand time at a rate of 10 gallons per minute. The pressure wand is adjustable with a maximum output of 3,000 psi. A 6-inch diameter hose is capable of producing up to 3,400 cfm of suction, and the excavator's 21-foot boom offers 260 degrees of swing functionality.
There is also a reverse flow feature to dislodge any large pieces of material from the hose – and all functions can be accessed and controlled via the machine's remote.
Moving the machine during operation is easy as well. The XR2's one-of-a-kind power takeoff can automatically transition power between the vacuum and the truck's drive system. That means workers no longer need to manually engage or disengage when changing location. 
Sturdy Machine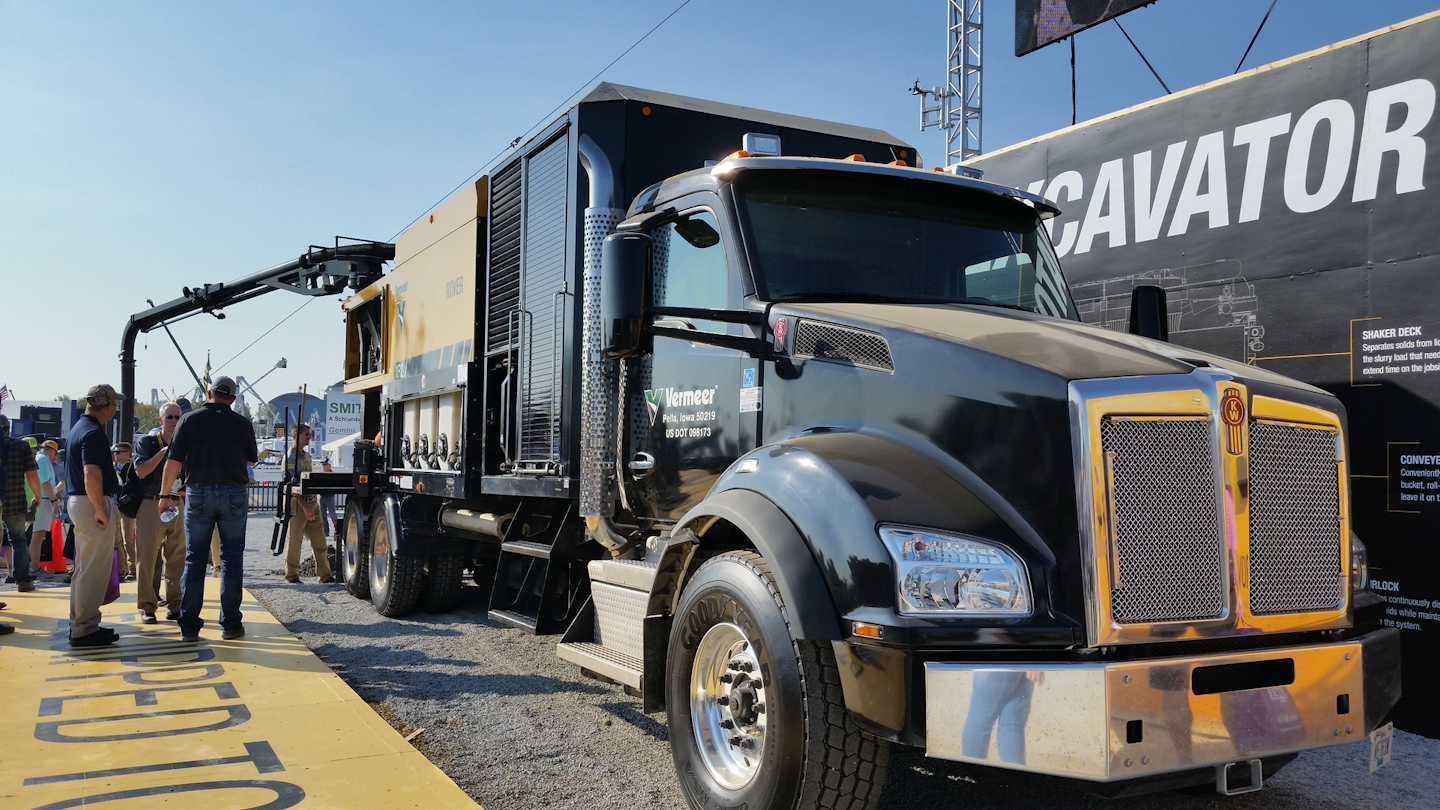 The truck body of the Vermeer XR2 Vacuum Excavator is a Kenworth T8800 with an Allison automatic transmission and Chelsea PTO (power takeoff). The curb weight is 39,000, with a freshwater transport weight of 51,000 pounds and a return weight of 53,000 pounds (when at recommended full capacity). In transport setting, the machine measures at 36 feet long, 102 inches wide and 138 inches tall.
Designed with the very best hydro-excavation experience in mind, the Vermeer XR2 Vacuum Excavator is a machine that will change the industry as we know it. Workers can stay on the jobsite longer and perform more comprehensive on-site material separation and removal.