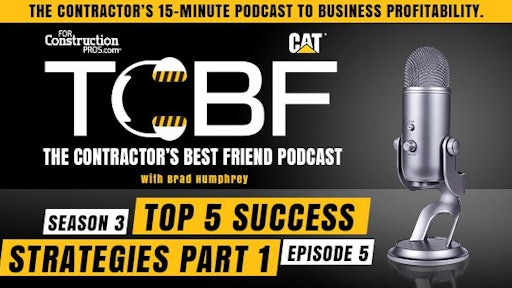 Whether you're a startup or you've been in business for 30 plus years, there are a lot of challenges to overcome in the industry. From how to establish a strong business plan to work life balance, the team explains key nuggets of knowledge to help your business stay strong in the competitive marketplace.
In this episode,  Brad Humphrey and the Caterpillar experts will dive into two of the top five strategies that every business should follow.
What are you waiting for? Take a listen now!
Moderated by: Brad Humphrey, The Contractor's Best Friend, Pinnacle Development Group - Founder
Brought to you by: Jason Hurdis, Caterpillar Inc, Global Market Professional – Quarry & Aggregates Industries
Lonnie Fritz, Caterpillar Inc, Market Professional – Construction Industries
NEW EPISODES EVERY OTHER WEDNESDAY 
Subscribe on iTunes: itunes.apple.com/us/podcast/the-c…d1406479825?mt=2 
Listen on Stitcher: www.stitcher.com/s?fid=205707&refid=stpr 
Leave a review: itunes.apple.com/us/podcast/the-c…d1406479825?mt=2
Tell us what you think of the podcast series, take our survey: www.surveymonkey.com/r/DSVVLX9 
Listen to more construction news on the Construction News Tracker at www.forconstructionpros.com