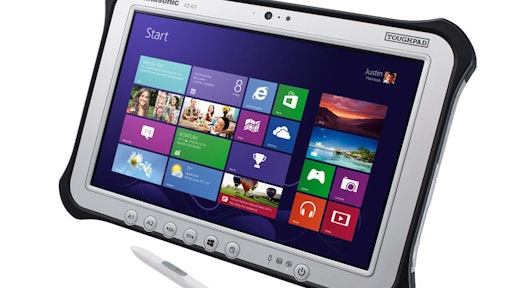 VDC Research estimates that the failure rate for conventional tablets in the workplace is 18% per year; nearly one in five systems becomes an impediment to doing business each year.
"Unless you want to treat tablets as disposable, this failure rate should be unacceptable for businesses today," observes David Krebs, executive vice president at VDC Research. "By contrast, rugged tablets have been built for business use and have a 4% failure rate."
Rugged tablets offer reinforced frames, tough skins, watertight seals, hardened glass, soft corner bumpers and major components that are shock-mounted. In other words, if ordinary consumer tablets can be considered sports (or economy) cars, rugged tablets are tanks.
Check out this review from ComputerWorld.com for a comparison of the durability, convenience and cost of three of the newest Windows-based rugged slates: the Mobile Demand xTablet Flex 10, the Getac F110 and the Panasonic Toughpad FZ-G1. Reviewer Brian Nadel also tried out Samsung's Galaxy Tab Active, a reinforced Android tablet.
The story includes explanation of the Military Standard 810G rating, a set of protocols that the U.S. Department of Defense uses to assess mobile computers, some comparison of rugged tablets to rugged cases for consumer tablets, and a video overview.
Plug your numbers into a calculator that compares the total cost of ownership for rugged tablets vs consumer devices (calculator created by VDC Research and XPlore Technologies) 
Check out ComputerWorld.com's 2015 rugged tablet review