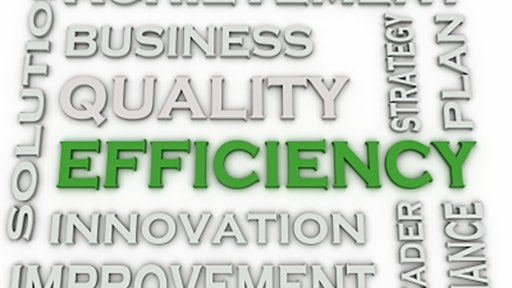 freedigitalphotos.net
Operational efficiency has a huge impact on your firm's ability to deliver products or services at a level that ensures you remain cost effective. Improved efficiency on construction sites means better margins, so why wouldn't you take steps that give productivity a boost?
Lifting your output doesn't have to mean compromising on quality. With processes in place that focus on reducing waste, cutting overproduction or decreasing the time that employees are idle, your operational system can benefit. With reduced outgoings but a maintained level of profit, there's no reason not to consider taking measure to increase efficiency across your construction sites, from small jobs to complex tasks. It's not only advantageous to the projects you already have in the pipeline but can help you submit more competitive bids going forward.
Of course, every construction business is different, but these five ways to improve productivity should be on your radar if they're not already implemented.
1. Assess your communication
In any business communication is important but within construction, where you're likely to have multiple teams working at different locations, it's vital. Operational errors are always going to occur, but through effective communication these can be greatly reduced, in turn boosting productivity.
You should have a communication strategy in place that allows for constant, reliable flow of information. With so much accessible mobile technology, it's not complicated to improve communication between the different levels of a construction business, including those on site.
2. Analyze your current processes
Most businesses can benefit from streamlining, but do you know exactly where in the construction process you should be making changes? The first step to any overhaul is effectively analyzing each individual step.
By breaking down the different aspects you'll be able to look at individual elements closely, identifying weaknesses. Of course, looking at the bigger picture is important too, but with more information you can establish where changes will have the biggest impact.
You may find, for instance, that your employees are often idle in the mornings and choose to stagger start times. Or you could find that you are routinely making mistakes with orders. 
3. Research and utilize software
Technology is transforming every business sector and construction is no different. There's a whole host of software options that construction firms can have at their disposal to improve how productive they are.
With so many pieces of equipment, assets and numerous vehicles, it can be a challenge for firms to not only keep track of them but ensure they meet regulations and are well-maintained, too. Solutions such as asset and fleet management software, can help track what equipment your business owns, rents or leases, the costs, maintenance life cycles, fuel expenses, driver allocations and much more, helping you to save money.
4. Look at the lean construction approach
The lean construction approach aims to minimize the amount of waste, effort and time each project requires, with the goal of improving construction site efficiency. One of the core parts to take away from the process is collaboration.
While not possible for every job, under the lean construction approach construction businesses work with architects and other parties right from the beginning of the process. It allows for more unity, better communications and a greater understanding from your side, resulting in a project that is practical.
5. Train and find the best supervisors
The people that are managing your site have one of the biggest roles to play in efficiency. Spending the time and investment by hiring the leading talent or by training existing employees, can have an immensely positive effect on overall business. These are the people that will be responsible for ensuring your procedures set out are followed.
Don't underestimate the influence that your staff can have on your business.
Sarah Wilkinson is a Global Communications Coordinator at Chevin Fleet Solutions, a worldwide leading provider of fleet management software. Sarah has produced several articles within the fleet industry, both internally and externally in her brief time with the company. After graduating from Bournemouth University, where Sarah studied Communication and Media, she used her writing skills at Lemongrass Marketing as a PR Account Executive, before moving to Hume Whitehead Ltd, who specialize in PR for the travel, tourism and hospitality industry.