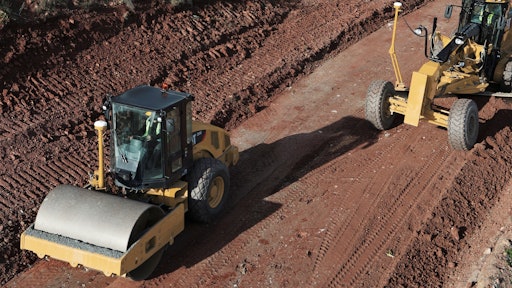 By Nathan Medcalf, Contributing Editor
Sundt Construction's first use of intelligent compaction technology, on a nine-mile highway expansion in central Arizona discovered some sub-par subgrade compaction that would have been overlooked until after it was paved.
"There were a couple spots where we couldn't get compaction levels that we needed; since we were using Cat intelligent compaction technology, we could identify it during the laying of the subgrade," says Mark Sebright, Sundt maintenance manager. "So we had to undercut and build it back up to get the right compaction levels. The beautiful part about it is that we knew it up front, so we had no material loss."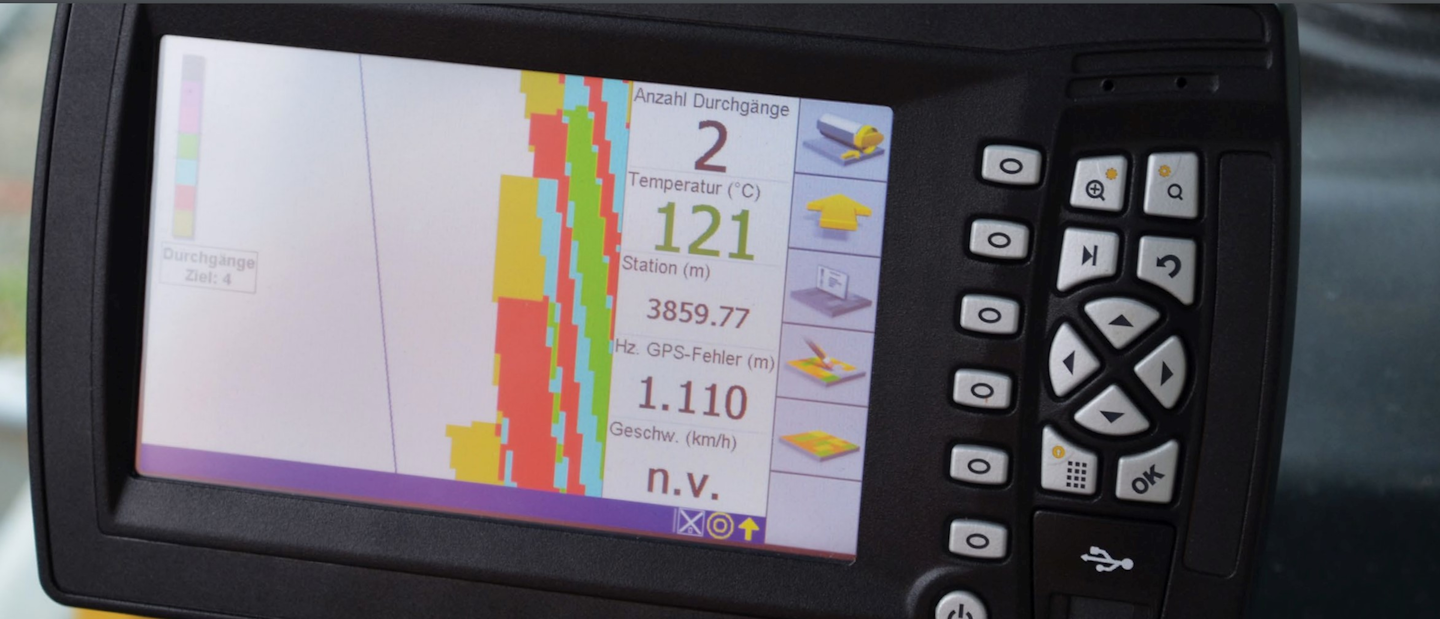 Data provided by Caterpillar's intelligent compaction system demonstrates the quality of road sub-base, allowing the contractor to be sure the whole job is uniformly compacted.
Because the company could identify the soft spot prior to paving any hot mix asphalt, the amount of rework was significantly decreased, and they didn't waste any mix. "With these products, we know whether we've done a good job or not and it allowed us to get our density right before we paved."
Sundt is a 128-year-old, employee-owned heavy construction company headquartered in Tempe, Ariz. With a portfolio of large transportation projects, the company invested in Caterpillar intelligent compaction technology for highway construction.
Cat Compaction Control refers to a suite of technologies, including measurement, positioning and analysis systems, that empower the compactor operator to produce a better product more proficiently.
Caterpillar Intelligent Compaction technology solutions include Machine Drive Power on single smooth-drum and padfoot soil compactors and tamping-foot soil compactors to measure soil stiffness in granular and cohesive soils to depths of 1 to 2 ft. Compaction Meter Value systems available on single smooth-drum soil compactors and vibratory asphalt double-drum compactors provides an indication of stiffness in granular soils and hot mix asphalt to depths of 3 to 5 ft.
Coupled with GNSS mapping and machine-to-machine technologies, these systems create and record a graphic display of the operators' progress and enable documentation of work quality.
The first project on which Sundt Construction used intelligent compaction is the Thousand Trails Road project (Highway 260). Beginning in June 2017, it involved expanding nine miles of two-lane roadway into a four-lane divided highway. The project team is replacing the barrier on an existing bridge for future westbound lanes, constructing a new bridge for future eastbound lanes and building a new multi-modal pathway. The work consists of seven roundabouts, earthwork, aggregate base, asphalt pavement, bridge construction, drainage improvements, curb and gutter, sidewalk and other related work.
"Using [intelligent compaction] on the project gives us the ability to monitor compaction efforts in real time and let us know when it has obtained the required compaction on the aggregate base course (what's under the surface layer) as well as the asphalt," said Senior Project Manager Eric Weston.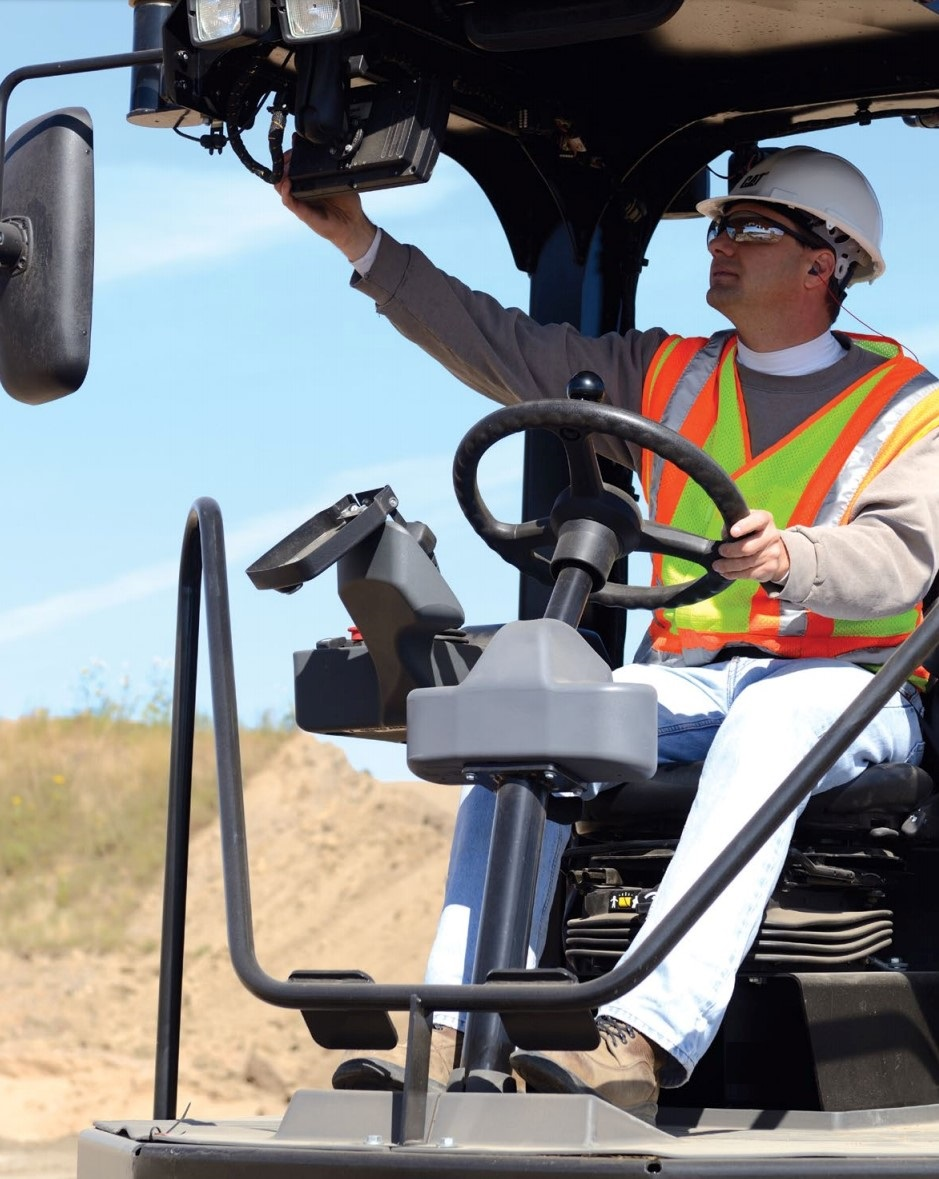 Using intelligent compaction technology, Sundt can identify any soft spots in compacted material to reduce rework, and provide reports that map successfully compacted work to share with Department of Transportation agencies."Roads are like houses; they are only as strong as their foundation. A lot of people have difficulty grasping that, says Lonnie Fritz, market professional in Caterpillar's Construction Industries group. "The critical lift is not the surface you're driving on. What matters most is the subgrade and base course below that is supporting the driving surface and handling the loads."
Department of Transportation agencies have traditionally used density to assess the ability of a compacted material to support a load. However, Caterpillar's intelligent compaction system measures indications of stiffness, which is the ability of a certain volume and shape of material to resist deformation, and Caterpillar says it is considered a more direct reflection of load-bearing strength than density.
Using Caterpillar intelligent compaction was actually part of the contract for the Thousand Trails Road project. "Part of the bid was that you were going to use Cat intelligent compaction for your compaction projects on the site, and that has worked really well for us," says Sebright.
The company's onsite engineer on the project had no experience using any Cat technology, so Sundt sent him to their local Cat dealer, Empire, to train him on the intelligent compaction system, as well as on VisionLink, the fleet management software Caterpillar customers can use to manage machine data from Cat telematics systems. Sundt uses it on all of their production equipment.
"Empire Southwest did a really good job training him, and now he is able to run reports and make maps for the ADOT guys to show them 'This is what we've done and this is where we're at,'" says Sebright. "And he has been using that all the way through this project.
"We have mapping and records for all the sub-grade on that 260 job, which is really cool, because down the road, we can look back at it and say that there are no holes," says Sebright. "The image gives us a clear image of compaction levels across the entire project, so we can look back and know the job was done right from start to finish. That's a comforting thought on a project this size."