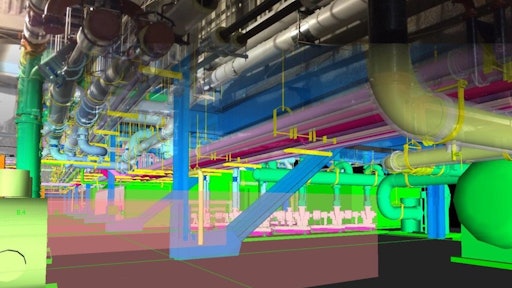 Southland Industries
By Nathan Medcalf, Contributing Editor
To stay ahead of the curve in 3D modelling software use and get all stakeholders working from the same source material, Southland Industries, one of the nation's largest MEP building systems experts, has been using Autodesk's Revit and is adopting it 100% company-wide for 3D fabrication.
"Because we have design and constructability under one roof, we thought it was important on the construction side. With Revit, all of our people are working from the same system and the same model and the same source material," says Judd Fuoto, lead solution analyst for Southland Industries.
Revit is a BIM (building information modelling) software that is designed for architectural design, MEP (mechanical electrical, plumbing), structural design, detailing, engineering, and construction. It is available alone or as part of Autodesk's AEC Collection.
Before using Revit, Southland Industries had to use two models – the 3D model created by designers and a 2D model used for fabrication. "Now, people within our company don't have to move from a 2D fabrication product and turn it back into a 3D world."
Using the same model, different functional groups are no longer required to convert models and drawings generated in one authoring software to work in another authoring software, and then send the result to the next team, who then has to convert to yet another software platform. Eliminating those steps saves effort, making it more likely to save money and add capacity to the project teams.
"Certain parts of the industry adopt technology faster than other parts," says Fuoto. "I think using 3D models for fabrication is on the slower side, but the industry is headed in that direction. That is the other primary reason why we invested in it. Some competitors are already working in 3D, but what gives Southland Industries a competitive advantage is that we focus on the process."
The shiny new toy effect
"From talking to people in the industry, I see there is a lot of focus on getting the 'shiny new toy' as I like to call it," says Fuoto. "People see a new technology and are driven to use it on a project. So, they buy it and use it on a project. However, perhaps the project they bought it for isn't the right one for that technology, because they didn't consider process first. They take a useful technology, but because they applied it to a wrong-use case, it doesn't yield the benefits that were expected."
Misapplication of a technology can waste money and time, inhibit use of the technology and spread negative sentiments about adopting technology.
"We make sure that we are not buying a solution and then looking for a problem for that solution to fix," says Fuoto. "Our process aids in getting the best use when adopting a new technology."
Southland Industries' process for adopting new technologies to be used by the company's AEC (architect, engineering and construction) team is structured, repeatable and solution oriented.
A roadmap to technological success
First, the business side of the company identifies and prioritizes technologies that they want the AEC team to implement. Then, via the guidance of the company's technology governance process, the AEC team considers how they will implement the processes, tools and technologies marked as a high priority. Members of the AEC team will then work with business sponsors, functional groups and key stakeholders to determine how to best move forward.
"For example. If the business were to say, we want self-driving trucks. From there, it would be up to Southland's IT Infrastructure team along with the AEC team, as well as business functional groups to implement it," says Fuoto. "This means asking a lot of questions. How do we invest in this emerging technology? How do self-driving trucks operate? What are the safety considerations? What training is needed?"
Depending on various factors – including which functional groups and regional offices have the right personnel – Southland then sets up pilot projects and refines anything that needs to be refined. "During the pilot, we report back to the business side. Sometimes, in a pilot project, you get to the point where indicators begin dictating that maybe how you are using a technology isn't a great way to go. By staying in line with business needs, we can easily determine whether the technology is working to our advantage," says Fuoto.
Southland Industries used the same process when implementing Revit for their 3D fabrication modeling software. Fuoto says in the beginning of the implementation process, there was a lot of process mapping, but they are now pretty far along in implementing it.
As the process for implementing 3D fabrication software is standardized across the company, it allows for the creation of tools that are necessary to be precise. With this software, you can create custom utilities for detailers so they can optimize their workloads. It also makes for better templates that teams can use to start projects, as well as utilize for training material. Southland went from having over 100 databases being used for implementation, to now only one that is leveraged by all divisions.
"I believe our dedication to process analysis and process refinement and then finding the right tool and the right solution to build the best product will keep us ahead of the curve," says Fuoto.
More Resources
Model-Based Estimates Delight Project Owners and Halve Pepper's Costs
Construction's Productivity Challenge is Really about Technology Adoption