By Nathan Medcalf, Contributing Editor
Pepper Construction chose estimating software that integrates with building information models (BIM) to slash estimating time and cost, and offer project owners custom estimate analyses that drive smarter decisions.
The fourth-generation Chicago-based contractor, one of the larger in the Midwest, is an innovation leader, pioneering virtual, lean and sustainable construction methods. The company works in markets such as healthcare, education, manufacturing and light industrial, environmental remediation, data centers, entertainment, hospitality and retail.
For their digital takeoff and estimation, the company relies on Trimble GC Estimator Suite, which includes Trimble's WinEst and Vico Office programs.
"WinEst is a powerful and flexible spreadsheet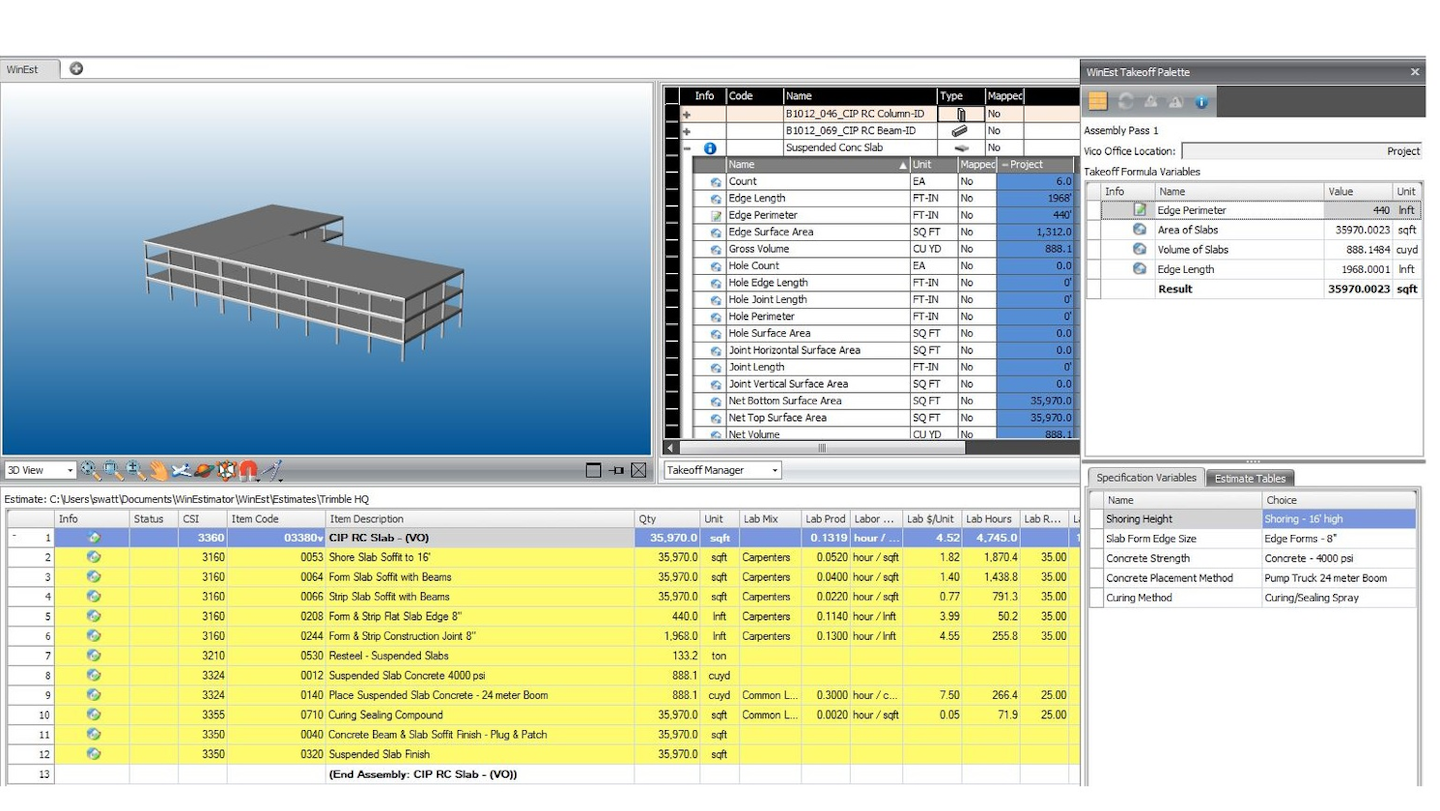 By linking WinEst with Revit models, a project team can calculate 4D and 5D quantities and bring those directly into the scheduling component of the preconstruction process very early.program that generates estimates. Vico Office is a communication tool that links the WinEst database to the Revit models," says Keith Dougherty, vice president of preconstruction, Pepper Construction. "With Revit, we create a 3D model of the project and it provides the majority of our project quantities. This is what Trimble solves for us.
"Vico Office also helps us track when a design revision is made. Here's an example; a change is made where carpet is replaced by tile, by having the WinEst estimate communicating with the Revit model via Vico the respective increase or decrease in quantity is automatically updated. Since most of the quantity revisions are automatic this has drastically sped up our ability to make changes faster. This is what makes Vico a very powerful communication tool."
With these tools, Pepper Construction can design takeoffs and estimates that are more accurate and transparent to owners and design partners.
"Our clients see every component of our work, which means that the building owner can have a strong assurance that projects can be completed on time and on budget," says Dougherty. And with the Trimble Office Suite, Pepper can format an estimate that details whatever information an owner requests.
Model-based takeoffs and estimation has cut time to create takeoffs nearly in half.
"On a $20 million project, we used to spend 80 to 100 hours doing manual quantification – either via an electronic takeoff program or even just hand takeoff. Whereas, with Trimble, we can accomplish the same work in 40 to 60 hours and get information that is a lot more accurate," says Dougherty.
Usability features offer flexibility and help speed up the process. The GC Estimator Suite automatically cross-formats between old CSI, new CSI and Uniformat construction coding, eliminating human error. "The software also has the flexibility to add as many codes as we need," says Dougherty. "No other program has that flexibility."
Custom codes allow field operations to charge the slab and grade work to a very specific code, allowing the company to check labor productivity, for example, for specific functions against the estimate.
"We had some preestablished codes that go back 25 years, and they don't always match the new CSI format. So we had to take the database as we built it and, from Trimble, take the typical concrete line items then assign all these other codes that support our job cost system so the custom cost codes match our legacy codes."
Dougherty continues: "We can now break projects down into whatever component the owner asks for. Gone are the days of a $20 million project turning into one $20 million number. It's not uncommon now for that to be broken down into five to eight components – such as site work, the enclosure, the finishes, etc. – so the owners can really see where their dollars are being spent and where the big impacts are on the project."
By linking WinEst with Vico Office, the team can calculate 4D and 5D quantities and bring those directly into the scheduling component of the preconstruction process very early.
"We use model-based estimating all the way through the construction process, so we want to get out of the manual shop drawing process; we want it all to be electronic; we want everything to live in the model," says Dougherty. "Everything is coordinated in the model; everything is built in the model."
The company currently uses 4D BIM, which is just a three-dimensional BIM plus the element of time, but plans to start using 5D BIM in the near future.
"A 5D BIM injects cost into it," explains Dougherty. "We have a video program that connects all of them together. The video shows the building actually getting built – the foundations going in, the structure going up and the cladding going on. Across the top of this video is the project schedule so you can jump to any date of the schedule as planned and it will show you in the model how far along the building is built. And then, if we have the cost element built in, we could pick a date using this program and see that the building is 67% complete, for example, and see that 67% of the cost has been expended.
"By using 5D, we can prove to the building owner that not only do we have the right estimate for the project, but we have the right schedule. We can give them assurance that we have everything covered and that their costs are not going to escalate at a later date."