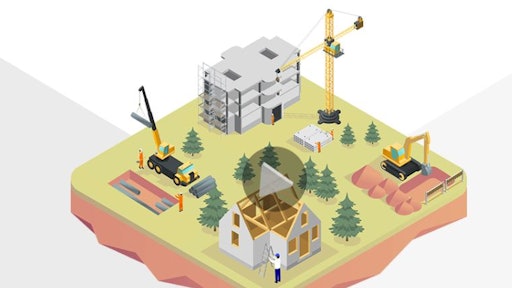 CostCertified
Most everyone understands that the construction industry is not only a big investment, but a long-term one for those who venture down its path. Contractors have a responsibility to do everything possible to ensure fast, detailed, accurate results and data for their clients. Thanks to modern technology, construction companies and designers can prepare, manage and deliver professional, accurate results promptly and accurately.
There are many advantages, including increased profitability, to using construction estimating software. Here are 10 of the most important advantages of using modern construction estimating software:
1. Better Planning
An accurate construction estimate allows companies to see the overall picture more clearly. Even more important than cost savings alone, better planning is likely one of the most important of the many advantages to using construction estimating software. In the area of planning, estimating software allows a better view of future spending, including how to avoid costly mistakes, and can help save a notable amount of time and money on construction projects.
2. Cost Savings
Everyone enjoys the idea of saving money. Estimating software allows companies to accurately predict the cost of nearly any construction project. This is because the software relies heavily upon factual data, rather than previous experience or estimating. Construction managers can quickly obtain the lowest price on purchasing materials and determine which vendor to buy which items from at the lowest cost. Being able to pass any cost savings or sale purchases along to the customer can also help build trusted business relationships.
3. Budgeting
Construction estimating software is also an invaluable tool when it comes to keeping things on track when purchasing materials and any special items within a set budget. Often, construction managers can come very close to the exact quantity of materials to purchase and sometimes locate methods to obtain the same, or better, results at a lower cost. When required to stay within a set budget, using construction estimating software is an invaluable tool for successfully achieving those goals.
4. High-Tech Reputation
A reduction in errors and mistakes is not the only advantage of using estimation software. Companies with a "high-tech" reputation are always at an advantage in the construction industry. Most people today share a common trust in hiring a company that uses the latest technology whenever possible. Nearly everyone wants a company that is top-rated in the current technology related to construction. Using construction estimating software allows companies to present a clear, concise and accurate projection for any project that will leave a lasting impression on their client.
5. Better Communication
In construction, honest and open communication is vital for a successful relationship between business and client. The key to winning loyal customers who will gladly provide quality references is when the company and the client can work together effectively with the common goal of achieving professional results. Construction software allows companies to provide accurate updates with items such as progress, savings, milestones, deadlines and overall information about the project. This effectively allows both parties to have an accurate expectation of one another throughout the venture
6. Faster Results
Estimating software provides faster results because construction companies save a notable amount of time with a variety of tasks including calculating, paperwork, scheduling deliveries and obtaining permits. Estimating software also provides early alerts to any cost overruns before they happen. This can also help contractors avoid costly delays like the need to order additional materials or have workers and subcontractors show up before construction materials have arrived.
7. Achieving Deadlines
Keeping up with completion deadlines is an important part of any construction project. Construction estimating software also brings the ability to protect company reputation by meeting or beating deadlines through faster planning and overall better organization. Today's advanced software can help build a company's reputation for being prompt and efficient in the construction industry.
8. Accuracy
Using construction estimating software does provide more accurate results throughout the entire project. The software allows project managers and clients to keep close watch over every detail of the process. Construction estimating software also provides project managers with a precise list of expenses for every project.
In our modern construction industry, companies are expected to have accurate bids on projects of any size. With a market that is always fluctuating this can be somewhat challenging, to say the least. Keeping track of everything including subcontractor expenditures, equipment, materials, labor and unexpected problems that may arise is important.
Construction software can make this entire process run much smoother and faster allowing for successful completion. Since estimating systems for construction began appearing on the market, they have become more flexible and discerning. Users of today's software can select specific entities and tailored programs for designing estimates.
9. Customer Satisfaction
Customer satisfaction is a priority in the construction industry. Construction estimating software allows owners and managers to provide better reports and updates to their customers. The ability to quickly send detailed, easy-to-understand reports and information to clients is a large advantage in winning high-ranking customer satisfaction.
10. Convenience
Today's modern construction estimating software is noticeably convenient and easy to use. Often there is only the task of inputting some data and information. The software can vary somewhat in design from one brand to another. Overall, it keeps everything in perspective, while allowing the user to easily input any necessary changes or improvements.
Tracking all spending necessary requires continuous updating. Construction software provides accurate day-to-day estimates for your current project. With modern construction software, you also have the option of communicating and editing projects virtually instead of contacting and updating everyone involved individually. This can save a significant amount of time and increases the efficiency of the entire team working on the project.
Construction estimating software also provides overall better project management. Everything, including planning, control, cost estimates, deadlines and coordination with subcontractors can be closely monitored and analyzed throughout the venture. Good communication with subcontractors and suppliers through computer-integration can help avoid costly errors, delays and miscalculations. Estimating software is a beneficial tool for enhancing any project for any size construction company.
Dave Vass is the president of CostCertified, the first platform to offer e-commerce construction quotes.