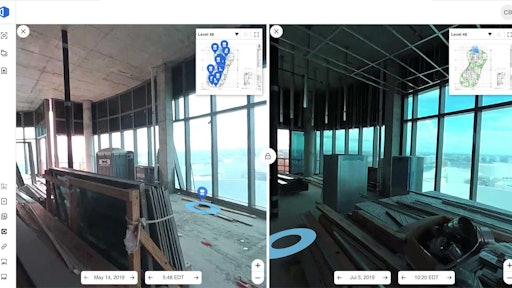 Suffolk Construction
Based out of Boston, Suffolk Construction is a $4 billion company that specializes in commercial construction across the United States. In 2019, they signed an Enterprise agreement with OpenSpace to use its software to capture 360-degree video and photos without any manual input and in a fraction of the time of traditional tools.
This ability is due to OpenSpace's proprietary patent pending Vision Engine platform — the first fully automated reality capture system. Leveraging advanced technologies like computer vision and 3D modeling, OpenSpace's AI system automatically maps images to project plans with no manual corrections or location pinning necessary.

However, prior to signing an enterprise agreement, the company trialed OpenSpace on a few projects. One of those projects is the Ritz-Carlton. The Ritz-Carlton is a 53-story luxury residential building located in Sunny Isles Beach, FL, scheduled for completion later in 2020.
Adopting automated reality capture onsite
Suffolk Superintendent Max Sanchez implemented the technology on that project.

"I was assigned to the critical path of the job, which included the installation of the glass system for the 53-story building," says Sanchez. "Much of my time was spent walking the building to analyze the progress of the installation, and on a project of this size, you can imagine the importance of efficiency to help manage a critical component such as the glass."
According to Sanchez, learning the software was easy. "I was able to learn how to use it by participating in a 20-minute Skype conversation with one of the staff at OpenSpace," he says.
Read next: Trimble, Hilti and Boston Dynamics Teaming Up to Test Autonomous Robots in Construction
Besides the adoption of the technology, the company had to purchase separately from another vendor a camera, which Sanchez attached to his helmet as he walked the project.

"My first experience using OpenSpace was met with hesitation," says Sanchez, "but three months later, we ended up using OpenSpace in a meeting with presidents and vice presidents of several contractors."

OpenSpace verifies jobsite progress
Sanchez and other members on the Suffolk team would meet with the subcontractors on the project twice each week.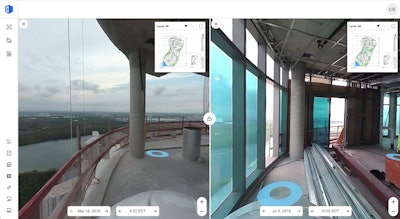 "On a project of this scale, there are naturally sometimes discrepancies about the status of the work," says Sanchez. "Teams get into discussions on what is complete or incomplete and about deadlines. It's important to find a way to manage these discussions in a proactive and productive manner."
To help facilitate these discussions, Sanchez pulled up the OpenSpace program and showed images of parts of the building where glass was missing. The 360-degree photo documentation clarifies what is actually complete, which in turn saves time in meetings and gives everyone a more accurate picture of what still needs to be completed.
"It can be difficult to keep track of it all," says Sanchez. "OpenSpace provides a true verification of work. It gives the true state of the project. With this technology, I walk the project one time while wearing the camera and I have the entire project on my computer."
Automated reality capture provides significant time savings
"People laugh when they see me walking around with a Virb 360 camera on my head until they see the benefits. Then they don't laugh anymore," says Sanchez. "OpenSpace provides significant time savings."

"For example," continues Sanchez, "after meetings, all of us would walk the building — the owners, the company president, everyone in the meeting — we go out and we walk the building. Right there, three hours of everyone's day are gone. With OpenSpace, we don't walk the building after the meeting. We don't need to walk it. We can view the latest version of the building on a screen, saving everybody in that meeting three hours."
Those meetings occur weekly so that adds up to a lot of hours over the life of the project.
"It also saves time with documentation," says Sanchez. "For example, a project engineer working in a trailer may need to email photos to subcontractors or other project partners. Instead of needing to go out, go up 20 floors and take the photo of areas where glass is missing or where a pipe needs to be installed, he just needs to access the OpenSpace files on the computer to locate the image he wants. We already have that information. That work has already been captured. Someone on your team has walked the site with a camera, and now you have what you need."
OpenSpace boasts its technology reduces documentation time by 20 times. After completing a few walks, most projects can expect to see output in 10 to 15 minutes — not hours or days as with some competitive technologies.
"It is a true time-savings device. Unless you use it, you can't fully understand its benefits," says Sanchez.

Technology drives advancement
At the time Sanchez began using OpenSpace, he was a superintendent. Late 2019, Suffolk promoted him to head up the Smart Lab in Miami, which acts as a buffer between the company's innovation teams and field teams. They come up with solutions that can be implemented in the field.

"Due to my implementation of OpenSpace on the Ritz-Carlton Residences and because of my passion for new technologies, I was able to gain a position where I can help drive innovation in the construction world," says Sanchez. "It's a satisfying experience."