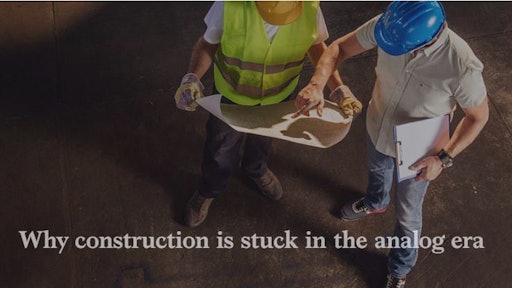 Few construction companies have captured the full benefit of digital transformation of their business practices. Engineering and construction (E&C) is one of the world's least digitized industries. 
And no wonder. The typical construction project involves a multitude of independent subcontractors and suppliers, which have little incentive to embrace new methods during the brief periods when they are on the job. Projects vary greatly, so construction companies often struggle to develop tools and methods they can apply repeatedly. Limited R&D budgets prevent contractors from experimenting with digital solutions as much as companies in other sectors. And construction takes place in remote, harsh environments not well suited to hardware and software developed for the office.
Unfortunately many construction businesses end up with little to show for their technology investments.
Yet capital-project business consultant McKinsey & Co. has seen an increasing number of E&C companies overcome the challenges to transform projects or even business divisions digitally. Their analysis of the successes found differing conditions, but transformations that implemented five common practices:
Focus on fixing pain points, not installing IT solutions
Implement digital use cases that promote collaboration
Reskill and restructure engineering teams
Adjust project baselines to capture value
Connect projects to unlock impact across the enterprise
For a digital transformation to be successful, executives and managers must start with a clear definition of how digital will create value for the business (see sidebar, "Defining digital transformation in engineering and construction"). During the transformation, they must spend as much time, if not more, on operational change as they spend on technology. It's worth it. Research by the McKinsey Global Institute indicates digital transformation can deliver productivity gains of 14% to 15% and cost reductions of 4% to 6%.
Companies in all industries report that digital transformations often fall short of expectations. In one McKinsey survey, just 16 percent of respondents said their organizations' digital transformations had delivered sustainable performance improvements. Common challenges include unclear definitions of what "digital" means, an indistinct idea about what the transformation should accomplish, and poor integration of digital tools with business processes.
Construction has the additional challenges of fragmented, specialized workforces temporarily joining forces on almost every job, the uniqueness of each construction project, transience of the workforce at both the project and company levels and decentralization in multi-disciplinary construction firms.
To counter the challenges, McKinsey says E&C companies must approach digital transformations very thoughtfully. Here's a summary of the five practices McKinsey says are improving some digital transformers' ability to capture value:
1.Fix pain points; don't install IT
Contractors often deploy cutting-edge technology tools before they've figured out whether and how those tools can improve their operations. This tech-first approach can lead to digital "organ rejection," whereby a solution fails to deliver visible benefits, and the workforce, noticing this, does not adopt it.
First identify operational changes to your business that will improve performance, then define digital use cases to enable those operational changes. The process-centered approach helps focus transformation on real business needs. Solutions defined in this way deliver greater benefits while building understanding and conviction among the workforce, from the CEO to managers and front-line workers. These use cases are also easier to replicate on multiple projects and to introduce to new workers.
A good process-centered use case should specify three things: a process change, the required enablers (data and technology tools, capabilities, changes in mandates and responsibilities, legal and contractual requirements, and others), and the expected benefit.
2. Implement tech that promotes collaboration
Many E&C companies cherry-pick digital use cases that apply to just one activity or trade to avoid the complexity of working across multiple organizations in their fragmented value chain. But they miss out on correcting big efficiency losses that occur because information isn't transmitted effectively between trades and functions.
Devote special attention to designing digital use cases that smooth the interactions between multiple disciplines. For example, real-time progress reporting from the construction site can help ensure subcontractors raise invoices promptly and accurately. Of course, use cases can be more difficult to implement when they involve . Compelling incentives can motivate designers, subcontractors, and specialists to unlock significantly greater value.
Example: Historically, site workers sent little feedback to a supplier on all defects in products they delivered. What they sent was anecdotal, unstructured, and difficult to act on. Defects persisted, so workers either fixed defective products or waited for replacements. The company set out to improve communication between the site team and the supplier. The site team used a mobile app to tag defects against specific elements in the BIM model and store them in a common data environment (CDE), a single repository for information about the project. The supplier monitored defect reports in the CDE, and ran root-cause analyses with its factory team to diagnose and reduce defects. Result: 12% reduction in rework hours at the job site. 
3. Reskill and restructure engineering teams
Digital technologies have introduced profound changes to engineering design. For example, generative design tools, which automatically propose a range of design options in accordance with user-defined specifications, can radically reduce the time it takes to develop designs. The ability to examine and optimize a product of generative design is arguably becoming as important as the ability to conceive an original design. In addition, the uptake of modular construction methods has placed more importance on standardizing design elements and storing them in design libraries so they can be used over and over.
Applying these new techniques requires designers not only to learn technical skills but also to design in new ways. E&C companies with internal design functions should equip themselves with new technical skills—for example, by hiring developers to build standard libraries of design elements and automate certain parts of the design process. They should also start to adopt digital ways of working, shifting from a traditional, linear design process to a more agile approach that consists of faster iteration in short test-and-refine loops.
Such a change requires that designers adopt a new mindset, using their experience to validate model results and to look for opportunities for standardization and repetition. This way of working will create capacity for designers to focus on more intellectually challenging problems, such as reviewing and refining generative designs, for which engineering brainpower is irreplaceable.
4. Adjust project baselines to capture value
In McKinsey's experience, many E&C executives say they get productivity gains from digitization but it has little impact on the bottom line because it doesn't make up for the cost of implementing new technology. To realize the full bottom-line benefit from productivity improvements, managers must adjust baselines to eliminate unproductive time and generate value.
For example, there is little to gain from compressing the time taken to survey a site if excavators are not in place for employees to start earthworks as soon as the survey is complete. And the benefit of reducing rework is lost if the labor force isn't streamlined or reassigned to other activities.
If technology improves your organization's productivity, compress on-site schedules, reduce noncritical resources, restrict overtime. It demands close collaboration among organizations working on the project and clear communication about the project plan, especially with workers who are accustomed to a slower pace. Companies can also change contracts and incentives to share benefits and risks across the value chain.
Teams should closely monitor the effects of each use case while it's being tested on a pilot project to understand how much they can adjust baselines without jeopardizing subsequent projects. This might involve observing site works and tracking downtime before and after implementing a use case. Knowing how much downtime is created will help inform future adjustments to resource levels and schedules. Adjustments could also involve stopping work one or two hours early each day to constrain the schedule deliberately and show that greater productivity is possible. Project managers should document these findings so future projects can repeat effective methods of adjusting baselines.
5. Unlock impact across the enterprise
At a typical decentralized E&C company, business-unit leaders focused on optimizing projects can easily overlook the enterprise-wide use cases that could unlock a whole new wave of value. Common enterprise-wide use cases for E&C companies include:
consolidating cost and schedule data from multiple projects and business units to increase the accuracy of bids for future estimates
gaining an enterprise-wide view of resources to optimize utilization and respond quickly when project demands change
creating central repositories for designs at the element, package, and project levels to be repurposed on future projects
A company must pick the right time to start developing enterprise-wide use cases. This will often be after it has scaled the project-level use cases developed in the first pilots and stabilized them across the business.
Example: A company used advanced analytical techniques to analyze past tender data and identify ways of optimizing tender selection and pricing. As a direct result of that effort, the company improved its project margins by 3% to 5%.
E&C companies can overcome the obstacles to digitizing their businesses, and McKinsey's experience shows that adopting these five practices improves the odds that a digital transformation will yield tangible benefits.