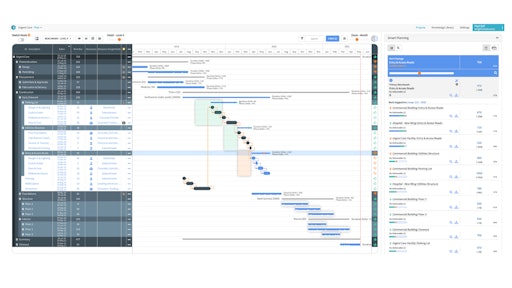 InEight Software
Digital engineering and construction manager Project Controls Cubed is applying artificial intelligence directly to the construction process at mega-projects the contractor is serving to slash scheduling labor and manage schedule risk through InEight's Schedule software.
Project Controls Cubed offers 4D modeling, virtual and augmented reality services, digital-twin technology, virtual planning, scheduling and cost control. The company is contracted for planning, scheduling and cost control on four billion-dollar-plus West Coast water projects – the EchoWater program, Pure Water program and Sites program in California, and the Bull Run Treatment program in Oregon.
"We understand the power that is behind any schedule, and that's why we have deployed it (InEight Schedule), we have faith that it is the best solution out there to manage the planning, scheduling and cost control and it's predictability certainly has paid off," says Jeff Campbell, director of planning and scheduling at Project Controls Cubed. The secret sauce to the program has been AI, which InEight named Iris. "IRIS works in the background and starts to predict what our project contributors are going to do with the schedule and the outcome is outstanding. The key role in what we do is provide situational awareness to our clients and that situational awareness provides actionable intelligence, which allows the leaders of these big programs to make decisions with confidence."
Software that learns and creates
"So there's this idea of what we call a Knowledge Library that gets populated when you archive or as-build a schedule, a cost estimate or anything. And, it's friendly enough where you can use P6 XER files, Microsoft Project files, Excel files, it's what we call unstructured data," says Nate St. John, head of product, scheduling and risk at InEight. "So leveraging what we call an inference engine, it will mine this unstructured data and identify matches for recommendations when a planner begins to preplan a new project. The machine-learning element we've built into the software continuously suggests and learns, suggests and learns, and it's a cyclical process. If Jeff or someone on his team declines a suggested match, the computer will remember that, learn it, and change the algorithm so that the next time Jeff and his team encounter a scenario with similar attributes, there'll be a more accurate suggestion from the inference engine. And it all falls under this AI definition."
One big-picture benefit of software that can learn how you think is the way it preserves your experience. Campbell mentions a huge, advanced wastewater treatment program called EchoWater that PC3 has been serving since 2012.
"We've created and constructed some incredible facilities there. And the people that we work with are probably the most brilliant I've ever seen – not just the superintendent, but the program manager and all of his senior people, the project and program managers. EchoWater (construction) is coming to an end in 2022-2023, and what happens to all of those incredibly intelligent people? Well, they probably are going to retire – a lot of them already have.
"What we've done is captured all of the information (generated over the course of construction) into the Iris AI. So the next time we build an advanced wastewater treatment program, we can use that knowledge library to create schedule modules that have how much it actually costs to build each component and the actual time – all the actual start and finish dates of all the activities that can go into it.
"On a program that big we're talking 100,000 activities," Campbell says. "Even with 20 years of experience, I wouldn't know what to do with 100,000 activities. Well, Iris does. Iris can keep those as schedule modules. So when we propose a different program, we're not going to create a whole new schedule. We just go into Iris and say, 'Hey, we're creating a new filtration facility.' And Iris will tell us, 'Well, you've already made a filtration facility before. Here's what it actually took in time and money to create that.' And all of a sudden, we have a schedule that would have taken me years to develop. So when we go into proposing a new program, we bring that knowledge to it."
Automated risk-adjusted scheduling
Artificial intelligence also integrates project managers' ongoing knowledge of job progress with monthly reviews in InEight Schedule to automate risk scheduling. What Campbell calls "non-scheduling people," such as program managers and project managers, get an email listing activities for which they are responsible that were active in the just-finished period. The managers update status of those activities in InEight.
Jeff describes it as a check on the pulse of project progress, "They're saying, 'How am I doing with the activities I'm in charge of, according to my deliverables?' So they take it really seriously.
"InEight Schedule allows them to update the schedule, and at the same time, introduce risks. Those risks are kind of like an off-ramp to say, 'Guess what team, there may be an issue with us making this deliverable, which could impact us getting funding. But it's not necessarily that I am the cause of that. I am introducing a risk that may be affecting that.
"In the past, that would go to a risk manager – someone who's like a 40-hour a week professional who uses some really expensive software to develop a risk-adjusted schedule that's actually not a schedule. It's just kind of a Monte Carlo simulation. We don't need to have a six-figure-income professional risk person on our programs, because Iris and InEight Schedule creates risk-adjusted schedules automatically."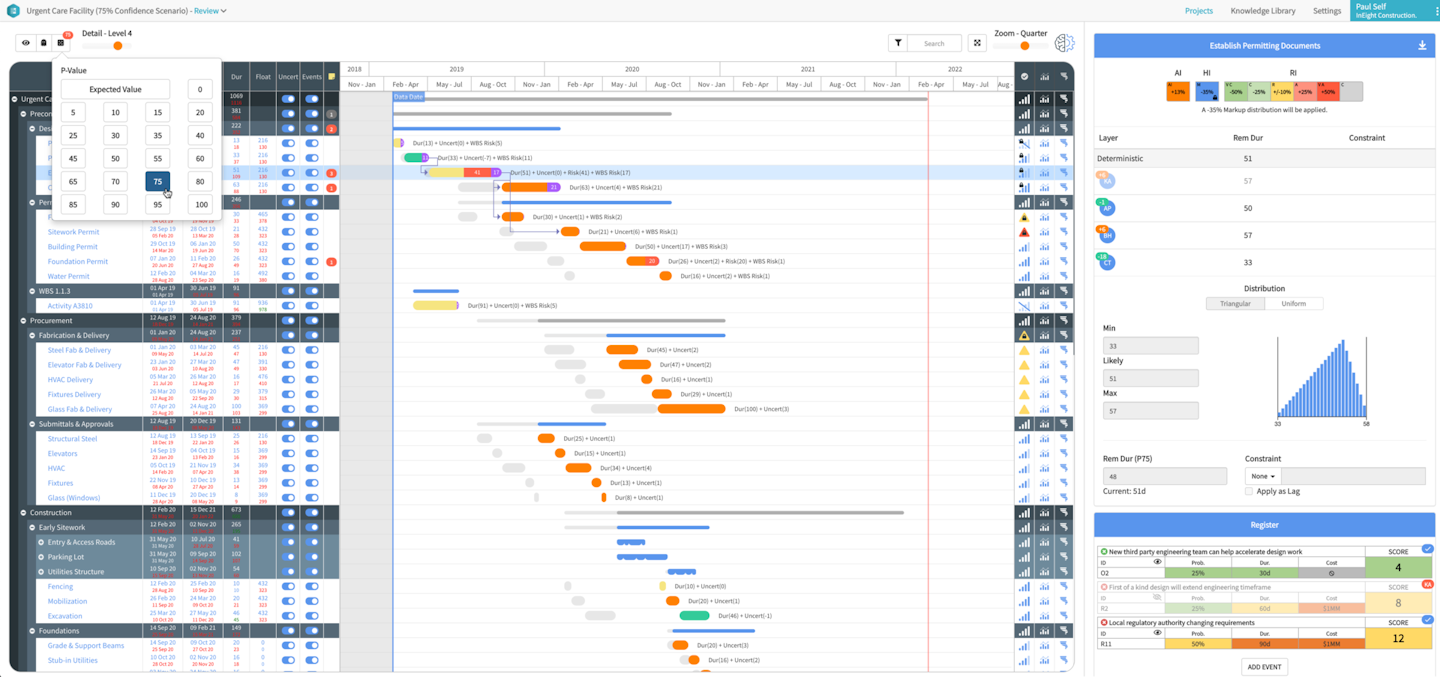 At Schedule Review, project managers introduce risks to their deliverables and rate their confidence in performance to feed the AI's ability to automatically generate risk-adjusted schedules and budgets.InEight SoftwareProject managers introduce risks at project reviews and assign them probabilities – chance of their occurring as a percentage. Campbell's scheduling team reviews their updates, assessing risks, and decide whether or not to have Iris create an InEight risk-adjusted schedule. If one is warranted, program and project managers immediately see the risk-adjusted schedule.
"Right away, they're starting the mitigation planning, which would have taken weeks or months to do on the other side. So that is another brilliant feature that has really helped us in our programs."
InEight recently released functionality that allows the cost estimate and schedule to use a unified risk register. The user benefits from work construction planners do up front in developing a risk matrix, import it into InEight Schedule, and now offer a unified point to access the impact of a risk occurring not only measured in days, but also in dollars.
Critical evolution in scheduling quality
Iris also has a feature called Schedule Critique that measures schedule quality.
"We're talking about things like constraints, missing logic, missing predecessors, successors, all sorts of great things that we need to make sure are included when we produce the schedule. If you do not have a high-quality schedule, then what you're showing your stakeholders is not very good information," says Campbell. "InEight Schedule allows us to be better planners and schedulers because it will automatically identify as you're building the schedule, 'Hey, you're missing predecessors. Hey, you have a constraint. Hey, there's a gap in your critical path.' It very nicely and intelligently tells you when you're not being a very good planner/scheduler and tells you how to fix it. InEight Schedule keeps us to our high standards."
Experience using it has convinced Campbell that AI is a lynchpin in the chain of events that will take construction performance up to 21st Century standards of business reliability and productivity.
"You have to think about the project superintendent and program manager. They have all the experience, but eventually those great folks are going to retire. Iris and InEight Schedule captures all of their knowledge, and that is how we are going to evolve as an industry.
"Right now, every single time we have a new project, we start over from scratch, right? But now, the more we learn from past programs and projects, the more we build that Knowledge Library and can apply that knowledge to our new programs and projects, the better we're going to be. We're going to have actual cost data, actual start and actual finish dates. So we will know exactly what it took to build something instead of what it might take to build something in the future."
Companies in this article