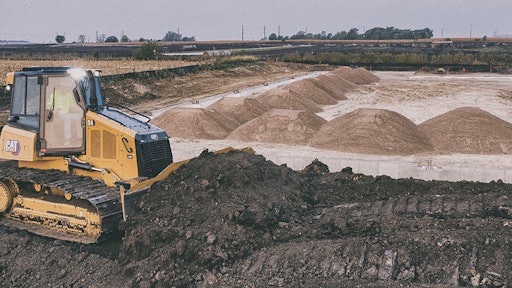 Caterpillar
Bad news: The shortage of skilled machine operators persists. Good news: Equipment manufacturers are taking steps to help contractors deal with the issue from inside the cab — incorporating assist features that make the work easier.
These operator "helpers" automate blade, bucket, steering and other machine functions. This enables newer operators to work at productivity levels closer to their veteran counterparts. Seasoned operators benefit, too. Reduced effort and fatigue may allow them to stay on the job for longer.
Let's take a closer look at one of the aides available specifically for dozer operators: Steer Assist.
What is Steer Assist?
Cat® Steer Assist for Dozers automates multiple steering functions: track steering (for light and heavy loads) and blade tilt steering (for heavier loads). It automatically maintains straight line travel — ideal when working on slopes but helpful on flat ground, too. And it works in both forward and reverse. Just start your pass and Steer Assist does the rest.
There's also a 3D version that automatically follows guidance lines from both 3D digital site design files and infield designs. Steer Assist 3D helps operators more accurately cut and spread material to an edge, toe, crown, etc. so they can achieve precise pass-to-pass overlap in fewer passes. That saves time and fuel.
Both the standard and 3D versions of Steer Assist can reduce operator inputs by up to 75% when maintaining straight travel on side slopes.
How does Steer Assist work?
Operation is simple. Just turn on Steer Assist using the dozer monitor. Then shift into forward or reverse, steer to the desired heading and release steering command to maintain it. Steer Assist 3D requires first loading the 3D digital site design file and selecting the horizontal guidance line. Then shift into forward, engage AUTO mode on the joystick, move the blade tip within the capture range and release steering command.
Operators can take manual control of dozer steering or the blade anytime to override the system. When they're not giving a manual command, Steer Assist takes control once again.
Want to boost dozing productivity even further? Use Steer Assist in conjunction with other Cat dozer assist features like AutoCarry, Traction Control and Grade with 3D.
How do I get started?
Check out these videos of Steer Assist and Steer Assist 3D in action, then ask your local Cat dealer for an in-person demo. Steer Assist works on all D5 and D7 dozers, plus D6 and D6 XE models with serial numbers 1000 and above. The standard version is included with ARO with Assist — no GNSS signal or additional hardware required. Steer Assist 3D comes as part of the factory-installed Grade with 3D package. Your dealer can walk you through the details about upgrades and retrofits, too.