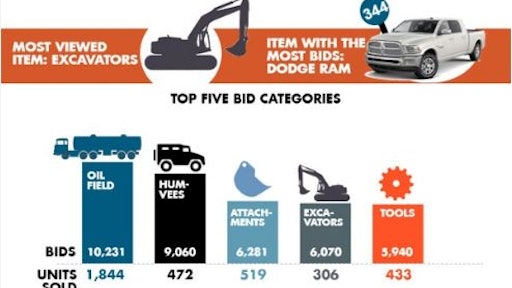 Online used-equipment marketplace IronPlanet broke records with its 23 September auction events with more than $99 million in sales on 9,890 items.
"September, 2016 was a record-breaking month, for the number of auctions that we held, the total number of bidders and buyers, as well as the total gross merchandise volume of over $99 million," said Gregory Owens, IronPlanet chairman and CEO. "This is no doubt that we were able to achieve these stellar results due to our advanced data-drive technology platform, the power of our multiple online marketplaces, robust on-site auction events and the global reach of our more than 1.5 million registered users worldwide."
IronPlanet's September highlights included:
5,933 global bidders
Biggest ticket: $875,000 for a 1999 Liebherr LR1400 Lattice-Boom crawler crane
Most viewed product category: excavators
Most bids on: a Dodge Ram pickup truck
The top five bid categories:
Oilfield equipment (10,231 bids)
Humvees (9,060 bids)
Attachments (6,281 bids)
Excavators (6,070 bids)
Tools (5,940 bids)
A global community of buyers and sellers representing 84 countries participated in IronPlanet's September events, with 34% of auction items receiving international bids. International buyers purchased 1,519 items. After the U.S, Canada and Mexico, Great Britain was the most active bidding country.
Texas was the U.S. state that sold the most items as well as the state that bought the most.
IronPlanet's Cat Auction Services sale in Dallas - Fort Worth, Texas, on September 14 featured the debut of IronPlanet LiveStream, the next generation in online bidding for live on-site auctions. IronPlanet's Leaderboard technology also reached online bidders worldwide with the same views, videos and bidding experience as onsite bidders.