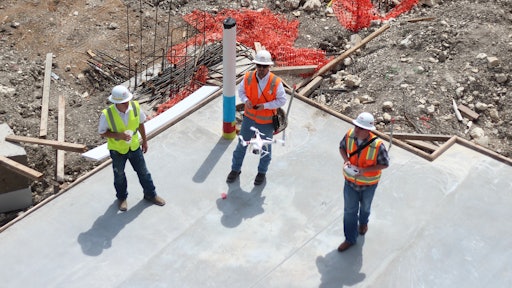 Rules the Federal Aviation Administration handed down last year to govern commercial drone use didn't address every item on advocates' wish lists, but they represent a major step toward further adoption and more creative uses of drones in construction.
The regulations took some of the most common applications of drone technology and made them permissible under Section 107 of the Federal Aviation Regulations, without requiring each project to obtain the FAA's approval.
But Part 107 is an early step in UAVs'legal life. A web of local and state rules add other layers of consideration atop the new federal regulations. Many of the most anticipated drone uses — such as moving heavy equipment, allowing a single operator to run an entire fleet, or flying at night — still require a waiver.
"Once the FAA creates its rules for expanded operations within the next year or two . . . by just extending the rule, we're going to see tremendous efficiencies and benefits derived from those operations," said Diana Marina Cooper, VP of legal and policy affairs at drone services company PrecisionHawk.
A handful of rules to keep in mind for now:
The visual line of site requirement requires a UAV operator to keep the drones in view while it's in the air
Each UAV can weigh no more than 55 lbs., including an attached load, in flight
Operators must obtain a waiver to fly over people who haven't been pre-approved as part of the project for which the drone's use was permitted
Operators no longer need a sport pilot's license to fly UAVs, but must complete an aeronautical knowledge test
(more on FAA rules' impact on drones in construction . . . )