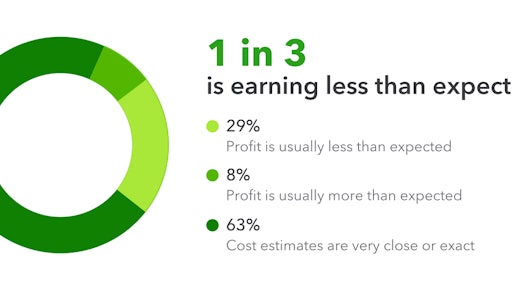 Intuit QuickBooks
The challenges construction companies face when tracking project costs and profitability have been cast in new light by an in-depth job costing survey jointly commissioned by QuickBooks and TSheets.
Estimates are a high-risk, challenging task
One in four respondents said just two or three inaccurate estimates could tank their business. Meanwhile, 20% agreed that estimating projects is the hardest financial process to get right.
And yet, over half (54%) track project costs without software, which could play a role in a business' overall confidence in their estimates.

When it comes to who prepares project estimates, business owners were more likely to take on the responsibility than financial experts.

Perhaps as a result, not all respondents reported a high level of confidence in estimating their project costs. Some 60% said they felt very confident, while the remainder were at best only somewhat confident. With those numbers, profitability is hardly a guarantee. Almost a third (29%) say they usually come away with less profit than estimated.
(more about the survey and results...)