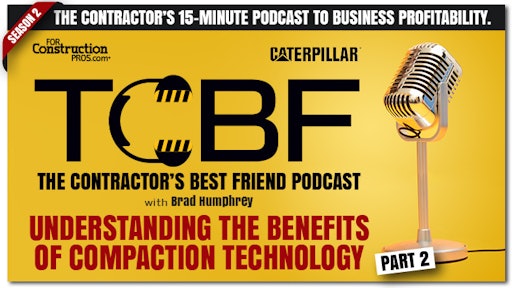 What are the benefits of Compaction Technology on the jobsite? Can I ask for a demonstration or test drive with my Caterpillar dealer? What type of read outs do I see on the display?
The team answers all these questions and takes a deeper dive into the topic of Compaction Technology.
What are you waiting for? Take a listen now!
Moderated by: Brad Humphrey, The Contractor's Best Friend, Pinnacle Development Group - Founder
Brought to you by:Jason Hurdis, Caterpillar Inc, Global Market Professional – Quarry & Aggregates Industries
Lonnie Fritz, Caterpillar Inc, Market Professional – Construction Industries
NEW EPISODES EVERY OTHER WEDNESDAY 

Subscribe on iTunes: itunes.apple.com/us/podcast/the-c…d1406479825?mt=2 
Listen on Stitcher: www.stitcher.com/s?fid=205707&refid=stpr 
Leave a review: itunes.apple.com/us/podcast/the-c…d1406479825?mt=2
Tell us what you think of the podcast series, take our survey: 
www.surveymonkey.com/r/DSVVLX9 
Listen to more construction news on the Construction News Tracker at www.forconstructionpros.com