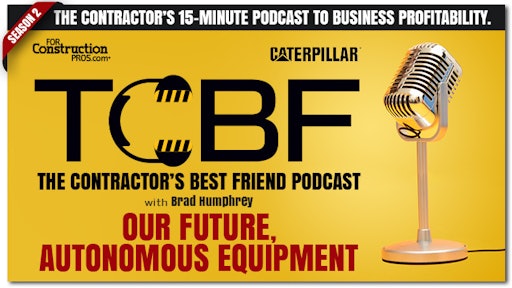 We know that our trade is one of the riskiest industries from a safety standpoint. What if we remove the human element from harm's way?  How do we create a solution for the skilled labor shortage? Is it operating equipment with out people?
Brad and the subject matter experts discuss how Caterpillar has evolved the progression of their equipment on the jobsite and what the future might hold.
Listen now, you don't want to miss this hot topic conversation!
Moderated by: Brad Humphrey, The Contractor's Best Friend, Pinnacle Development Group - Founder
Brought to you by:Jason Hurdis, Caterpillar Inc, Global Market Professional – Quarry & Aggregates Industries
Lonnie Fritz, Caterpillar Inc, Market Professional – Construction Industries
NEW EPISODES EVERY OTHER WEDNESDAY 

Subscribe on iTunes: itunes.apple.com/us/podcast/the-c…d1406479825?mt=2 
Listen on Stitcher: www.stitcher.com/s?fid=205707&refid=stpr 
Leave a review: itunes.apple.com/us/podcast/the-c…d1406479825?mt=2
Tell us what you think of the podcast series, take our survey: 
www.surveymonkey.com/r/DSVVLX9 
Listen to more construction news on the Construction News Tracker at www.forconstructionpros.com