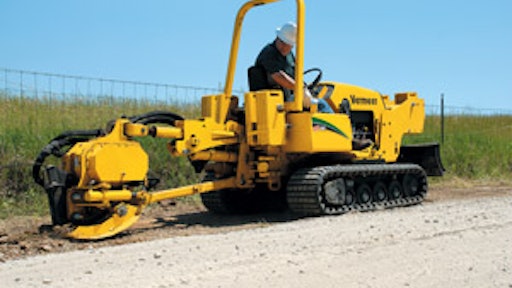 There have been several new trenching products introduced to the industry over the past several months and we thought we'd get some input from leading manufacturers about the advancements to their product lines and what makes their equipment stand out.
We spoke to personnel at Barreto Manufacturing, Vermeer Manufacturing Co. and The Charles Machine Works Inc., makers of Ditch Witch products. Here's what they had to say:
JL: Have you introduced any new trenchers or related products this year?
Greg Barreto, Barreto Mfg.: We introduced our 1324 ST zero-turning radius, all-hydraulic, walk-behind, steerable trencher.
John Kuyers, Vermeer Mfg. Co.: Vermeer has introduced two models recently: the RTX450 with dual rubber tracks and the RTX1250, a ride-on tractor with the option of tires or quad rubber tracks.
Brent Bolay, Ditch Witch: Since the start of 2007, we've introduced the Model 420SX, a 40-hp addition to our vibratory plow line, and the Model HT220, a large tracked trenching machine.
JL: What features would you like to highlight?
Barreto: Our steerable trencher offers zero turning radius, enhanced maneuverability and ergonomically friendly controls. It's all hydraulic and requires little maintenance. It meets demand in the rental market for ease of transport and operation.
Kuyers: The RTX450 is a hydrostatic tractor with the options of a sliding offset or center-mount flex-pivoting trencher as well as a vibratory plow and rock wheel. Since the RTX450 has dual tracks, a flex trencher is needed. This allows the operator to trench a radius without side loading the trencher attachment or chain, helping to increase overall productivity and longevity of the attachment. The rubber track design also increases flotation, tractive effort and stability, increasing the unit's ability to be used in less desirable ground conditions than traditional rubber-tired machines.
The RTX1250 is the only trencher on the market that can change between rubber tires to tracks within a few hours. The quad-track design provides greater flotation, stability, tractive effort in poor ground conditions, increasing productivity and extending the overall work season as well. The RTX1250 has a large assortment of attachments to meet the needs of the marketplace. The RTX1250 also meets the upcoming emission requirements with a Tier III 120-hp Cummins engine.
Bolay: The 420SX is now at the top of our self-contained, dedicated plow line. We put a seat and operator's area on the machine while keeping it compact. It also offers ground following capability, so it follows the contour of the ground while keeping the utility at a constant depth.
The HT220 represents a big step for Ditch Witch as it takes us into the large-track trenching machine market. This is a little bit of a stretch for homeowner rentals, but this machine will be rented on a monthly basis or longer by a customer with plans to buy. The HT220 digs a deeper and wider trench and it features a conveyor, which can be placed on either side of the trench, to handle the spoil. A cab is standard with heat and A/C.
JL: What are some general trends in trenching technology?
Barreto: While trends can be hard to quantify, one continuing trend, or demand, in the trenching market we've worked to fulfill has been to offer simple, easy-to-operate equipment without compromising productivity.
Kuyers: While trenching has not changed significantly over the past years from a technological standpoint, as most trenchers are now hydrostatic versus mechanical, there has been an increase in trencher productivity, ergonomics and versatility due to newer hydraulic technology.
Bolay: In general, the trenching business is fairly steady. Homeowner and small contractor business is slow, and this ties back to homebuilding business being slow. Rental companies aren't replacing their fleet as often as they used to. But there's a lot of commercial building going on and the increasing use of fiber optics to provide faster Internet connections for homes and businesses will continue to increase demand for trenchers.
JL: What makes your company's trenchers stand out in the market?
Barreto: Barreto stands out for its innovation in design and technology. Starting with being the first to develop all-hydraulic technology as a more reliable alternative to mechanical components, Barreto has led the industry with a four-wheel drive trencher, a self-propelled mini trencher, and most recently, a trencher offering zero turning radius.
We not only utilize hydraulic technology as a means of eliminating common maintenance issues (broken belts, chains and gears), we use hydraulics to their optimum efficiency for the horsepower of the equipment. Hydraulics reduce wear and tear and provide the owner with greater return on investment due to minimal downtime.
Kuyers: Vermeer is leading the way in terms of providing the necessary features to enhance the utilization of the trenching equipment for its customers though its development and application of track undercarriage systems. Vermeer has created common control platforms to minimize the learning curve for newer operators. Our dealer network also assists customers by providing the correct specifications to ensure the proper application of the machine in the various conditions it could be placed into.
Bolay: Ed Malzahn (president of The Charles Machine Works Inc.) was the founder of the trenching industry. As a result, we have long-standing brand recognition and our product remains a leader. We offer high quality and an excellent dealer network to supply parts and support after the sale. This is definitely one of things that makes us stand out. At its core, this is a family business and that comes straight from the factory and is carried out through our dealers.
Companies in this article