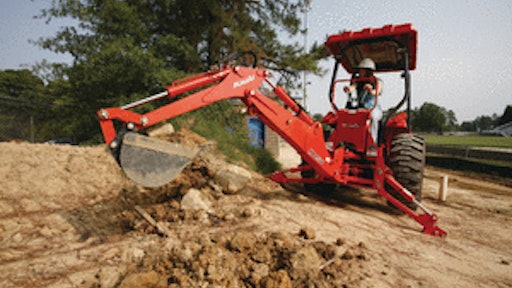 Backhoes
Features on all backhoes include sub-frame mounting, self-contained hydraulics, two-lever hydraulic controls, hydraulic stabilizers, transport locks and a variety of bucket sizes.
Five models
Digging depths from 76 to 115 in.
Maximum reach from 113.1 to 149 in.
Kioti Tractor
Bradco Trencher Attachment
The Bradco line of trenchers offers cutting depths from 24 to 60 in. and cutting widths of 3 to 12 in.
615, 615F, 625 and 640 fit compact and standard skid-steer loaders
PTO-driven 330 and 612 mount on a tractor's three-point hitch
Standard- and high-flow models
Fixed-length boom with a spring-loaded, self-adjusting idler and full rock guard
Heavy-duty crumber and safety bar
Cup, shark and rock, and frost teeth
Paladin Construction Group
BW145-40 Series Vibratory Rollers
The BW145D-40 and BW145DH-40 smooth drum and BW145PDH-40 padfoot drum vibratory rollers deliver 22,500 lbs. of centrifugal force in high amplitude and 11,250 lbs. in low amplitude.
56-in.-wide working width
Vibration frequency of 2,040 vpm
75-hp Deutz Tier III-compliant diesel engine
Vibration-isolated operator station with ergonomically repositioned steering wheel and integrated instrument cluster
Single lever controls travel direction, speed and vibration
BOMAG Americas
CRT 48-35L-PS
Wacker's new 48-in. CRT 48-35L-PS power steer ride-on trowel combines hydraulics and electronics for a true power steer system. The CRT 48-35L-PS uses joystick controls features a patent-pending steering mode switch to allow the operator to select the response of the joysticks to meet personal preferences and concrete conditions. Other features of the trowel include an adjustable 21-in.-wide seat, arm rests, a 35-hp Lombardini diesel engine and a speed range of 25 to 165 rpms.
Wacker Neuson Corporation
Drain Cleaning Machines with Auto Cable Feed
Electric Eel introduces four new models featuring auto cable feed that advances and retrieves cable with the push of a lever. Cable guides keep hands off rotating cable for added safety. Open cages allow quick cable inspection and cleaning, making these models more user-friendly for contractors and homeowners alike. The Model RF cleans 3-6" diameter lines and runs either 5/8" or 3/4" diameter "Tri-Max" inner core cable (the toughest cable in the industry) in lengths up to 100 ft. The Model Z5-AF cleans 1¼-3" lines up to 100 ft. and runs 1/2" galvanized aircraft wire inner core cable. The Model E-AF cleans 1¼-3" lines up to 50 ft., while an inner drum eliminates cable buckling in the cage. The Model CT cleans 3/4-2½" lines up to 50 ft. A unique variable-speed motor feature gives operator maximum control.
Electric Eel
DV-600c Power Prime Pump
Rain for Rent announces its newest high-flow pumping innovation, the DV-600c Power Prime pump. This portable, centrifugal 30x24-inch pump is the largest-flow pump available for rent or sale in the US. With a flow rate up to 28,000 gpm, the DV-600c Power Prime pump is idealfor large pumping projects. This pump produces 96-feet of head, suction lifts up to 28-feet, handles solids up to 5.25-inches, and is 87% efficient. With a footprint of 170-square feet, smaller than some lower-volume pumps, the DV-600c can be easily transported by truck. A 430-gallon integral fuel cell allows for 22-hour run time. Combine the DV-600c with Rain for Rent tanks and pipe for a complete solution to your customers' liquid-handling problems.
Rain For Rent
EZ Hauler
SourceOne EZ Hauler gives rental cutomers a new transport option. EZ Haulr allows transport of virtually any make or model of walk-behind equipment on any vehicle with a 2" receiver hitch. Adjustable-width ramps accommodate equipment with wheel spacing up to 35" width and 46"
front to back. Load capacity is 350 lbs. EZHaulr has self-storing no-slip ramps, permanent front-wheel stops and a durable powder coated finish. Choose an EZHaulr constructed of all steel or one with a steel structure and aluminum ramps. Both include a custom two-wheel cart made to transport and store the EZ Haulr.
SourceOne
Front-mounted Snowblowers
Bobcat's front-mounted snowblower is available for Bobcat compact tractor models CT120 and CT235. Clear snow from driveways, sidewalks or parking lots. The discharge chute rotates hydraulically allowing the operator to redirect snow as needed. The snowblower requires a lift kit and PTO kit to mount to the tractor and a mid-PTO, loader joystick and control valve. Two snowblower models are currently available: the FCTSB49 features a 49-in. cutting width and the FCTSB62 features a 62-in. cutting width. Model FCTSB72 - with a 72-in. cutting width - will be available at a later date for the CT225 and CT450.
Bobcat Co. - Doosan Infracore
LF Forward Compaction Plates
The LF75 and LF100 forward compaction plates feature improved speed, flexibility and performance and are available with a number of options to customize the plates. The plates are convertible from soil to asphalt applications and feature specially engineered bottom plates with edges that give a well-defined contact surface and leave no marks. The plates' unique water distribution system is integrated into the bottom plate and optimizes water consumption by means of a flow adjustment valve. The LF75 is available with a Honda engine and a 16.5-in. bottom plate. The LF100 is available in a gas or diesel option and features a 20-in. bottom plate. Both plates are equipped with Dynapac's Low-Vib handle.
Dynapac USA, Inc.
Light Compaction Equipment
Sakai America now offers their light equipment line, which consists of rammers, plate compactors, and a walk behind roller, single drum and double drum vibratory rollers to contractors, dealers and rental houses in North America. Sakai's high-impact, low-vibration rammers - the 110-lb. RS45, RS65 that weighs in at 160 lbs. and the 180-lb. RS75 - are powered by an EPA-compliant, fuel-efficient Honda gasoline engine with horsepower ranging from 2.3 hp up to 2.8 hp. The rammers offer plate widths of 9.0 x 13.5 inches to 11 x 13.5 inches and impact frequencies of 10.8 vpm to 11.3 vpm. The plate compactor line consists of five vibratory plate compactor models - the PF120, PF150, PF280, PC600 and PC800 - that cover a range of asphalt and soil applications. All plate compactor models come with fuel-efficient Honda engines that range from 2.8 to 9 horsepower. The PF120, PF150 and PF280 models offer a forward and reverse option. Plate width ranges from 14 x 20.5 inches to 18 x 34 inches. The PF280 model offers plate extensions, which increases the plate width from 18 x 34 inches to 24 x 34 inches. Sakai's walk-behind vibrating roller, the HS67ST, is powered by a fuel-efficient Honda gasoline engine that produces up to 8.9 hp and speeds up to 2.2 mph. The overall weight of the HS67ST is 1,590 lbs. and offers a rolling width of 20.5 inches.
Sakai America, Inc.
Platinum Series P185
The new Platinum Series P185 portable air compressor from Doosan Infracore Portable Power combines valued features of the previous generation with advancements for enhanced performance. The new P185 offers a 20-percent increase in fuel efficiency, a reduction in noise level to 2 dBA under EPA requirements, and a 25-percent increase in toolbox storage space. Ease of maintenance is assured with designed-for-service component locations and electronic engine diagnostics capability.
Doosan Infracore Portable Power
RT10 and RT 12 Compact Trenchers
The 11-net-hp RT10 and the 16-gross-hp RT12 walk-behind trenchers feature fully hydrostatic steering for easy handling.
Choice of high-flotation tires or heavy-duty, oscillating tracks
Trail wheel increases stability and reduces breakover when loading and unloading or going over a curb
Achieve speeds up to 3.7 mph when equipped with tires
Simple change of a sprocket increases torque to the digging chain for tough ground conditions
Optional pin-on backfill blade and Roto Witch attachment
Ditch Witch / The Charles Machine Works
Sirocco 2 4X150 HI
The Sirocco 2 4X150 portable, lightweight metal halide light can be operated on less than 6 amps with a 1-kW generator.
Four lamps feature a 12,000-hour life, allowing the same illumination as the Sirocco 2000W halogen version while using three times less power
Lamps run independently with their own ballast built into the system
Tubular-shaped envelope features a stronger fabric that increases the spread of light
Anti-vibration system allows mounting to moving equipment
Airstar America, Inc.
Slick Lftr
The new Slick Lftr is completely portable - moves anywhere in your shop, garage, loading platform with easy one-man handling. The Slick Lftr loads and unloads almost anything heavy that would usually require two or three people. With just one person you can easily lift and move transmissions, crates, heavy boxes, mowers, snowmobiles, ATV parts, motorcycles, tractor parts, personal watercraft, RV hitches, lathes, heavy shop equipment, machines, and of course, engines. Features include unique wheel placement that allows the Slick Lftr to be moved through standard-width residential doors, six-position boom for multiple lifting heights and capacities, 400-lb. lifting capacity and 47-in. boom length. Constructed of heavy-gauge square tubular steel with "safety yellow" powdercoat finish, the Slick Lftr comes with a Dutton-Lainson plated brake winch.
Slick Lftr
SX Series
Snorkel introduces the SX series, a new family of electric slab scissors that will replace both the current Snorkel S series slab scissors and the UpRight MX and X series currently sold in Europe. The new 19-ft., 26-ft. and 32-ft. scissors combine the best attributes of the existing Snorkel and UpRight slab scissor ranges. In addition, Snorkel highlights the SB46JRT, a 46-ft. straight stick boom lift with a jib, which is the first in a new series of boom lifts on a common chassis. Snorkel also launches the Speed Level Plus, an enhanced version of the Speed Level series of no-stabiliser, rough-terrain lifts. The Speed Level Plus delivers faster ground and lift speeds, can handle steeper grades, has improved ground clearance, is lighter and can lift more weight. The SL series Speed Level is a large deck platform lifted by a sigma arm, which offers rough terrain capabilities without the need for outriggers. Finally, Snorkel is introducing the XT24SD, which combines the transport benefits of a trailer-mounted lift with the performance and manoeuvrability of a self-propelled aerial work platform. It is light enough to be easily towed by most pick ups, or light commercial vehicles, and can be driven from the platform like a conventional scissor lift.
Snorkel
TMX Towable Mini-Excavator
The TMX Towable Mini-Excavator is designed with a quick-on and quick-off hitch system to be hooked behind a standard half-ton pickup, van or light-duty tow vehicle. No trailer or CDL license is required. The TMX Mini-Excavator weighs 2,941 lbs. has an 8-ft. digging depth and a 6,600-lb. digging force. It also features a 7-ft. 2-in. loading height and a swing radius of 140 degrees. The TMX mini-excavators utilize zero-turn technology for access to tight locations. The drive tires are designed for mud terrain for better performance and traction in demanding applications. The orbital motor has tapered roller bearings on the output shaft. The unit also features a 72-in., 4-way blade system.
The TMX Towable Mini-Excavator is designed with a quick-on and quick-off hitch system to be hooked behind a standard half-ton pickup, van or light-duty tow vehicle.
No trailer or CDL license is required
Weighs 2,941 lbs. has an 8-ft. digging depth and a 6,600-lb. digging force
Features a 7-ft. 2-in. loading height and a swing radius of 140 degrees
Utilize zero-turn technology for access to tight locations
Drive tires designed for mud terrain for better performance and traction in demanding applications
Orbital motor has tapered roller bearings on the output shaft.
Features a 72-in., 4-way blade system
ExtendQuip LLC
Tracinator
The Tracinator is a one-tire revolution dirt removal, compact and portable wheel wash system. The Tracinator is designed to flush itself clear of debris by attaching a 20in. hose from a water truck or fire hydrant and placing the clean-out valve in the open position. It can be used independently or in conjunction with any of the Neptune Automated Wheel Wash and Disinfecting Systems. The Tracinator can be configured with a set of hinged ramps or installed in-ground, flush with the existing road.
Innovative Equipment Solutions (IES)
TRX-26
The TRX-26 dedicated walk-behind trencher features the patented Dingo TX-style control system, which provides easy control and eliminates the "jerk" steering required with handlebar control steering.
26-hp Kawasaki engine
Can be outfitted with 2-, 3- or 4-ft. boom attachments for trenching up to 8 in. wide and 48 in deep
Suitable for utility work, irrigation, plumbing and other applications
The Toro Company
YC15 Mini-excavator
The YC15 mini-excavator has a 3,583-lb. operating weight and a maximum digging depth of 7 ft. 9 in.
Kubota D1105 engine rated at 19.0 hp at 2,200 rpm
Standard canopy, control pattern selector, 16-in. bucket, quick coupler and lights package (boom and strobe)
Available enclosed cab, expandable track (39 to 51 in.) and two-speed travel
Simple design for easy maintenance
YC Machinery & Equipment Inc. / YUCHAI
Companies in this article