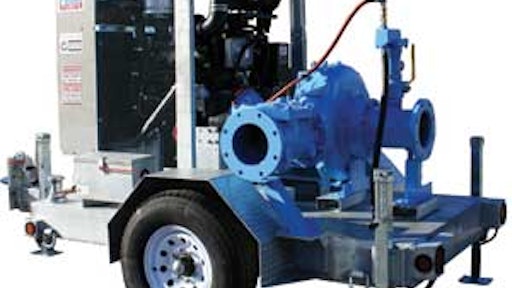 The following are products recently introduced to the rental market, as well as models which have undergone significant changes.
Rain for Rent HH-125c
The HH-125c four-inch pump from Rain for Rent is specifically designed to produce larger flows and higher discharge heads for mining, dewatering projects and temporary fire protection systems. Because the versatile HH-125c can handle solids up to 3 inches in diameter, it can also be used as a sewer bypass pump. The pump is capable of producing flows up to 1,400 gpm and discharge heads up to 360 feet. Mounted on a galvanized trailer and skids to protect against rust and corrosion, this equipment has a nearly maintenance-free surface.
Tanaka TEA-500
Tanaka America Inc. announces the TEA-500 two-man auger has returned to the auger lineup and is available for purchase. The TEA-500 joins Tanaka's one-man auger, the TIA-350S. The TEA-500 features a 50cc, 2.5-hp Tanaka two-stroke engine; 33:1 gear reduction ratio; fold-up handles for easy storage, dual safety throttle system and a one-year professional/rental warranty. In addition, the TEA-500's one-inch diameter round output shaft can accept up to 12-in. earth bits and an optional 15-in. extension is available as well.
Max USA SuperFramer SN883CH/34
The SN883CH/34 SuperFramer features a compact design and only weighs 6.8 lbs. and is 30 percent smaller than many conventional tools. Equipped with a selective trigger system, the tool comes in a single fire mode, but when a pin is removed, it becomes the patented Max Anti-Double Fire trigger system so the tool can be contact or single fired with no adjustments. Features include open nose for easy jam clearance, dial adjustable depth control, pointy teeth on contact, maintenance-free end cap filter and comfortable rubber grip.
MBW Universal Vibratory Platform for Excavators
MBW's boom-mounted vibratory platform can be fitted with an assortment of vibratory wheels or vibratory plates, depending on soil type and work area constraints. Whichever compactor is affixed to the vibratory platform, the combination of vibratory forces (10,000 lbs. CF) and down pressure (to 33,000 lbs.) makes quick work of the compaction task at hand. Vibratory plate and wheel options for the Universal Plate are available in 24- and 36-in. working widths.
Leading Edge Single Pointed Ripper Bucket
The Single Pointed Ripper Bucket (SPRB) is a new-style ripper/bucket combination for excavators and backhoes that allows the operator to easily rip rock, coral shale, caliche, decomposed granite, limestone, sandstone, asphalt or frozen ground with the maximum breakout force. It can also pry out and carry stumps or boulders, rip a clean narrow V trench for laying utilities, as well as scoop and load material. The SPRB is a patent-pending design that allows the operator to own a relatively inexpensive Single Pointed Ripper plus allows the operator to scoop and remove ripped debris without requiring a tool change or machine change to use another bucket.
Ridgid SeeSnake LCD Monitor+DVD
The Ridge Tool Co. introduces the Ridgid SeeSnake LCD Monitor+DVD for use with all SeeSnake camera reels. The new rugged and durable high-resolution LCD monitor and DVD system provides users with digital recording capabilities as well as improved picture quality in a lightweight design. The 10.4-in. color LCD monitor has a resolution of 640 X 480 and provides superior picture quality, even in sunlight. The system records video onto DVDs, allowing users to more effectively serve customers. Weighing only 25 lbs., the unit is lightweight and portable. It operates by 120-volt AC power supply.
Blastrac BS-180
The Blastrac BS-180 removes ceramic tile, wood, VCT, carpet, sheet vinyl, rubber, adhesives, roofing materials and coatings. The BS-180 is self-propelled with a hand-controlled clutch that's easy to operate for speed and safety. Designed for heavy-duty use, the BS-180 features a motor and heavy-duty motor shaft to provide greater torque for efficient removal, and a unique swivel head to keep the blade in contact with the floor. Select from a 22- or 30-degree angle attachment.
HLV Series from Detroit Radiant Products
The HLV Series is the latest in infrared technology. Engineered to utilize both two-stage and condensing technology, it offers optimal operating efficiencies and fuel savings. Key operational features include a 20-percent reduction in output when operating in low fire and stainless-steel tailpipe when optional condensing operation is utilized. Infrared output in optimized with highly polished aluminum reflectors and coated aluminized or hot-rolled steel radiant tubes. Standard features include titanium-coated combustion chambers, hot surface ignition, indicator lights and most mounting accessories.
Ingersoll Rand Attachments
The line of Ingersoll Rand attachments has been expanded to include attachments for skid-steer loaders and compact track loaders. The 32-in. BSX210 hydraulic box blade features foam-filled tires and a reversible cutting edge. Four models of industrial grapples are available in widths ranging from 60 to 80 in. and two grapple forks are available in widths of 66 and 78 in. Both models of pallet forks have a 46-in. fork frame and offer respective tool lengths of 42 and 48 in. General-purpose buckets range from 50 to 74 in. wide with capacities of 8.5 to 12.7 cu. ft.
Five models of heavy-duty buckets range from 68 to 88 in. wide with capacities from 18.8 in. to 24.8 in. Four sizes of combination buckets feature interlocking, serrated grapple edges.
Harley TM-4 Tractor Power Box Rake
Harley's TM-4 rake is specifically designed for 15- to 22-hp compact tractors. Unit can be used for applications such as grading and shaping, digging and plowing material, windrowing debris, drying out muddy jobsites, reconditioning hard soil, rejuvenating old turf and seedbed preparation and trench restoration. Features include a modular 4-ft. design and a roll-back barrier above the roller that allows for quick reaction to soil moisture conditions.
Bandit Stump Grinder Model 4000
Bandit introduces its 275-hp three-speed Stump Grinder 4000 featuring a hydrostatic drive system with a rotating planetary case motor, eliminating the need for belts or gears to power the cutter wheel. The cutter wheel is 40 in. in diameter, 2 in. thick and has 48 buck teeth with hard-surfacing in the highest wear areas of the head, as well as recessed pockets to prevent wear to the bolts. The Model 4000 is easy to operate, with a three-speed track drive and push-button controls mounted on the joystick inside the operator's cab, which features a display panel with warning leads and a 6-in. display screen as well as heat and air conditioning.
Loegering Mud Bucket
Loegering's Mud Bucket quickly attaches to your skid steer or track loader to transport any flowable material around the jobsite. Unit holds up to a 1/2 yd. of concrete or other flowable material and an 18.5-in.-wide extension/reduction chute reduces to a 9-in.-wide opening for accurate material placement. A hydraulic gate unloads material with no additional labor. The Mud Bucket is suitable for use in tight areas and is easy to install while it attaches to most skid steer models.