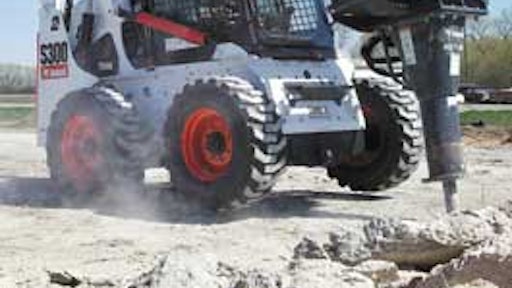 When you look at the field of skid steers available to the rental industry today, the task of finding the right one for your customer's application can seem daunting. Here we break it down to help you find the right loader for your inventory.
"The primary use of a skid-steer loader is as a power source," says Kelly Moore, skid-steer and track loader product manager, Gehl Co. Therefore, versatility to run a wide array of attachments means performance can be measured using several different criteria.
First, you must understand how your customer intends to use the loader and determine which criteria are important. "Compare all of the specifications before making a decision," says Moore. This includes the specifications of larger and smaller models from the same manufacturer, as well as competitive units. Compare dump heights, bucket rollback angles, hydraulic pressures, hydraulic flows, engine power, breakout force, etc.
The optimum loader for your customer's application is based on several operating parameters. "The loader's weight, horsepower, hydraulic flow and hydraulic pressure will play a role in how well the attachment performs," says Mike Fitzgerald, Bobcat product loader specialist, noting that the rental business should work closely with its customers to best match the needs of the application with the best machine.
Match hydraulic flows and pressures
Hydraulically powered attachments require a specific level of performance from the carrier's hydraulic system. "An attachment usually has a range of flows and pressures," says Moore. Suitable carriers must be able to provide flow and pressure that fall within that range.
Hydraulic horsepower can also be a useful comparison measure to determine the capability of a given unit. It is calculated by multiplying the pressure (psi) times the flow (gpm), then dividing by 1,714. "If hydraulic horsepower is not adequate, performance will be poor, as well as detrimental to the skid-steer loader," says Jim Hughes, product marketing manager, Case Construction Equipment.
In addition to losing attachment productivity, using a skid-steer that can't provide the optimum hydraulic system requirements places greater stress on the unit. "Operating a loader at the maximum flow and pressure for long periods of time can result in excessive heat," says Moore.
Hydraulic systems are designed with relief valves to protect them from such abuse. However, Hughes notes, "If your customers are constantly going over relief, they'll be creating heat, which will ultimately damage the hydraulic system and the power train."
Gregg Zupancic, product marketing manager with John Deere Construction, adds, "If the machine has more flow and the attachment does not have the proper flow bypass, heat could be created and potentially cause motor and seal failures. If the machine has less flow than the attachment requires, then the attachment may not run at optimal performance and it can potentially cause unnecessary failures to mechanical or structural parts of the skid steer and attachment."
He continues, "A good example would be a cold planer. If the drum is not spinning at optimal speed, instead of planing the asphalt, it would tend to chuck the surface and cause unnecessary machine bounce or attachment vibration."
Jorge DeHoyos, brand marketing manager for New Holland Construction, adds, "Attachments typically list minimum and maximum flows and pressures. Using the wrong attachment can cause physical damage and premature wear on both the skid steer and attachment. Using a cold planer with a lower than required flow capacity, for example, will lead to premature breakage and wear on the cutting tips. Using an auger that requires more flow than provided will overheat both the attachment and skid steer, since the oil runs through both."
But there are measures other than flow and pressure that can affect hydraulic performance. "Another critical item to check is back pressure of the skid-steer loader," says Hughes. "High back pressure robs performance because the machine is working harder to return the oil to the tank."
The role of rated operating capacity
While hydraulic power plays an important role, lifting capacity must also be considered when determining attachment compatibility. "For example, a backhoe attachment can have a considerable amount of weight, but does not require a large amount of hydraulic flow," says Zupancic. "In addition to making sure that the skid steer is compatible with the attachment flow, the customer also needs to be able to safely carry the attachment around the jobsite on all four wheels."
Rated operating capacity plays an even larger role with attachments designed for lifting. "For example, Bobcat manufactures pallet fork attachments for both small-frame and large-frame skid-steer loaders (up to 3,000-lb. rated operating capacity)," says Fitzgerald. "Obviously, the large-frame skid-steer loader with heavy-duty pallet fork can lift more than the small- or medium-frame skid-steer loaders."
But being able to lift the load is not the only consideration. "Rated operating capacity is not only critical for the skid-steer loader to remain safe and stable while lifting and carrying the attachment, but also to provide adequate down pressure on attachments like cold planers, trenchers, tillers, etc.," says Hughes.
The rated operating capacity can often be slightly increased by using an optional factory counterweight package. "For customers at the upper end of the rated operating capacity, one model counterweight can add an additional 150 lbs. of capacity," says Moore, discussing Gehl's skid-steer models. "In addition, it serves as a bumper and hitch. The counterweight on our two larger E Series loaders increases the rated operating capacities by 300 lbs."
Similarly, Bobcat offers factory-approved counterweight packages through its dealers. "Loader owners can add counterweights — available from their dealership — to the machine for an increase in the loader's rated operating capacity," says Fitzgerald. "Even so, the loader owner should still closely follow the manufacturer's recommended limits for specific attachments and carriers."
Attaching weights to the front of the machine can help with the performance of certain attachments. "As long as the counter balance is within the recommended limits of the manufacturer, you can generally put as much weight on the front of the machine as needed because the limiting factors will be the hydraulic system breakout forces and the tipping load of the machine," says Zupancic. "Constant heavier loads will accelerate wear over the life of the machine. For example, constantly lifting 4,000 lbs. versus lifting 100 lbs. will increase wear on the pivot points of the boom linkage over time."
Wheelbase further impacts capacity
The wheelbase also affects the rated operating capacity. "For example, Bobcat has three wheelbase options to choose from," says Fitzgerald. "The small-frame loaders' wheelbase is approximately 36 inches; the medium-frame loaders are 40 inches; while the large-frame loaders are 48 inches. The large-frame skid-steer loaders' wheelbase allows for higher tipping loads and rated operating capacities."
In addition, the extended wheelbases enhance stability. "By extending the wheelbase on New Holland skid steers, we can better distribute the weight over a desired footprint and use the laws of physics to our advantage," says DeHoyos. This allows the skid steers to lift more with less vehicle weight. "The wider wheelbase gives the additional benefit of stability and gives the skid-steer operator more confidence."
Of course, there is more to rated operating capacity than the stance of the machine. "Extended wheelbases contribute to additional lift capacity, but there are other factors that also contribute," says Zupancic. "For example, total machine weight and the geometry of the boom design can also contribute to increased lifting capacities."
Check compatibility
Not all skid-steer attachments are compatible with every make of skid steer. One example is the recent introduction of undercarriage kits that convert skid steers to compact track loaders. Before installing a tracked undercarriage conversion kit, be sure to check whether the manufacturer of your particular skid steer approves their use to avoid voiding the machine warranty.
Certain attachments also place greater stress on the machine. "Hammers and cold planers typically place the greatest demand on a skid-steer loader," says Hughes. "The hammer is constantly pounding and all of that energy is transferred to the skid-steer loader. A cold planer, as it grinds up pavement, has similar characteristics. That's why those attachments are recommended for use on higher-capacity skid steers, which are engineered to withstand the abuse the attachments dish out through their everyday use."
Keep it cool
Heat is the enemy of any hydraulic system. "Any attachment that creates excessive heat can be detrimental to the hydraulic components of a skid steer," says Zupancic. "For any attachment operating in abnormal or abrasive conditions, it is critical that the [rental business] and the dealer are communicating with the manufacturer of both the skid steer and the attachment to make sure the units will perform and be reliable. In some cases, additional cooling or a custom debris package may be needed to run an extreme attachment."
Some manufacturers offer optional oil cooling packages to address this issue. "John Deere machines provide industry leading cooling capabilities for 95 percent of attachments. However, there is a custom cooling package, which can be installed at the dealer level in conjunction with John Deere Product Support, that will provide extreme attachment application cooling," says Zupancic.
Other machines come equipped from the factory for handling extreme conditions. For example, Gehl models come with oil cooling packages already installed.
It's important to keep in mind that skid-steer loaders are called on to perform a wide range of applications, and each machine provides different levels of performance in several key areas. Identify the characteristics that are important to your customers, so you can determine which models are best matched to their specific application.
Mustang Skid Steers
Eight models
SAE-rated operating loads of 1,050 to 3,850 lbs.
Designed to perform tough tasks
Bobcat K-Series Loaders
Hydraulically driven SmartFAN cooling system
Drive chain size upgraded to 120 HSOC for 38 percent more strength
2 in. added to lift height on large-frame vertical lift path loaders
K-Force hydraulic system added to medium-frame models
Caterpillar Vertical Lift Skid Steers
232B, 242B, 252B and 262B vertical lift skid steers offer rated capacities from 1,750 to 2,700 lbs.
6,661- to 7,861-lb. operating weights
49- to 78-hp

Caterpillar

electronically controlled, Tier II engines
Two-speed option available on 252B and 262B with maximum travel speeds up to 11 mph
Also feature an improved hydraulic system design, anti-stall system and pilot hydraulic joystick controls
Komatsu SK1026-5
84-hp output
Vertical lift
Hydraulic self-leveling bucket with 5,400-lb. breakout force
2,650-lb. rated operating load with 5,300-lb. tipping load
HydrauMind hydraulic system standard
Standard two-speed travel with a 6.5-mph work range and 10-mph travel range
Automatic Power Control anti-stall hydraulic system
45.7-in. wheelbase
Hyundai HSL T Series
11 rubber-tired skid steers with 475- to 2,525-lb. operating capacities, plus a tracked unit rated at 3,200 lbs.
Maximum travel speeds from 4.4 to 12.3 mph
Maximum dump heights range from 46 to 110.75 in.
All controls, hydraulics and hydrostatic system components accessible in seconds through the operator's cab without tools
Thicker steel construction throughout plus thicker loader arms for added breakout force
Thomas 137 Skid Steer
Rated lift capacity of 1,300 lbs. and a 3,800-lb. breakout force
43-hp

Kubota

diesel engine
Power transferred to engine via direct coupling to the hydrostatic drive
Heavy No. 100 roller chain drive system delivers power to the axles
Standard auxiliary hydraulic system for attachment operation provides 16.6 gpm
JCB 190 and 1110 Robots
80-hp 190 Robot has a 1,985-lb. operating capacity, while the 92-hp 1110 Robot is rated at 2,425 lbs.
Also available with high-drive rubber track systems
Single loader arm provides greater visibility with unhindered view to rear and both sides of the loader
Specially designed ROPS and FOPS canopy or cabs with side door entry
Hydrostatic drive
20-gpm standard or optional 32-gpm hi-flow hydraulic circuit
JCB 190 and 1110 Robots
80-hp 190 Robot has a 1,985-lb. operating capacity, while the 92-hp 1110 Robot is rated at 2,425 lbs.
Also available with high-drive rubber track systems
Single loader arm provides greater visibility with unhindered view to rear and both sides of the loader
Specially designed ROPS and FOPS canopy or cabs with side door entry
Hydrostatic drive
20-gpm standard or optional 32-gpm hi-flow hydraulic circuit
New Holland SuperBoom Skid Steers
Nine models
14.4- to 74-net-hp output
600- to 2,800-lb. rated operating capacities
Vertical lift linkage and long wheelbase
Easy to service and maintain
Optional high-flow hydraulic system provides 34 gpm
Gehl 7810E Skid Loader
99-hp Cummins turbocharged diesel engine
3,850-lb. SAE rated load capacity and 8,340 lbs. of bucket breakout force
Auxiliary hydraulic system provides 29-gpm adjustable flow and up to 41 gpm with optional high flow
Available two-speed drive with ground speeds up to 12.5 mph
55-in. wheelbase, optional Hydraglide ride control system and special lift arm suspension system supply a smooth ride at faster ground speeds
Volvo B-Series Skid Steers
Five models range from 1,350- to 2,250-lb. operating capacities
45- to 81-net-hp engines
One-piece welded mainframes and cast-iron axle housings
All-new operator cab in open canopy or enclosed cab configuration
Foot-and-hand mechanical controls or hand-operated hydraulic pilot controls
Structural upgrades include re-engineered loader arms, upgraded buckets, modified hydraulic and driveline systems and the addition of a rear counterweight
John Deere 300 Series
Long wheelbase, 60/40 weight distribution and larger tires
Vertical lift boom allows maximum reach at full lift height with a 35-degree rollback and a 45-degree dump angle
61- to 91-gross-hp

John Deere

Power Tech engines
1,750- to 3,175-lb. rated operating capacities
5,500- to 11,600-lb. bucket breakout force
Hydraulic Quik-Tatch
Companies in this article