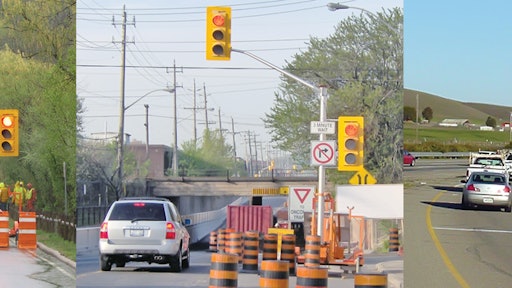 Now here's something you don't see every day… You're rounding toward a flawless green on one of the San Francisco Bay area's most prestigious golf clubs and, as you crest over a steep slope in the service road, you find… traffic lights?
The portable traffic signals became a fixture for several months here at The Olympic Club in San Francisco while the USGA made preparations to stage the 2012 U.S. Open Golf Tournament. Frank Dussey, the USGA's operations director for the Open, had called on Pacific Highway Rentals for help with clearing a bottleneck in traffic as hundreds of tractor-trailers, service trucks and golf carts converged to transform the exclusive club into a major event venue.
Paul Indelicato, president of Pacific Highway Rentals, was pleased to show Dussey and The Olympic Club something you don't see everyday.
"Foot in the door" for equipment rentals
"I started stocking these portable traffic signals from North America Traffic to help me get a foot in the door for some new projects," he explains. "We sell and rent traffic safety equipment and traffic control trucks for all construction projects and special event needs. But most project managers already have a supplier for their usual equipment. I had to have something different to show them."
Indelicato has acquired plenty of experience in traffic control for special events since he started up his business 10 years ago. It began as a sideline to his work as the manager of the parking facility for a major venue. He started by renting message boards. The message board business allowed him to build his rental fleet with more traffic-related equipment, from cones and barricades to attenuator trucks. In 2006, he added his first traffic signals to meet a request from the Sonoma raceway. Visitors to NASCAR and NHRA events at Sonoma needed help to cross safely from the RV parking on one side of Highway 121 to the track on the opposite side.
"We do events at Sonoma every year now," says Indelicato. "Thousands of people are crossing the highway at the same time before a race. They used to have CHP officers or even event staff stepping out into the road to stop traffic. There were a number of close calls. Now our portable traffic lights stop the traffic and then the officers bring the pedestrians across. It's a much safer situation for the visitors and for police."
Easy, reliable, portable traffic solutions
Traffic control systems from North America Traffic Inc. (NAT) have become a major component in the Pacific Highway Rentals fleet, with requests for the signals growing rapidly. Indelicato's total in-stock rental fleet is over 135 units, including 14 of the popular PTL 2.4x models and several new automated flagger stations. Today, Pacific Highway Rentals has portable signals in service throughout northernCalifornia, from Long Beach to Oregon and as far east as Reno, NV.
Indelicato had tested other types of signals before he began purchasing these units from North America Traffic. "We found some of the other signals out there were cumbersome to handle and difficult to set up. Our setups can be a four- or five-hour drive away, so we try to avoid callbacks. With the PTL 2.4x, we can do the initial setup quickly, then show the customer how to adjust the signals in a couple of minutes.
"Our customers like how they can easily adjust the setting, even when they have a few sets of lights to synchronize. We designate one unit as the 'master,' then its panel is used to control all the others. To change the timing, you just hit the plus and minus keys. And a remote control allows you to override all the programming to let emergency vehicles or deliveries through."
All signal and flagger systems from North America Traffic are solar-powered and equipped with deep-cycle battery packs. This design means users can deploy traffic signals to the most remote areas, where they can operate unattended for months at a time with no servicing and no refueling required. Multiple signals are synchronized through 900 MHz Spread Spectrum Transmitters designed to resist interference and ensure consistent communications. The LED signal lights are rated for up to 100,000 hours service and operate reliably in virtually all climates.
Cost-saving trend in road projects
As the PTL 2.4x models become more familiar inCalifornia, Pacific Highway Rentals is making inroads into more conventional applications on municipal and state construction projects.
"The Caltrans and county inspectors in each of the state's 12 districts are getting to know us," says Indelicato. "Most companies have not used the signals much yet and no one wanted to be first. My contractors are reassured when I can tell them that the PTL 2.4x meets all Caltrans and CHP specifications and are backed by the paperwork. Today, they ask for it by name and model, and approvals are coming easier from the project engineers. North America Traffic has done a good job promoting the spec to highway authorities, so they are familiar with the system when a request comes in."
Indelicato reports that the most common uses for the signals in roadwork are for bridges that must be reduced to one lane for repairs or painting. Emergency services are also putting the portable signals in place to manage traffic around mudslides that have blocked lanes on one side of the road.
"Portable signals can be a real saving on these projects," Indelicato continues. "You don't need to keep two flaggers on the jobsite all day and night to keep the roadway safe. That alone can save thousands of dollars for every week of the project."
Making streets safer
Peter Vieveen, president of North America Traffic, says that safety was a primary consideration when he designed the first Automated Flagger Assistance Device (AFAD) over 15 years ago. Vieveen spent many years in the construction trades before he took on development of new traffic control technologies. Since then, North America Traffic has supplied portable signals and flagger systems for more than 4,000 projects across theUnited StatesandCanada.
The latest units have DOT approval in almost every state and province, as well as federal MUTCD compliance. The US Marine Corps has also put heavy-duty versions of the AFAD to work keeping personnel safe at military checkpoints in Iraq. He also notes that there's no way to measure the potential savings provided by keeping human flaggers out of harm's way.
For the USGA, the benefit of the portable traffic signals was successful preparation for a major tour event. According to Indelicato, the construction of facilities for players, media and up to 4,000 visitors per day was a four-month long project, followed by another four months of teardown and restoration after the tournament was complete. "Their problem was that steep grade on a one-lane road. They had semi's trying to back up the hill to clear the way for oncoming traffic. Our customer was very happy that we could provide a reliable solution in order to keep the project moving forward."