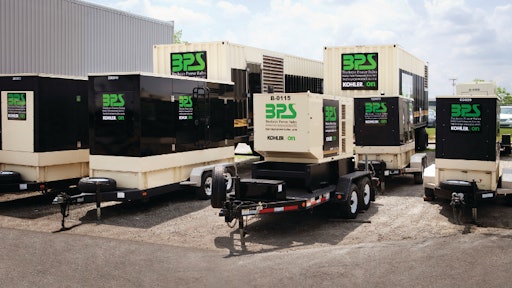 To effectively serve the mobile power market, it's imperative that rental companies create the right size fleet and mix of equipment. Too few units and business is quickly lost to the competition, too many units and profitability goes out the window. We talked to two mobile power distributors to uncover some of the secrets to success.
It's in the mix
Every customers' job is different. Some require large, towable generators while others necessitate small, portable units. Others require both. But often the need for power is of the moment, so it can be challenging to anticipate the needs of your customer base. According to the professionals we spoke to, the trick is in creating an inventory mix which can meet most of the needs most of the time.
"Having the right mix of equipment is a very important question but it is not the only question," says Joe Atchison, rental manager at Loftin Equipment Rental. "Because LEC is in a variety of markets, it's important that the mix of equipment is properly distributed."
To be more successful to that end, LER developed data collection and reporting procedures to gauge its current business environment. Based on the information gathered, directions are established and constantly refined based on myriad factors. "One fact is infinitely clear: a single company cannot fill the needs of all customers," Atchison says.
Still, choices need to be made, so how does LER handle it? "It's important to remember that power can always be generated at a higher level than is needed," Atchison says. "But, when there is not enough power to fill the need, that's obviously a problem. Equipment should be purchased that will stretch the gap to be filled."
He continues, "Let's say there is a perceived need for 100Kw. If 100Kw generators are procured, that is the top of the gap. If 150Kw are purchased, the need is satisfied and the gap has been stretched to provide more rental opportunity."
At Buckeye Power Sales Co. Inc., managers employ the services of industry experts to assist with determining the needs of the market. "We are actively working to expand our market share, so we've joined forces with numerous trade organizations to do marketing research, and now we're implementing new strategies to get and keep us informed on market needs," says Tony Crandall, generator service sales and rental manager with BPS. "We're also making every effort possible to ensure we're actively in front of our customers to ensure we're meeting and exceeding their expectations with products and services."
Size matters
A big part of knowing the proper size fleet to have is closely monitoring utilization. "This has been a tricky task for Buckeye Power Systems due to the recent large-scale expansion of our fleet," Crandall says. "We're working to aggressively grow the business and need additional equipment on hand to do so, however we cannot have our utilization drop too low by adding too much fleet prematurely."  
He adds, "Our utilization targets vary depending on the overall size of the equipment. In general, there is a higher rate for smaller equipment and a lower overall rate for the big machinery, as there are not as many different uses for the big machines on an everyday basis. However, optimal levels for each size need to be established for goal-setting purposes."
In the mobile power rental game, there's a balancing act between what is required by the customer and what is readily available. "Stockout pressures can be minimized by developing a re-rent network," says Atchison. "When equipment is on the yard and is not being rented, inventory is too high. When a company is forced to consistently re-rent equipment, inventory is too low, but the most important thing is that the customer is being served. A company cannot efficiently stock equipment that is used for that once-a-year weekend event and let the equipment sit idle for the other 365 days of the year. For such situations, it's better to source a solution than own one. When re-rent cost overtakes the carrying cost of an inventory gap, an equipment purchase is due."
Atchison continues, "Because LEC has only one year of rental history, the re-rents have determined which sizes are needed. The only difficulty in this was allowing for the different markets. The way the data was analyzed was by comparing the utilization rental days by size and by location. Then the maximum simultaneous rental units by size and location were considered. Once the rental equipment occurrence model was defined, it was compared with the optimum inventory distribution. The deficits between need and availability provided inventory correction."
A little help from your friends
The nature of mobile power rental requires a certain dependence on re-rentals to make it work. "A trading network is critical to a rental company's success," Atchison says. "Because a company cannot stock the perfect asset inventory, it will be necessary to use various trading partners' inventories to provide rental equipment to those customers that need equipment not currently in stock. Initially, LEC had a small fleet and relied heavily on other companies to provide solutions not in the LEC fleet. Over time, LEC's fleet will grow, but re-rent will always be required at some level." 
To Crandall, building partnerships within a re-rental network is much like creating a productive staff at your own place of business. "You do it by developing quality relationships with other companies that can be mutually beneficial to all involved," he says. "Often times it does include direct competition, but not always. Essentially these relationships work best when you surround yourself with quality people, much the same as it would in bringing in quality employees."
Atchison says re-rent networks are constantly changing, and they aren't without their problems. "The networks are comprised of a very small community of like-minded individuals. It's important that everyone, customers and competition alike, are treated fairly. When a company consistently engages in unfair or deceptive practices, the entire community will eventually be aware of such indiscretions. Conversely, a company that is aboveboard in all actions will be revered by the collective and considered a desirable trading partner. The network as a whole is aware of almost every opportunity but individual companies probably do not have a complete picture of the market. Seldom are bidding opportunities shared but some opportunities are shared when assets are to be committed or assets are to be allocated to a project. Problems can occur when a customer makes a request and it is filled by sourcing inventory from a third party that thinks the customer uses the third party exclusively."
He adds, "Above all else, always take the high road. Remember, tomorrow is another day and a friend may be needed."
In case of emergency
Cooperation is never more necessary than when natural or man-made disaster strikes. This is particularly true for the businesses that supply equipment, as they must work with competitors to get the right equipment to where it's needed, when it's needed.
"Ironically enough, almost immediately after we made the large-scale purchase of additional fleet in 2012, we experienced Hurricane Sandy," Crandall recalls. "The storm kind of caught us a little off guard, however, we were very fortunate that we have very experienced people in place and top-quality vendors that helped us meet the needs of our customers. We centralized our emergency operations at the BPS Headquarters and used our branch resources throughout Ohio and Indiana as logistical hubs to deploy equipment. It was actually pretty cool in that we have pictures of each of our yards simultaneously full of freight haulers loading machines and equipment heading to the east coast. We actually had about 2/3 of our fleet deployed three days before the hurricane came ashore. It was a massive effort by a lot of quality folks that enabled us to help as many storm victims as possible."
While emergency situations are, in fact, business as usual for mobile power rental companies, most, like those at Buckeye and Loftin, hold helping out as a priority over profits.
"One of the core values of LEC is doing the right thing," Atchison says. "When the time comes, LEC employees and management will work tirelessly to exceed our customer's needs, share and distribute necessary resources and partner with our competitors to ensure the best level of service to the most in need."
Companies in this article