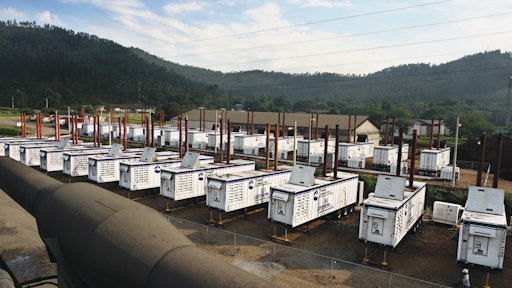 The need for mobile power is growing due to demand from new markets, an increasing number of natural disasters, and an aging infrastructure that isn't designed for current demands. All this adds up to opportunity for equipment rental businesses, provided you're in a position to capitalize on it. We talked to several stakeholders to get a feel for the pulse of the mobile power market, and here's what they had to say:
Jenny Lescohier, Power Rental: How much has the market for mobile power grown over the past five years?
Michael Pope, director of education of the Electrical Generating Systems Association (EGSA) and 2012 EGSA president: We have seen growth, largely because of the increase in utility power failures caused by a very dramatic increase in major weather events in the last 10 years or so. Also, the national grid was built many years ago, and its original intention was to provide power to local consumers, but since that time, these local grids were integrated nationally in order to meet consumer demand from any generating station in the US and Canada. Many parts of the grid are 40 to 50 years old. That has reduced the reliability of the system. Furthermore, it's not currently feasible to improve the infrastructure in a major way. The utility companies are taking care of the most serious problems, but the obvious solution - putting all electrical transmission lines underground - would cost at least $40 trillion (estimated at $1/mile), and that's not going to happen. We don't see the grid reliability changing very dramatically over the next few years.
Steve Ferlita, vice president with Ring Power, North & Central Florida's Caterpillar dealer based in St. Augustine, FL: The rental power depot market has been resilient compared to most of the economic ups and downs over the past 10+ years. Overall, the market has been on a steady path. Rental revenue in North America can be seasonal with peak revenue generated during spring and summer months. Natural disasters contribute to rental revenue and, depending on the extent of the event, the need can expand rapidly to hundreds of temporary rental generators to support the power needs across many industries. Major events such as floods, ice storms and hurricanes can cause downed power lines which result in generators being rented during recovery efforts.
Todd Howe, manager, global generator products, Doosan Portable Power: Since the economic downturn, the mobile generator market has recovered quite nicely. Like most business sectors, there was a significant correction from 2008 to 2009, with the overall mobile generator market falling by more than 50 percent. However, the market substantially recovered in 2010 and has continued with steady growth. Despite the fact that traditional construction and infrastructure markets are still experiencing a slow growth rate, many rental companies have found ways to diversify their businesses by increasing focus on other segments, such as industrial and oil and gas. These high-growth segments have been a great opportunity, but rental companies have had to adapt their services to approach the unique needs of these segments.
Emily Kocik, marketing and strategy manager - Global Rental Segment, Cummins Power Generation: The rental market has seen consistent growth, especially for temporary power. Specifically, we've seen an increase in business from 20-30% over the last five years in North America and in other parts of the world for construction, mining, petroleum, utilities and emergency applications. Customers are looking for rental power suppliers who can respond quickly and provide equipment that is fuel efficient, highly reliable and meets all current environmental requirements. This growth can be attributed to new emissions regulations, and a broad-based rotation into renting versus purchasing equipment, given the restricted availability of capital in the wake of the Global Financial Crisis.
Steve Zielke, marketing manager, Kohler Power Systems: In the last two years, we estimate the [mobile power] category has grown 7 to 9 percent annually, resulting from improvements in non-residential construction, the value proposition for rental regarding lower total cost of ownership, and demand from industrial and oil and gas segments, for example from applications such as shale gas mining, where utility power is not available or the utility can't support all the electrical needs.
Manny Rumao, marketing manager, Kohler Power Systems: With the rebound in the economy since 2008 and the growth in GDP and total construction, temporary power needs have grown proportionately. Another big influence has been the natural event-related blackouts that create sudden demand spikes for temporary power.
Lescohier: What type of mobile power equipment is in highest demand and by whom?
Zielke: We've seen diesel gensets to be in the greatest demand, with smaller nodes (20kw to 100kW) representing approximately 60% of sales. We have seen modest trend increases towards larger gensets and natural gas gensets due to growth in rental pump and power locations and natural gas mining, respectively. The rental segment represents the highest demand for temporary power gensets.
Kocik: Besides diesel powered equipment, there appears to be a growing demand for natural gas and propane-powered generators in North America, especially in the oil and gas segment. Lately, we've seen a growing demand for containerized rental generators sets above 1000kW.
Ferlita: Speaking directly to power, the market demands shift rapidly depending on several key metrics. With that being said, the questions that [equipment rental companies] need to ask themselves are: What market am I serving and want to focus on? What is  our focus? What is the core strength and weakness of my internal capabilities? More than ever I see companies reaching out of their core business, placing themselves and their customers in a compromising position. In today's rental market, generators ranging from 10-2000kw can be rented. However, rental generators come in a host of many shapes and sizes with different configurations that are essential to each application. Ring Power Corporation is a licensed distributor for Caterpillar, which enables us to have access to the latest product, technology, and training available in the industy today. At Ring Power Corporation, we provide customers with a turnkey solution in variouis power markets such as construction, commercial, health care and industrial segments, just to name a few. Providing service on any product you rent or sell should be just as important. Many times the differentiated needs are not taken into consideration, which ends up causing issues or frustrations for many customers, as well as loss of revenue.
Pope: For temporary power, there's a pretty wide power range available and machines are now made so they're extremely quiet, reasonably economical and versatile in that a rental generator set can be very quickly adapted to suit the required voltage and capacity of the facility that's using it. Some of the larger facilities are at risk for losing more money, more revenue, and in some cases, loss of machinery, during a major power failure. Their need becomes very urgent, and their electrical requirement is fairly large. Those are the kind of facilities that would take 40-foot rental containers of perhaps 3 megawatts each or more. They may need multiple units depending on their electrical requirements. At the bottom end of the scale, you've got the smaller facilities that will be using 20 or 30 kilowatts. Most rental companies usually do have generator sets available, depending on their region, of 200 to 500 kilowatts. It's going to be the larger generator distributors that have the large container-mounted generator sets available. Some of those dealers do have that size in their yards available for pretty fast delivery. 
Lescohier: What can equipment rental businesses do to serve the needs of this market?
Zielke: Rental businesses can take advantage of the growing market by increasing investments in higher-growth power equipment and technologies that reduce overall cost for their companies (natural gas generators, other fuel-efficient generators, 100 kW and larger generators, fleet management technologies).
Rumao: In determining what kind of fleet to put together, yards should consider the markets they want to be in. For example, if their focus is primarily events, they may want to consider smaller generators (20 – 300 kW) and maybe some paralleling packages for live broadcasts/concerts. If the primary focus is hurricane back-up contracts, disaster relief, and commercial and manufacturing, yards should consider primarily mid- to large-size generators (300- 2000kW). If they're looking to reach the shale market, the majority of sizes used are smaller to mid-size units, 100-300 kW.
Kocik: Rental businesses can serve this growing demand by offering both diesel and natural gas/propane fueled power equipment. To meet larger power demands, rental businesses can integrate their fleets with units that are capable of simple paralleling. Rental businesses can also serve the growing demand for containerized units by offering complete, turn-key power solutions from pre to post sale.
Howe: Oil and gas has been a very hot sector, and there have been many new entrants to serve this market. Add to this mix the emergence of natural gas as a fuel source, a relatively new development for mobile generators. There are tremendous operational benefits to the end user because the fuel is plentiful and essentially free as a by-product of the oil extraction process, so life cycle costs are lower than with a diesel-powered mobile generator. It takes a considerably higher level of capability, however, to meet the needs of this specialized market. A rental company needs strong expertise in product application and a fleet of generators equipped with features to meet the demands of 24/7 continuous operation in what are typically very harsh and remote environments.
Ferlita: [Rental companies] should remain true to their core competencies and standardize their processes. They should also align their company with some sort of Lean Methodology to refine all processes which will remove waste and refine their operation. I feel it's important that businesses should always collect the Voice of the Customer (VOC) to expand their potential to meet the needs of a variety of projects. Trying to be everything to everybody will cost, while being focused on the things your do well will grow your business and allow your company to focus your efforts. All customers want superior customer service and quality rental equipment and they all deserve it. The VOC should be used to drive your success. Without customers, there is no business or opportunity to grow. Hire the best professionals and reward them for growing your business.
Companies in this article