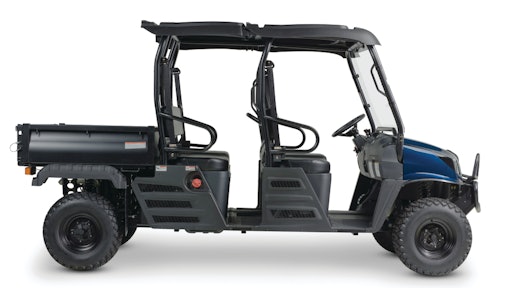 What do you get when you cross a pickup truck with an armored tank and a golf cart? The answer is the Cushman 1600XD4, the new four-passenger utility vehicle geared for the construction and equipment rental markets with a rugged design that easily traverses rough terrain, but still has the get up and go necessary to swiftly get workers where they need to be with comfort and ease, all while offering a large payload and towing capacity to boot. 
Media had the unique opportunity to get first-hand operating experience with Cushman commercial and utility vehicles when the company recently hosted representatives from leading equipment rental publications at its headquarters in Augusta, GA, where the company manufactures a complete range of heavy-duty industrial material-handling vehicles, comfortable personnel transport and food & beverage vehicles. The latest addition to the line is the new 1600XD4, a four-seat version of the 1600XD, both of which are designed with construction jobsites in mind.
The 1600XD models, as well as the Cushman Titan, Stock Chaser, Minute Miser, Haulster and Hauler, are all part of what the manufacturer claims is the broadest line of utility vehicles on the market, boasting payload capacities up to 3,000 pounds. Gasoline- and electric-powered models, plus an extensive list of options and accessories, showcase the Cushman line's versatility.
A commitment to construction and rental
Available later this month, the 1600XD4 4X4 utility vehicle is designed to move more people around a jobsite without compromising performance. The Cushman 1600XD4 can seat four crew members comfortably and offers all of the features and options available on the Cushman 1600XD. Cushman is a brand of the E-Z-GO Division of Textron Inc.
"The Cushman 1600XD4 is designed to maximize all facets of productivity on a work site," said Darryl Heffline, vice president of commercial business at Cushman. "With seating for four and an impressive payload and towing capacity, crews can get where they need to go so more work can get done on time."
The Cushman 1600XD4 comes standard with two rows of bench seating. The vehicle has a 1,325-pound payload capacity and can tow up to 1,300 pounds.
The 1600XD4 combines four-wheel-drive capability with a powerful 22-hp, 1,007cc three-cylinder OHV diesel engine. Its performance is further enhanced by an automatic, continuously variable transmission (CVT) with low- and high-gear ratios, a user-selectable locking rear differential which can be engaged in both 2WD- and 4WD-operation, and four-wheel independent suspension.
Features include:
22-hp, 1,007cc diesel engine: The three-cylinder OHV, liquid-cooled diesel engine generates exceptional torque to provide ample hauling and towing power for nearly any task.
Automatic transmission with selectable gear ratios: The 1600XD4's automatic, continuously variable transmission (CVT) can be placed in high gear for higher maximum speed, or low gear for greater torque and pulling power. Top speed is 25 mph in high gear and 10.5 mph in low gear.
User-selectable 4WD: To navigate through rough terrain, the 1600XD4's four-wheel-drive capability can be engaged from two wheel drive quickly and easily using a simple lever on the vehicle's dashboard.
User-selectable locking rear differential: The 1600XD4's rear differential can be locked in both 2WD and 4WD operation, using a lever on the vehicle's dash. In addition to the locking rear differential, a limited-slip device on the front axle further enhances traction on difficult terrain.
Large payload and towing capacity: The 1600XD4 has a total load capacity of 1,325 pounds, and its 14.2-cubic-foot steel cargo bed can hold a maximum of 660 pounds. The vehicle can also tow up to 1,300 pounds from its rear receiver hitch.
Four-wheel independent suspension: The 1600XD4 features MacPherson struts on its front wheels and a double A-arm "wishbone" suspension on its rear axle to provide sure traction and a comfortable ride over deep ruts and tough trails.
Durable construction: The 1600XD4 is built on a welded-steel frame with advanced powder-coat protection to withstand the rigors of everyday tasks without damage or rust. Additional features such as a front brush guard, mud flaps, and automotive-quality front cowl keep the 1600XD4 looking sharp, even after a hard day's (or year's) worth of work.
Essential safety features: A tubular steel, rollover protection system (ROPS) and three-point seat belts protect operator and passengers. Headlights with high-beam functionality allow for maximum visibility in low-light situations. Turn signals, brake lights, horn, emergency flasher and reverse parking brake buzzer are all standard.
Ergonomic cockpit design: A carefully designed cockpit keeps all vehicle controls within easy reach. The 1600XD4's dashboard provides the operator a wealth of information at a glance, with a speedometer, fuel gauge, odometer, an engine-temperature gauge, and numerous information and caution lights.
Operator conveniences: A standard roof and windshield protect the 1600XD4's operator and passengers from the elements. A 12-volt accessory outlet in the dashboard allows for on-the-go charging of mobile phones and other electronic devices. A glove box allows valuables to be secured, and cup holders and other storage pockets are within easy reach, making a day's work in the 1600XD4 to be as enjoyable as it is productive.
Optional hydraulic power source: To further enhance its capability and versatility, the 1600XD4 can be equipped with an optional hydraulic power source. The system can circulate up to 6.5 gallons of fluid per minute to drive implements such as plows, augers and post-drivers. Quick-connect fittings allow implements to be quickly attached and detached from the hydraulic system without tools. The system also allows the vehicle's cargo bed to be dumped under hydraulic power.
To better customize the 1600XD4's performance to the specific needs of any operation, the vehicle can be outfitted with a wide variety of accessories, including work lampkit, fog lamps, skid plates, a heater/defroster, a front hitch receiver kit (available with the hydraulic power source package) and bed height extensions, among others. For more information, visit www.cushman.com.
Over a century of experience
What began with two cousins building farm machinery and two-cycle boat engines in 1901 is now the manufacturer of what the company claims is the broadest line of utility vehicles on the market.
The Cushman brand has witnessed two World Wars and a number of owners, including The Easy Manufacturing Company, Outboard Marine Corporation, Ransomes and currently Textron Inc. During World War I, Cushman provided two- and four-horsepower engines to operate water pumps, cream separators, washing machines and wood saws. By World War II, the company was producing scooters used by the Navy, the Army and the Army Air Force.
Its spirit of entrepreneurship led to an impressive plant expansion in 1950. The now 250,000-square-foot factory took on an assembly-line approach, producing 10,000 scooters each year in addition to Husky air-cooled engines and Cub water-cooled engines. By the end of the decade, Cushman moved on to three- and four-wheeled commercial and industrial vehicles. With it came a commitment to building 'green' vehicles, such as the quiet, electrically powered and energy-efficient Titan, Tug, Stock Chaser and Minute Miser, and the introduction of heavy-duty utility vehicles such as the Haulster, Hauler and 1600XD.
Today, 100 years after the first engine was shipped out of the Lincoln, NE plant, Cushman is still striving to provide rugged, dependable solutions for a variety of industries. And with the ever-expanding resources of Textron, one of the world's most renowned manufacturers of transportation vehicles, Cushman continues to grow. Cushman vehicles are now manufactured in Augusta, GA, in a 650,000-square-foot plant recently honored as one of the top 10 manufacturing facilities in North America by IndustryWeek magazine. The company continues to build on its reputation for delivering quality, heavy-duty industrial material carriers and comfortable personnel transport vehicles.
Cushman is owned by Textron Inc., a multi-industry company that leverages its global network of aircraft, defense, and industrial businesses to provide customers with innovative solutions and services. Textron in known around the world for its powerful brands such as Bell Helicopter, Cessna Aircraft Company, Jacobsen, Kautex, Lycoming, E-Z-GO, Greenlee, and Textron Systems. More information is available at www.textron.com.