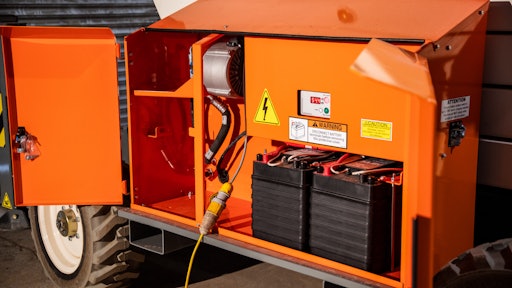 Electric and battery-powered machines have quickly become a fixture in the construction and equipment rental industries, as electrification has become a major talking point throughout various industries around the world. Even tradeshows like ConExpo-Con/Agg 2020 have seen an influx of hybrid and battery powered concepts, with electric backhoe loaders, compact track loaders, excavators, rammers, and more setting the scene.
This is due to the not-so-quiet shift to more environmentally friendly practices and Earth-saving tendencies. For years, the Environmental Protection Agency (EPA) has enacted stricter emissions standards to reduce emissions, eventually moving engines to the category of Tier 4 Final. And with technologies becoming more readily available, the increasing pressure of emissions regulations, and the impact of growing innovations, it's no wonder that manufacturers are starting to charge up instead of gas up.
But the demand for cleaner and greener equipment hasn't stopped there. Manufacturers are taking advantage of recent advances in lithium-ion battery technology, with their overarching benefits of reduced noise, zero emissions, reduced service time, etc.
While the auto, transportation, and construction industries have certainly gained momentum in their pursuit of cleaner power technologies, the access equipment industry has been at the forefront of this movement for some time now. Research and development efforts of aerial lift manufacturers have been transcending decades, with electric drive systems providing eco-responsible machines to customers.
One such manufacturer has been Snorkel, who released, what the company says, is the world's first lithium-ion powered electric compact rough terrain telehandler, the SR5719E. Driven by increasing customer demand for cleaner, greener equipment as alternatives to diesel-powered machines, Snorkel stepped up to develop a range of zero emission, lithium-ion battery powered work-at-height solutions.
This range includes the SR5719E, as well as five compact rough terrain scissor lifts, two Speed Level sigma boom lifts, and most recently, a mid-size rough terrain articulated boom lift. Delivering zero CO2 emissions, zero dust generation, and up to 60 percent less noise, the Snorkel line-up offers equal or better performance than diesel-powered models.
With help from Snorkel, let's dive into what exactly lithium-ion batteries are, their benefits, and finish with an inside scoop into the SR5719E compact rough terrain telehandler.
What are lithium-ion batteries, and how do they work?
Lithium-ion batteries are an advanced type of rechargeable battery that use the movement of lithium ions to create the flow of electricity.
They're made up of four key components: the cathode, which determines the capacity and voltage of the battery; the anode, which enables the electric current to flow through an external circuit; the electrolyte, which serves as the conduit, and is formed with salts, solvents, and additives; and the separator, which is the physical barrier that keeps the cathode and anode apart.
Lithium-ion batteries have a much higher energy density and a lower discharge rate, which means they lose around 5 percent of their charge a month compared to other battery types that lose 20 percent.
For the Snorkel access equipment, lithium-ion batteries have replaced the traditional diesel engine to power an electric motor in place of the combustion engine. The batteries used come with an integrated battery management system (BMS), which controls the batteries and maximizes efficiency. It is a low voltage system, so it does not require specialist high voltage training for any servicing requirements. And it's also been tested in climatic chambers between -77°F (-25°C) and +140°F (+60°C).  
The overall operation of lithium-ion battery-powered machines remains largely the same as a diesel machine, but with zero emissions. The lithium-ion powered lifts also benefit from higher torque, which delivers higher gradeability for enhanced performance on rough or uneven terrain versus the diesel models.
How do you maintain lithium-ion batteries?
If you research the proper maintenance of lithium-ion batteries, you'll see tips such as avoid heat and keep them cool, avoid too-cold temperatures and store them inside, avoid water sources, and don't over-charge them.
But it's slightly different for batteries in pieces of equipment such as Snorkel's telehandler. Unlike other types of batteries, such as lead acid, lithium-ion batteries are completely maintenance-free and do not require regular water level checks or cleaning of battery terminals. This eliminates the risk of frequent battery replacement should the correct maintenance not be performed.
In addition to lithium-ion batteries being maintenance-free, the electric motor used on Snorkel's lithium-ion range is also maintenance-free. When compared to the equivalent diesel-powered lifts that require regular servicing and maintenance, like frequent oil changes, filter changes, and occasional repairs, this represents a significant reduction in maintenance time and costs.
In studies conducted by Snorkel, a lithium-ion-powered lift reduces servicing costs by up to 93 percent each year when compared with an equivalent diesel-powered model, helping to minimize total ownership costs.
What are the environmental benefits of lithium-ion battery power?
We've mentioned just how important environmentally friendly practices are for the industry (and the world in general), but with an electric drive motor and functions, lithium battery-powered machines produce zero CO2 emissions, meaning these lifts meet emissions regulations and can be used in zero emission (including indoors) or low emission zones where combustion engines may not be permitted. Battery power also eliminates the possibility of fuel spillage.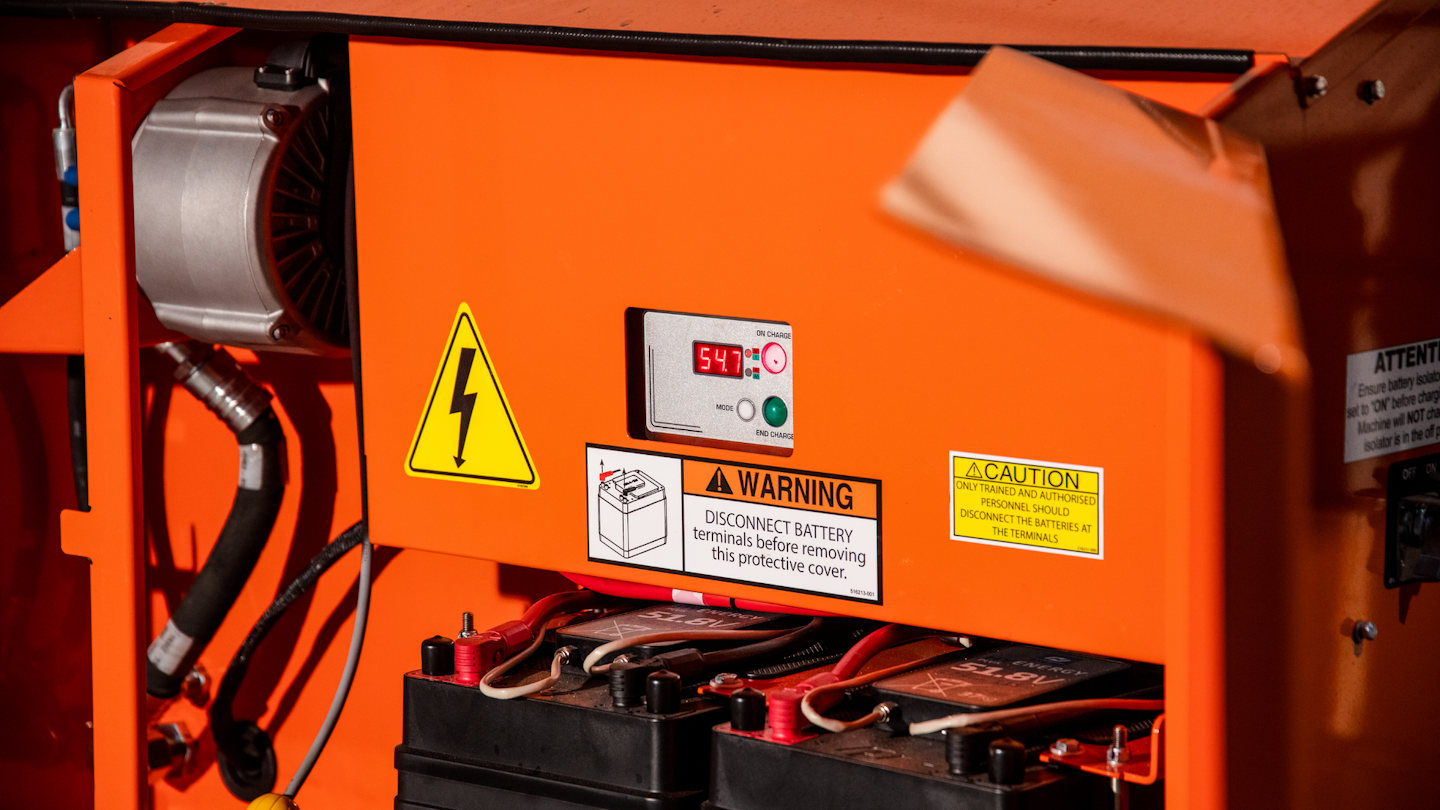 The state of charge indicatorThese batteries also allow machines to reduce dust generation. Snorkel aerial lifts and telehandlers equipped with lithium-ion batteries don't have an engine fan, and therefore, create less dust than machines with combustion engines, creating safer and cleaner operation that is ultimately friendlier to the environment.
Another point that is important to make is that pollution isn't always air-borne or litter. The use of lithium-ion batteries and an electric motor also reduces noise by up to 62 percent compared to a diesel engine. This means that lithium-electric machines are suitable to work in environments where there may be noise regulation or on projects with longer working hours. This means crews can work longer shifts in urban or residential areas where out-of-hours noise restrictions may be in place, as well as finish jobs quicker, saving both time and money.
What can be expected from lithium-ion battery-powered equipment like the Snorkel lifts?
The lithium-ion battery-powered Snorkel lifts are designed to be highly efficient, deliver excellent performance including on rough terrain, and are smooth and simple to operate. Higher torque, higher speeds, and higher gradeability deliver rough terrain capabilities and gradeability up to 50 percent, depending on the model. This shows that lithium-powered lifts have the same or greater rough terrain performance than their diesel equivalents.
On the Snorkel SR5719E, the lithium-ion battery is 300 amp hours (Ah). On the Snorkel aerial lifts, Snorkel uses lithium-ion batteries that are 111Ah each, and their standard is to use two batteries (222Ah). Users are able to increase the number of battery packs up to four (depending on the model), for a total of 444Ah.
Depending on speed and usage, the machines are designed to perform up to a full work shift on a single charge. Lithium-ion batteries generally are fully charged in around five to eight hours, depending on the model, and can also be top-up charged (a term for charging electric vehicles) as needed to maximize productivity, like during a lunch break.
All Snorkel lithium-ion lifts come equipped with a standard on-board charger, and for environments where constant operation for long periods is required, optional off-board fast charger units are available.
Lithium electric Snorkel lifts are also equipped with a digital proportional joystick to provide improved operator control and efficiency. Using the digital output to control the motor directly results in more tactile and responsive acceleration for noticeably smoother performance on the job and an improved operator experience.
What else is exciting about the "world's first" SR5719E compact rough terrain telehandler?
Traditionally used in outdoor environments, compact rough terrain telehandlers are commonly powered by a combustion engine. By replacing the diesel engine and its related components with lithium-ion batteries and an electric powertrain, the world's first fully electric zero emission telehandler was created.
The SR5719E is designed to be used in any environment from rough terrain to indoor applications. Featuring full-time four-wheel drive, it can tackle challenging outdoor terrain just like its diesel counterparts, yet thanks to zero emissions and zero dust generation, can remain on a construction project until the very end, working indoors to support the final fit-out and clean up stages.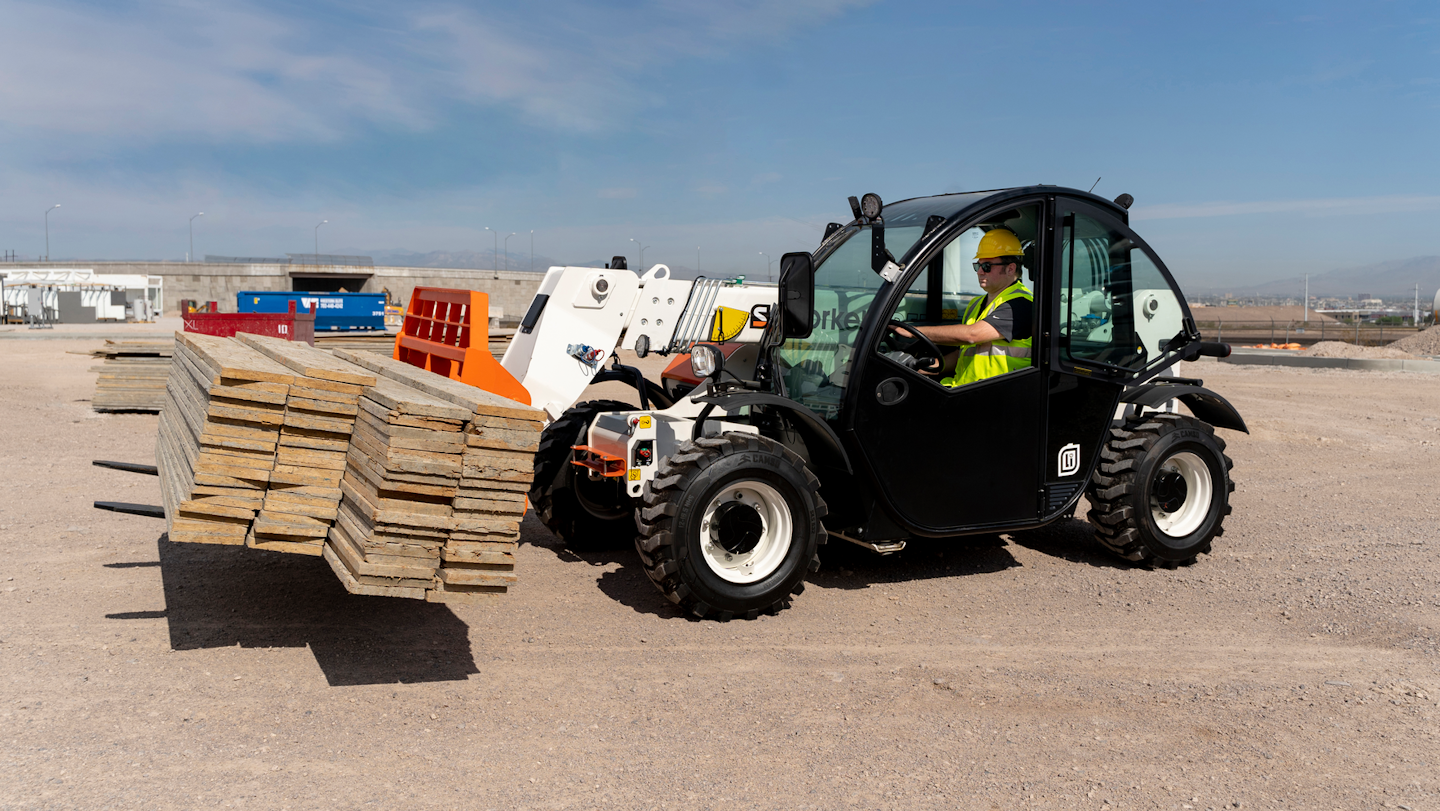 Snorkel SR5719EThe long-lasting 300Ah lithium-ion battery provides up to six hours of continuous-use battery life, and a standard onboard charger is ideal for overnight recharging within 15 hours. An optional fast charger can be purchased, reducing the charge time to within 1.5 hours.
With no diesel fuel cost and significantly reduced maintenance costs, the Snorkel SR5719E delivers a low total ownership cost over the life of the unit. The increased purchase investment over the diesel version is amortized on average after about two years of work, and, according to Snorkel, the unit delivers a reduction in operating cost of approximately 60 percent compared to the diesel model.
Of course, no one would trade peace of mind and that includes these battery powered machines, too. The lithium-ion battery pack is warranted by Snorkel for two years or 2,000 cycles, whichever comes first. At the end of the life of the battery, they can be returned to Snorkel for recycling -- another green initiative by the company.
To sum it up, lithium-ion battery technology is not only environmentally friendly, but also offers reduced maintenance, equal or better productivity, and the potential for time- and cost-saving opportunities. While electrification has steadily infiltrated the market over the years, it will be interesting to see where the market goes next... Including keeping an eye on Snorkel and their electric machines.