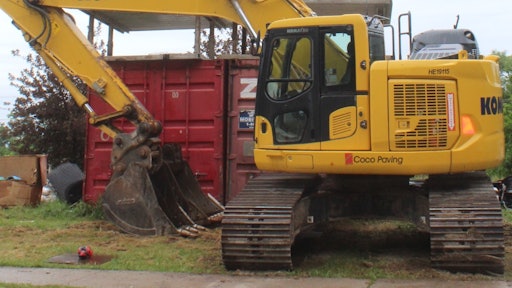 Rental dealers who are keen on retaining and gaining clients will offer a variety of reliable products for competitive prices backed by good customer service. Good customer service includes convenient, friendly service and giving customers what they want when they need it.
After all, not only are you a service provider, but you are a partner in the success of your clients. You can help your clients in a lot of ways, but one way rental dealers can now help their clients is by offering weather protection on their equipment rentals.
Weather events ruin construction sites and schedules
Contractors who rent equipment rely on that equipment being available for as long as they need it. Construction pros know that the calendar often works against them—delays are part of the business and deadlines are important. And the number one cause of project delays is weather.
Even though contractors factor in delays due to weather events, sometimes the number of days with inclement weather or the severity of the weather pushes schedules beyond what was expected. This can push their completion schedule beyond their equipment rental return date.
"If project-delaying weather events are a contractor's greatest enemy, then the rental dealer who can provide them with what they need when they need it, and in a way that does not blow up their budget, becomes the contractor's biggest ally," says Rick Wilmot, co-founder and product lead at Weather Warranty. "Help your customers plan for the unexpected and offer them what no one else can—an equipment rental experience without the weather worries."
A new solution to an old problem
Severe weather events and natural disasters have become more frequent and intense. According to the Insurance Information Institute, there was an average of 520 natural catastrophes per year between 1989 and 2018. In 2019, there were 820 natural catastrophes — a nearly 60 percent increase from the average over the past three decades.
"Weather events can significantly increase construction costs. In total, weather-related delays cost the U.S. construction industry $4 billion annually," says Wilmot.
Weather Warranty is a weather protection service. Rental dealers who offer it can give peace of mind to their clients when it comes to keeping their rented equipment on site until the work is complete.
There is no charge to the rental dealer to offer weather protection. Rental dealers can offer the weather protection service at the time the equipment is rented. The service costs a nominal fee (like adding trip insurance when booking a flight). Then, if there is inclement weather resulting in delays, the rental agreement is either automatically extended or customer credit is provided, which allows the renter to make up the lost days without extra rental charges, and Weather Warranty pays the rental dealer in full for the extra time.
Weather Warranty uses advanced technologies to monitor and predict inclement and severe weather events, then it automatically extends the contracts of equipment rentals in the effected locations across the U.S. Founded in 2020—in a year of a record-breaking number of tropical storms affecting the U.S.—Weather Warranty is a new solution to an old problem.
"Weather Warranty gives rental houses and their customers a rental add-on that's a definite win/win for everyone. It lessens the impact of bad weather in advance by enabling the customer to lock in their rental costs for a small fee at the time of the rental," says Wilmot. "And for the rental dealer, it's a quick and easy way to grow your top line sales, increase your utilization, and offer your customers something that others can't."
When Weather Warranty polled contractors about automatically extending equipment rental due to project delays caused by bad weather, 75 percent said they would pay extra for the service.
Increasing rental revenue
Mike Travis, former owner/general manager, Construction Equipment Rentals Inc., (CER) saw the potential in offering Weather Warranty to his customers.
"The opportunity to offer my customers something beneficial and unique was what first got CER interested in partnering with Weather Warranty," he says. "CER prioritizes helping customers solve their daily challenges, and in this industry, problems don't come much bigger than the uncertainty, unplanned delays, and cost overruns associated with severe weather."
Every machine and every rental at CER are eligible for Weather Warranty, with no exclusions. It gives contractors another reason to choose CER. It also gives them peace of mind since they know their equipment rental will automatically update if weather conditions become severe, which translates into more revenue, higher equipment utilization, and less chaos when scheduling and managing their fleet. In fact, CER averages 5-8 percent extra revenue per rental with Weather Warranty.
"Weather Warranty is my new secret weapon. Like everybody else, I've been competing in the market on my equipment, my price, and my reputation, but at the end of the day, I'm still always looking for that one thing that's going to set us apart from every other rental dealer. When I discovered Weather Warranty, I knew I'd finally found it. Now I'm the guy that can say to my customer, 'If you rent from me, you don't have to worry about the weather.' How cool is that? It's a big win," says Travis.
As time goes on, more and more contractors are seeing the value in a weather protection service. More than 50 percent of CER's customers who were exposed to Weather Warranty wanted to know more about it. "CER and Weather Warranty help me solve a real problem that I face daily. I feel like I can finally sleep at night. After a while, I just said to CER, 'This is a no-brainer. Just include it on all my contracts,'" says Dick Charleau, president, Mid-Mass Renovating.
Companies in this article