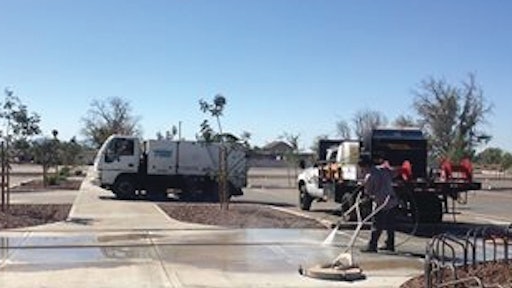 Like most companies, Brandon Carnicle started his business fairly small. AZ Power Washing began in 2005 with a focus on residential and commercial power washing in the greater Phoenix, AZ area. In 2010, Carnicle joined partners with another power washing company to gain more business opportunities. What they discovered as they began to grow, was that they weren't gaining as much business as they could be.
"A lot of the contracts we were taking on were looking for more than just the power washing," says Carnicle. "We found that we were getting subcontracted from sweeping and landscaping companies."
Initially, AZ would help their customers find another company to fulfill their needs. As they started to notice more and more of their customers needing additional services, they began to slowly start putting their toes in the water in other business ventures.
"We saw that the sweeping was really a great foot in the door for the power washing services and for our window cleaning services," adds Carnicle.
Divide and conquer
Today, the company now has two main divisions. The power washing side, AZ Power Wash Pros, and the sweeping side, AZ Sweeping Pros.
"We actually started the company out as AZ Power Wash Pros," says Carnicle. "Then we added another division, AZ Lot Sweeping and AZ Street Sweeping, then also AZ Window Cleaning. We decided to combine them all under one company, AZ Exterior Cleaning."
The entire company now employs around 40 people, including a sales team of three that travels out to area businesses to meet with property managers.
When the company decided to bring sweeping services in house, they hoped to become a one stop shop for their commercial customers. They started out with two 1976 pickup trucks with Masco sweeping units attached to them, and never looked back.
"We did that for a while and since that was older equipment, it was more costly and more time consuming to do the work," says Carnicle. "We knew we wanted to keep doing this, so we invested in the newer equipment."
Today, the sweeping side of the business keeps 10 full time employees busy on five Schwarze parking lot sweepers. Their business consists of both residential and commercial customers.
"Our company is almost 50/50 now with the power washing and sweeping," says Carnicle. "Almost everyone we do parking lot sweeping for now, we also do their power washing."
The company also added parking lot striping just last year. "It was another one of those things where customers were asking us about it," Carnicle adds. "They wanted to know if we knew someone who could take care of their striping and things like that. So again, seeing the need, we decided to just do it ourselves instead of subcontracting all the work out."
Too big, too fast
Becoming a one stop shop is great for customers, but can be a daunting task if your company isn't ready for it. With growth, you need to invest in new equipment, train new employees and take a huge leap of faith before you really know if it's going to be worth it. This was the case for Carnicle when the company really started to take off.
"As we took on a lot of this work, one of the biggest challenges we had was actually growing too fast," says Carnicle. "As we were providing more services for our customers and taking on more work, we found that we were having to put up the expenses for the fuel, the chemicals, the employees, and then we wouldn't see a payment on any of that work for 30 days or more."
Carnicle advises anyone looking to expand should a take minute to slow down and not let the business get ahead of you. "We were excited, we wanted to take on all this new work," Carnicle adds. "In reality, we almost buried ourselves by moving too fast and getting too excited about adding all of these services."
"We also had to find the right people who were going to represent our company the way we wanted it to be represented," adds Carnicle. Finding skilled labor can be a difficult task in itself, so make sure you have the qualified people on hand to help support the work you take on.
 Final advice
Carnicle is quick to say that his company did not get to where they are today overnight. "Expanding is nothing you can just jump into," says Carnicle. "It took a lot of time and research and knowing the industry really well. Plus talking to a lot of industry veterans."
Even if you think an expansion is a good fit, it might not be what your customers want. "We have even looked into adding landscaping," says Carnicle. "But there are a lot of rules with the contracting licenses and things like that. Plus, we haven't had a lot of our customers ask for it, simply because people want the landscapers to stick with the landscaping."
"I know that's how it's gone with a lot of landscaping companies. They have gotten a contract, then they get the sweeping and pressure washing and all that. But seems like they are just throwing people at it who aren't professional or trained at doing that. It seems like now they want the landscapers to focus on the landscaping and maintaining the grounds in that manner, and they will hire a cleaning company to actually do the cleaning maintenance for them now."
All in all, Carnicle says expansion can be worth it. "Most of the companies out here just do the power washing or just do the sweeping," adds Carnicle. "Being able to offer all these services has differentiated us from the competition. We're really giving our customers a total exterior maintenance service package now."