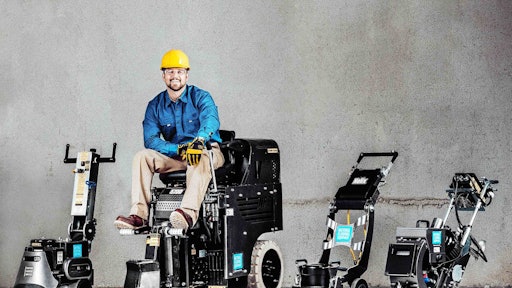 National Flooring Equipment
Setting up a construction business requires time, money and resources. However, an unstable economic climate means that contractors may not have all three. As a result, rental equipment is becoming more popular, as a cheaper, pay per use model can help new contractors build a business and established contractors maintain theirs.
At National Flooring Equipment, we predict that the preference towards renting is only on the up, as rental companies offer more services to contractors, such as training, maintenance and job advice. By hiring equipment from a rental company, contractors can then become a single source surface preparation provider, with access to all the third-party equipment they need.
Why Rent?
Return on investment and reduced up front capital costs are some of the main benefits of renting equipment. This is because contractors will not have to save up for equipment purchase, or budget for expenses such as storage and maintenance. Contractors can instead choose to invest this money into other areas so that businesses can offer a wider range of services to customers.
In surface preparation, different applications require equipment with different functions. Contractors must choose a machine based on the requirements of the surface preparation job. To get the best result, the contractor should know the size of the job, accessibility to the building and the expectations of their customers. When buying equipment, contractors may have to work with the machine they have for any application. Renting means that they can tailor their machine choice to the desired finished result for each job.
Rental equipment is replaced after a lifespan of a few hundred hours, which guarantees the contractor that the equipment works at optimum efficiency. Maintenance is usually the responsibility of the rental company, which can be another worry shifted away from the contracting business.
Another concern for a contractor that the rental company can take care of is regulatory compliance. Rental companies stock the latest equipment to meet regulations, such as the new regulations set by the Occupational Health and Safety Administration (OSHA), to reduce exposure to silica dust.
The Right Rental Company
Once a contractor has decided that they want to rent equipment, they should choose a company based on its level of customer service. The best rental company will feel like an extension of the construction company and they should advise the company on what equipment they need for current work and future development.
It is also vital that a rental company is easy to contact. Contractors can come across problems at any point before, during or after construction work, relying on the rental companies' advice on how to continue. The more the rental company knows about the business, the better advice they can give.
When choosing a rental company, construction business owners should make decisions based on how they predict the business to develop in the future. They may only need one machine when they first approach a rental company, but require a whole suite of equipment for a job later down the line. This is because it is easier to rely on one company as a single source for surface preparation equipment.
In many cases, renting equipment may be a more cost-efficient option than purchasing, but in any business, you must spend money to make money. Contractors should avoid the cheapest machines and make sure that they hire the most suitable equipment for the job at hand. A well-stocked rental company allows contractors to choose the right equipment for each application and receive the correct training and knowledge from the same source.
Expertise
It is important to remember that rental companies are not the only source of knowledge when using surface preparation equipment. Contacting the original equipment manufacturers (OEMs) for advice directly can give the contractor the most detailed information about the equipment they hire.
Contractors and rental companies can approach the machine manufacturer for further information. OEMs are often the best source of information, as well as this, companies like National Flooring Equipment offer bespoke training or an online training library which contractors and rental companies can access to answer any equipment questions.
As more contractors see the benefits of renting equipment, it is likely that more contractors will choose to rent rather than purchase equipment. If more contracting businesses can find the right rental company and equipment for the job, the 40 percent is likely to rise.
Ed. Note: Oscar Peralta is the West Coast Territory Manager for National Flooring Equipment.