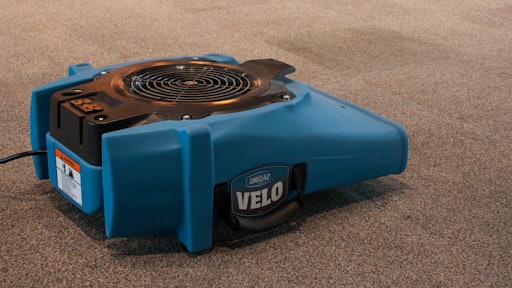 Dri-Eaz
The new Dri-Eaz Velo airmover from Dri-Eaz utilizes a revolutionary design to deliver restoration-grade performance in a market-changing compact package.
The unit's patent-pending internal housing design propels a strong current of air directly through the outlet
Fast, consistent drying across walls and floors.
The Velo's narrow profile and light weight (only 21 lbs.)
Easier to deploy on the job than traditional airmovers
Users can easily carry up to four units through doorways, halls, and up stairs without damaging walls or doors
Users can also stack five on a handtruck for fast, efficient transport
At 2.5 inches shorter than its closest competitor and half the height of snail shell airmovers
Customers can store up to twice the Velos in the space of other airmovers
Maximizes storage space both in the warehouse and on the truck
The Velo accelerates the evaporation of moisture in walls, floors, crawlspaces, hallways, and under cabinets
Achieved faster drying than other airmovers using up to twice the amps
Durable rotomolded housing
Low amp draw of only 1.9 amps
Two onboard GFCI-protected outlets for daisy-chaining
More information is available at Velo.drieaz.com.
Companies in this article
Request More Information
Fill out the form below to request more information about
Dri-Eaz Velo Airmover