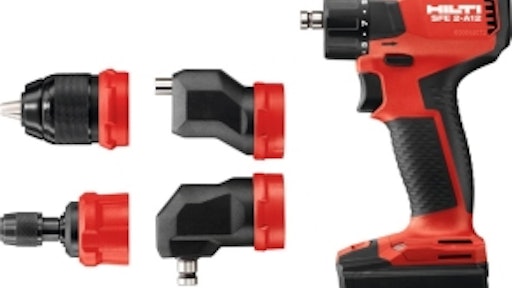 Hilti North America has launched its new four-in-one cordless multi-head drill driver to help contractors tackle the most demanding and difficult to access applications.
The SFE 2-A12 multi-head drill driver is designed to reach places that a common tool in its class cannot. Points considered difficult to access, where users usually spend a lot of time or are unable to reach, are not a problem for this tool. The versatility will help customers save time and increase productivity at the jobsite.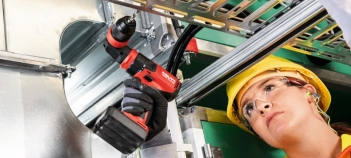 The drill driver is ergonomically designed to provide maximum comfort for users. It has a great advantage over similar tools on the market, as its exclusive ½-in. chuck allows a larger variety of drills to be used. The four exchangeable chucks are: ¼-in. offset, right-angle adapter, ½-in. keyless metal chuck, and 1/4-in. hex chuck. The SFE 2-A12 is an excellent source for many installation applications, such as driving in wood with hex chuck, offset chuck, driving in metal with right angle chuck, offset chuck, and drilling in metal with drill chuck mounted on right angle chuck.
This new addition to Hilti's portfolio is powered by Hilti's 12V cordless tool batteries, which have an advanced power management system in durable casing that allows for increased energy storage capacity and provides a higher power output, improved runtime, and reduced number of recharges. 
The cordless tool is designed to help provide more accurate work, including two bright LEDs, magnetic bit holder chucks, and 15-step clutch, geared to more efficiently driving screws while also better protecting the base materials. In addition, it is equipped with a brushless motor, which offers users 1,600 RPM for exceptionally high performance, superior system efficiency, and high runtime per charge.
"The SFE 2-A12 is a tool that accepts challenges and proof of that are the several applications it is capable of reaching, such as behind pipes, inside cabinets, and even inside light cans," said David Walker, business unit manager for power tools and accessories at Hilti. "In addition to all the versatility that this innovation provides, it is a time-saver and offers all the comfort and efficiency of a cordless tool, helping users achieve high performance and productivity on the jobsite."
The SFE is fully enabled for Hilti Tool Fleet Management and is backed by an industry best tool warranty – 20 years of repair or replacement of defective parts, two years no cost repair including wear and tear, and a guaranteed one-day turn-around on repairs.
The SFE 2-A12 is fully available for purchase from the Hilti websites, Hilti.com, and Hilti.ca.
Request More Information
Fill out the form below to request more information about
Hilti Launches Four-in-One Installation Drill Driver