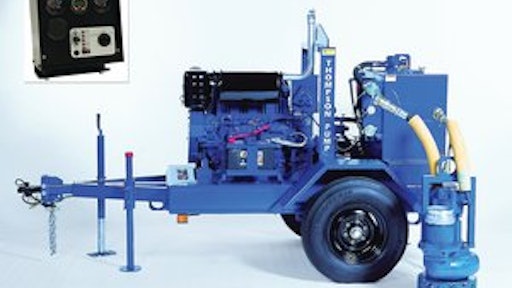 32HPU Submersible Pump
The 32HPU with a 46HST handles solids up to 3 in., has a maximum capacity of 1,580 gpm and pumps at heads up to 115 ft.
Can run dry without damaging components
Automatic start/stop system energizes and de-energizes the hydraulic circuit while automatically adjusting the speed of the hydraulic power unit
Automatic throttle control reduces engine wear
Heavy-duty cast iron and steel construction
Thompson Pump & Mfg. Co., Inc.
Bravo Series
The Bravo line of heavy-duty slurry pumps is designed for pumping liquids with high concentrations of sand and stones.
Wear reduced by using NiHard 4 for all hydraulic components
Available in five sizes from 5.4 to 52.3 hp delivering 590 to 2,200 gpm
Equipped with an agitator for enhanced efficiency
Grindex Pumps
Centrifugal pumps
Pioneer Pumps offer heavy-duty centrifugal pumps with solids handling capability to 4.5 in.
Clear liquid pumps with flow capabilities from 50 to 18,000 gpm and heads to 500+ ft.
Ductile iron construction
Configurations include diesel-driven, electric-driven, SAE-mounted and frame-mounted options
Pioneer Pump
Centrifugal Pumps
Self-priming pumps available in 2-, 3- and 4-in. models
4.5- to 6-hp Robin Subaru EX Series overhead cam engines
Delivery rates between 158 356 gpm
Cast-iron impeller and volute
Cermic carbon mechanical seal
Subaru Robin
CP 0010 Submersible Pump
The 33-lb., 9-in.-diameter CP 0010 submersible pump is suited for applications such as removing water from trenches, ditches, manholes and excavation sites. The 2-in., direct-driven, single-stage centrifugal pump discharges between 125 and 250 gpm and has a lifting head of up to 90 ft. It requires 100 cfm of air for operation. A cast iron housing and double-seal protection shield the motor and bearings from water and mud, while an integral strainer prevents debris from entering the pump. The unit does not require priming and can run continuously without risk of damage.
Chicago Pneumatic Tool Co.
Electric Submersible Pumps
This complete line of electric submersible pumps is available for flows as low as a few gallons per minute to several hundred gallons per minute, with head conditions from a few feet to several hundred feet.
Available with several options and configurations
Fully self priming
Available from 120-volt single phase or 460-volt three phase
Optional automatic start up control box
Run dry capability on some models
Control panels with float switch capability for automatic start/stop conditions
Griffin Pump & Equipment
HS300 Submersible Pump
The 12-in. Heidra HS300 hydraulic-powered submersible pump is capable of flow rates to 6,000 gpm and heads to 200 ft.
Cast iron pump with a cast chromium steel impeller
Self-contained with a diesel-driven hydraulic power unit
Handles solids up to 3 3/4 in. in diameter and suited for applications with more than 28 ft. of suction lift
Integrated steel cage on the pumpend
PrimeGuard Controller provides programmable operations including setting maintenance timers

The 12-in. model HS300 cast iron pump with cast chromium steel impeller is capable of flow rates to 6,000 gpm and heads to 200 ft. It provides solids handling up to 3 3/4 in. in diameter, and is suited for applications with more than 28 ft. of suction lift. It includes an integrated steel cage on the pumpend, a double mechanical seal immersed in an isolated oil bath for unlimited dry capability and a standard PrimeGuard Controller. Powered is provided by a diesel-driven hydraulic power unit. An integral 200-gal. fuel tank capacity provides over 24 hours of continuous operation.
Godwin Pumps of America, Inc.
InstaPrime Pumps
Move up to 3,500 gpm in model sizes ranging from 6 to 8 in.
Deliver heads up to 143 ft. and lifts of up to 30 ft.
Handle solids to 3.6 in.
Patented screw-type impeller delivers increased flow
Powered by 43- and 60-hp Deutz diesel engines
150-gal. fuel tank for extended continuous run times of up to 72 hours
Multiquip Inc.
KZN
The Model KZN top-discharge pump is constructed with abrasive-resistant 28% chrome iron components, including the agitator, wear plate and semi-open impeller.
Protected by Class H motor insulation, double silicon carbide mechanical seals, heavy-duty lip seal, stainless steel shaft and shaft sleeve and pump volutes cast from hardened ductile iron
Top discharge pump
Booth # S-10220
BJM Pumps, LLC
LTP 3 Submersible Trash Pump
The 3-in. LTP 3 submersible trash pump can handle stones and other debris up to 2 1/2 in. in diameter.
Discharge capacity of 507 gpm
Lifting head up to 104 ft.
Driven by a hydraulic motor with a range of hydraulic power packs available
Can run dry without damaging internal components
Weighs 28 lbs.
33-ft. discharge hose offers snap-lock, quick-release couplings
Atlas Copco Construction Tools LLC
Model BS-2750
The 11-in.-diameter Model BS-2750 submersible dewatering pump is made entirely of stainless steel and is engineered to handle corrosive liquids with a pH range of 2 to 10.
Available in 230/460/575V three-phase versions and rated at 13 hp
High-head version develops up to 245 ft. of head to deliver up to 300 gpm, while standard version pumps up to 980 gpm
Two independent silicon carbide mechanical seals
Itt Flygt Corporation
MTP 4500FH/MTP 6500FH Trash Pump
The 4- and 6-in. MTP 4500FH and MTP 6500FH enclosed dry prime trash pumps feature sound attenuation for residential areas.
Handle up to 3-in. solids
100-gal. fuel tank with over 30-hour run time
Auto start/stop controls
Flip-hood enclosure for easy access to pump, inlet and daily checks
Lockable for on-site security
Magnum Products Inc
PA4A60C-4024T-ESP Centrifugal Pump
Priming-assisted centrifugal environmental silent pump with autostart
Flows to 920 gpm
Heads to 122 ft.
Handles 3-in. solids
Oversized, oil-lubricated mechanical seal
For sewer by-pass applications or sound-sensitive areas
Gorman-Rupp Co., The
PrimeRite
MWI PrimeRite
For contractors, dewatering firms, sewage-bypass operations, municipalities and industrial operations
Automatic dry priming trash-handling pump
Can be operated unattended
Available with a sound-attenuated enclosure
MWI Corporation
SA DV-150i Portable Pumping Unit
The SA DV-150i portable pumping unit handles solids up to 3 in. at flows up to 2,600 gpm and heads up to 195 ft.
Corrosion-resistant, galvanized trailer with dual-wall fuel cell containment
Compact footprint for tight construction site locations
72-dB(A) sound attenuation
Enhanced suction lift capabilities
Rain For Rent
TDD Series
Lombardini diesel engine available with recoil or electric start (optional cold start kit available)
Two-ply neoprene diaphragms and check valves with centered nylon reinforcement prevents weak spots, extends wear life and shelf lift
Large capacity fuel tank for 100 hours operating time per tank
Heavy-duty DOT road trailer with 15-in. 6-ply tires and a 2-in. ball hitch (optional pintle hitch available)
Tsurumi America, Inc.
Top Discharge Dewatering Pumps
These top discharge dewatering pumps are designed to fit in 6.5-, 8-, 12-, 16-, or 18-in. well casings.
Capable of handling contaminated fluids at most construction sites
Rugged, epoxy-coated, stainless steel-fitted pumps
Also available in complete 304/316 stainless-steel construction
Mody Pumps Inc.
Trash Pump Line
This complete line of centrifugal trash pumps includes 2-, 3-, 4- and 6-in. gas- or diesel-powered models.
2-in. PT 2 series pumps up to 210 gpm with solids to 1 in.
3-in. PT3 series gas or diesel models handle up to 400 gpm with solid sizes to 1.5 in.
4-in. PTS 4V pumps 705 gpm with solids up to 2 in. and is powered by a 16-hp Vanguard engine
PT 6LT (trailer) and PT 6LS (skid) 6-in. models can pump 1,300 gpm with solids up to 2 in.
Wacker Neuson Corporation
U Pumps
Electric submersible trash pumps includes the US40A, US40C, US75A, US40D
2- to 3-in. output
2,900- to 5,700-gph capacity
35- to 60-ft. maximum heads
Rugged cast-iron body
Horizontal and vertical discharge capabilities
Con X Equipment Canada
WB Series Pumps
The 4.5-hp WB20 and 5.5-hp WB30 are powered by easy to start Honda OHV commercial-grade engines with Oil Alert.
WB30 delivers a maximum discharge capacity of 275 gpm and a maximum head of 83 ft.
WB20 discharges up to 153 gpm with a maximum head of 94 ft.
Heavy-duty full frame protection
Rigid-mounted cast iron pump volute
Abrasive-resistant silicone-carbide mechanical seal
American Honda Motor Co.
Companies in this article