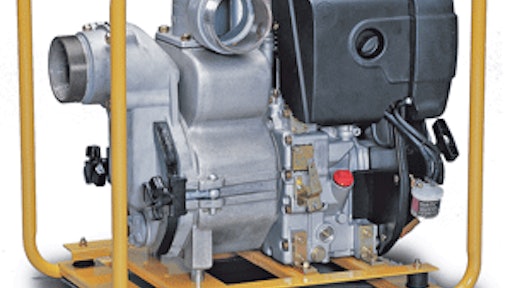 Subaru Robin Diesel Trash Pumps
The PTD310T has a 3-in. discharge port and a 317-gpm maximum capacity, while the PTD410T has a 4-in. discharge port and a 449-gpm maximum capacity.
Self-priming
6.8- and 9.9-hp Hatz diesel engines with recoil starter
Low-oil shutdown system
Hardened cast-iron volute and abrasion-resistant, cast-iron impeller and replaceable wear plate
Grindex INOX Pumps
The INOX series submersible drainage/sludge pumps are constructed of corrosion/chemical-resistant stainless steel.
13-hp Master INOX pump has a 999-gpm maximum flow and a pressure head of 246 ft.
Cast parts made of stainless steel and can handle fluids with pH levels from 2 to 10
Suitable for tough applications in corrosive environments
ITT Flygt 2600 Series
The 2600 series includes six models with discharges from 2- to 6-in. NPT, heads from 40 to 230 ft. and power outputs from 1.2 to 27 hp.
Hydraulic performance ranges from 150 to 1,400 gpm
DuraSpin hydraulic system and high-chrome cast iron closed impellers provide improved wear resistance and durability
Single screw enables fast, easy adjustments
One-piece Plug-In seal with two mechanical seals for double protection against liquid penetration
ABS Pumps Submersible Electric Pumps
These fully submersible pumps feature a sealed motor design and double outer casting that enable them to run dry or in "snore" condition without damage.
No priming required
Wide base for soft bottom applications or slim centerline version for limited-space applications
Sizes available to handle drainage volumes of 5,500 gpm
Discharge connection sizes from 1 1/2- to 10-in. diameters
Honda WB Series
The 4.5-hp WB20 and 5.5-hp WB30 are powered by easy to start Honda OHV commercial-grade engines with Oil Alert.
WB30 delivers a maximum discharge capacity of 275 gpm and a maximum head of 83 ft.
WB20 discharges up to 153 gpm with a maximum head of 94 ft.
Heavy-duty full frame protection
Rigid-mounted cast iron pump volute
Multiquip InstaPrime Pumps
The InstaPrime Series moves up to 5,000 gpm in model sizes ranging from 6 to 12 in.
Deliver heads up to 143 ft. and lifts up to 30 ft.
Handle solids to 3.6 in.
Patented screw-type impeller delivers increased flow using the same horsepower
Powered by 40- to 96-hp Deutz diesel engines
15-gal. fuel tank for extended continuous run times of up to 100 hours
Atlas Copco LWP 2 Submersible Pump
The 23-lb. LWP 2 can handle stones and debris up to 3/8 in. in diameter.
Produces up to a 222-gpm discharge and has a lifting head of up to 82 ft.
Spark-proof and can run dry without damage
Standard 33-ft. discharge hose and snap-lock, quick-release couplings that ease movement around the site
Various hydraulic power packs available
Optional flow divider and extension hoses
Gorman Rupp 8-in. Environmental Silent Pump
The PA6C60-4045T-ESP is suited for bypass pumping or any applications that require sound attenuation.
Provides flow rates up to 2,750 gpm and heads up to 200 ft.
Can handle 3-in. solids
Able to run dry indefinitely without damage
Environmental base contains all fuel and engine liquids that could otherwise leak onto the ground during an accident
Godwin CD160M Dri-Prime Pump
The CD160M automatic Dri-Prime 6" x 6" centrifugal pump offers flow capabilities to 1,900 gpm and discharge heads to 260 ft.
High-pressure oil bath mechanical seal design allows for totally dry running for infinite periods of time, while automatically priming and repriming
Can pass a solid to 3 in. in diameter
Compact yet able to perform in the toughest conditions
Wacker Centrifugal Trash Pumps
This complete line of centrifugal trash pumps includes 2-, 3-, 4- and 6-in. gas- or diesel-powered models.
2-in. PT 2 series pumps up to 210 gpm with solids to 1 in.
3-in. PT3 series gas or diesel models handle up to 400 gpm with solid sizes to 1.5 in.
4-in. PTS 4V pumps 705 gpm with solids up to 2 in. and is powered by a 16-hp Vanguard engine
PT 6LT (trailer) and PT 6LS (skid) 6-in. models can pump 1,300 gpm with solids up to 2 in.
Thompson 6-in. Vacuum-assist Pump
The 6V-DDST-4-2011 6-in. vacuum-assisted pump handles up to 3-in. solids, and is capable of flows up to 1,450 gpm and heads up to 88 ft.
Cooling system allows pump to run dry without damage, while handling suction lifts up to 28 ft.
Super Suction vacuum system provides fast priming and prevents discharge of pumping effluent onto the ground
Pump housing does not have to fill with water to obtain original prime at startup