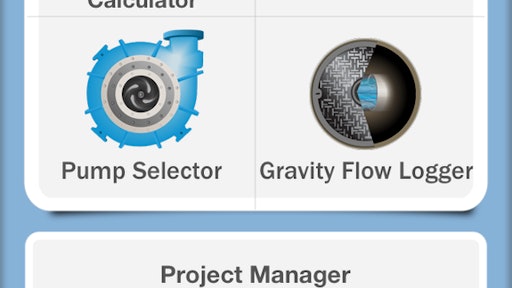 Mobile app: RiteFlo by Rain for Rent
Developer:  Thinkov
Cost: Free
Available on: Apple and Android devices
Rain for Rent's mobile app features hydraulic calculation and engineering tools for on-the-fly pump calculations while in the field or office. The comprehensive suite of hydraulic estimation tools includes a Gravity Flow Logger to measure the flow in gravity-driven sewer lines as well a Total Dynamic Head (TDH) calculator, a pipe friction loss calculator and a pump selector. The calculators work together to help the user determine the flow and pump capabilities.
The friction loss calculator features "Pipe Economy" calculations that facilitate relative performance and cost comparisons of selected pipe diameter against one size large and smaller for at-a-glance decision making.
The pump selector feature takes user data from TDH calculations and allows the user to plot the duty point dynamically on pump curves to yield a pump recommendation. It will then recommend a suitable pump from the Rain for Rent product catalog based on the entered hydraulic data.
In addition to the calculators, the app also features a project management system that allows the user to build, manage and share different hydraulic scenarios for a jobsite or location over time. The user can then save those measurements for future reference.
App features:
Attach photos to each measurement
Robust database facilitates flow monitoring in multiple lines over time
Track multiple projects
Email images and data directly from your device
Integrated design for sharing of selected calculation and user input values between related application components
Automatic conversion of nominal pipe sizes to actual hydraulic radii for true precision
Friction loss calculator calculates pipe, fitting and total friction losses for pumped hydraulic systems
Pump selector displays characteristic pump curve and technical operating specs for each pump
Estimate pump running costs by entering fuel costs and pumping time
Gravity Flow Logger features onboard app database catalogs and organizes all field inspections
Automatic pipe flow calculation based on user entered pipe-fullness levels