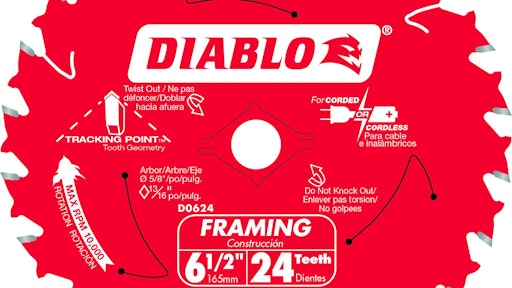 The Diablo 6-1/2-in. 24-Tooth Tracking Point saw blade produces accurate, smooth cuts on framing materials without bogging down cordless power tools. With the introduction of Tracking Point, a "rudder" like tooth design that reduces vibration and tension, users can produce true, straight cuts. In addition, Diablo says the saw blade delivers up to 65% more cuts per charge in cordless saws.
Optimized for corded and cordless saws, the blade features Perma-SHIELD nonstick coating and a super-thin kerf, which minimizes material removal and produces a fast, clean cut. While the thinner blade is lightweight, the custom formulated carbide, sharp cutting edges, and the Tracking Point tooth design classify this blade as a heavyweight when it comes to durability. This 24-tooth framing blade is ideal for framers, roofers, remodelers, concrete formers or anyone who owns a saw that chews through nail-embedded wood. 
Key features include: 
Specially formulated  TiCo Hi-Density Carbide delivers up to five times longer cutting life verses other blades.
Tracking Point "rudder" like tooth design provides straight cuts and doubles the carbide surface area for greater impact resistance and double the durability in nail-embedded wood.
Thinner kerf removes less material, which reduces the power needed from the tool resulting in longer run times and more cuts. 
Perma-SHIELD nonstick coating reduces drag and shields the blade against heat, friction, gumming and corrosion.
Laser-cut stabilizer vents absorb noise and vibration, keeping the blade straight and true for superior quality cuts.
Request More Information
Fill out the form below to request more information about
Diablo 24-Tooth Tracking Point Saw Blade Delivers up to 65% More Cuts Per Charge