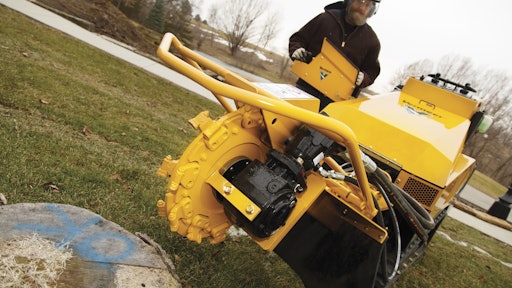 The majority of rental stores own brush chippers. However, some don't offer stump cutters as an equipment rental option, and they may be leaving potential revenue on the table. Adding a stump cutter to your fleet of tree care equipment can help round out your product offering and create a new stream of revenue.
"Years ago, in a residential setting, it wasn't that big of a deal to leave the stump behind," says Todd Roorda, tree care/rental sales manager at Vermeer. "But now, it's become more of a beautification issue. If a customer has a tree removed in their yard, the first thing they want to do is get the stump cut out as well."
Offering stump cutter rentals provides a one-stop resource for customers.
"In talking with a many of our Vermeer customers who rent stump cutters, they state these units generate one of the higher return on investment of any machine in their rental fleet," says Roorda. "So within the right market, it's a valuable tool to any rental store."
Checking out the competition and market demand
Before you make the decision to add a stump cutter to your fleet, take time to do your research.
Contact competitors in the area to get an understanding of rental rates within your market, and determine the value of adding a stump cutter to your fleet.
Next, contact tree care contractors and identify the type of work they do. Are they focused on commercial or residential work, line clearing or takedowns?
If a majority of contractors focus on commercial and right-of-way work, then it might make sense to jump into the stump removal market. If a number of residential contractors focus on tree takedowns and trimming, then identify ways to be better than those contractors, or explore ways to partner with them from a rental standpoint.
Focus on user-friendly machines
Now that the research phase is complete, determine what type of stump cutter makes sense in your area. It's important to select a stump cutter that is easy to use and makes short work of the task at hand.
Self-propelled stump cutters are user-friendly options. These units provide easy maneuvering, enhanced productivity, and operator safety and have the ability to remove large-diameter stumps. Since self-propelled stump cutters can easily handle larger stumps, they also increase your rental customer base to include homeowners and tree care contractors.
No matter which style stump cutter you choose, research various manufacturers and models. Look for a stump cutter that has a track record of reliability and productivity. Put yourself in the customers' shoes and think about how they will use the machine. Select one that is easy to operate and maintain, and built to withstand wear and tear.
"I also encourage rental stores to consider local dealer support," says Roorda. "Many rental stores have their own mechanics for routine maintenance, but it's good to know you can call a local dealer for assistance when needed."
Effective marketing
Getting a solid return on your stump cutter investment really comes down to marketing. Placing the unit on the front of your lot will get some attention, but you need a coordinated effort to get the word out.
Contact previous brush chipper rental customers and let them know you now offer stump cutter rentals. Review your call list and get in touch with individuals who have inquired about a stump cutter rental in the past. Next, be proactive and reach out to tree care contractors in your area. Let them know you have a full line of tree care equipment available.     
Safety is second to none
Before any machine leaves your lot, conduct a thorough training session with each renter. Whether it's their first or fourth time renting the machine, you need to review the manufacturer's recommended operation and safety procedures.
"Vermeer provides an operators' manual and an operation/safety DVD with each machine," says Roorda. "It's important that the rental store has someone knowledgeable about the proper operation of each machine who is responsible for reviewing these points with each renter before they leave with the machine."  
When to make the move
The decision to invest in a stump cutter should be based on whether the market is driving you in that direction. If the competition in your trade area doesn't carry stump cutters, then the first rental store to make the move is going to drive that business. 
"Nine times out of 10, the customers looking for machines on a regular basis know who has the equipment they need," says Roorda. "When you can get in a market and be one of the first ones to offer a new solution, you certainly tend to maintain a larger portion of that market business — and maintain it for a longer period of time — compared to those who come into the market later."