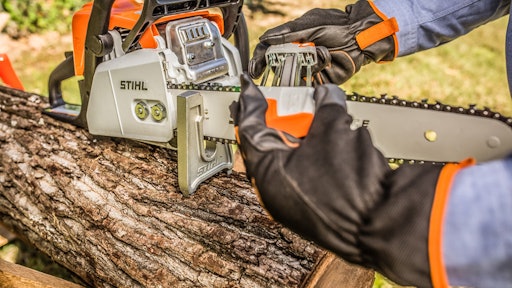 Stihl
Maintaining spring cleanup equipment helps ensure the busy season starts off on the right foot.
"Maintenance enhances the life of the product, and without it, you'll face expensive repair bills that can lead to inefficiencies on the job," says Noah Hunter, director of customer care, technical support and warranty at Husqvarna. "It's simple. Landscape companies can't work with broken equipment. Routine maintenance means small issues can be resolved before they become large and take equipment out of commission."
Manufacturers provide advice for how rental companies can make sure equipment is in tiptop shape for their landscape customers ahead of spring cleanup season.
Inspect equipment
Ahead of the spring season, it's important to take an equipment inventory.
"When you're pulling the equipment out of storage, go through things," says Jason Wilk, senior product manager at Echo. "Make sure air filters are clean and in nice shape. Make sure you don't have cobwebs or anything. I've seen mufflers get packed with insects over the storage time range, and that will prevent the unit from starting or accelerating."
Hunter agrees that maintenance of all products should start with a visual inspection by checking for things like clogged cylinder fins, broken components, cracks or leaks.
"Any products with cutting equipment require regular inspection of blades, bars, spur sprockets or chain," Hunter says. "Sharpen or replace any parts that are dull if needed. Additionally, routine maintenance should include checking the safety function of chain brakes."
Rental company owners should inspect the muffler screen arrestor and make sure it's not clogged, ensure that sparks don't fly from the muffler and see to it that product switches and functions are working, Hunter says.
Clean equipment
Once equipment has been inspected, rental companies should clean it before renting it out.
"An engine fails due to overheating, lack of lubrication or dirt ingestion," says Jeff Taylor, manager, product services, Stihl. "Dirt ingestion is due to an improperly maintained air filter, and overheating is due to not cleaning the unit regularly. As landscapers cut grass or are using a chainsaw, there's sawdust or debris that gets packed around the cylinder of the engine, and that debris doesn't allow the engine to cool properly."
Perform preventive maintenance
During the season and when equipment is not rented out, rental companies should perform regular service maintenance items such as changing air filters, fuel filters, spark plugs and adding grease to bevel gear head or hedge trimmer gear cases, if applicable, Hunter says.
"There are some small maintenance items that can be done on a weekly basis," says Glenn Lovell, senior technical services technician at Oregon Tool.
What's more, rental companies can use systems to keep track of that maintenance, whether that's through pen a paper, a whiteboard or software.
For trimmers, Taylor adds rental companies can also inspect and clean trimmer lines to save on downtime throughout the season.
Lubricate equipment
Wilk suggests making sure there's grease in the gear case, that drive cables are lubricated and that equipment is generally tuned up with fresh fuel and fresh filters.
Make sure screens aren't plugged up and that fuel lines are clean as well—they shouldn't be brittle or gummy, as this can cause fuel line failure, Lovell says.
"When it comes to lack of lubrication, make sure the fuel mix is quality and that gasoline is mixed regularly and not stored for more than 60 days," Taylor says. "On a two-cycle engine, lubrication is in the fuel mix, so it's important to get proper fuel flow."
It's important to not forget to inspect and lubricate a gear box located at the cutting attachment.
"That's an item that's often overlooked," Taylor says. "Remove the grease plug, inspect it and add grease if necessary in the gear box."
Battery maintenance
While battery-powered equipment requires less maintenance in general, it's important to make sure it's stored in a warm, dry place.
"If you're looking to maximize the life of the battery, care and storage is most important," Taylor says. "Keep them stored in an area that's dry and away from extreme temperatures. The 50- to 70-degree F range works well, but main thing is don't store it below freezing or getting above 100 degrees F."
Rental companies can clean the batteries and battery compartment with a dry cloth as moisture can add to corrosion issues.
Additionally, some battery products have an air filter, so it's important to clean those, first ensuring the battery is removed to avoid accidental startups. Then, rental companies should wash it, air dry it and reinstall it.