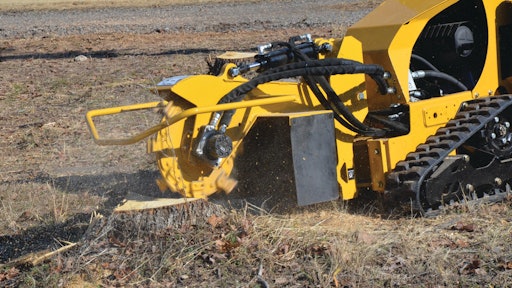 Vermeer Corp. introduced four new products at The Rental Show in Las Vegas: the SC30TX stump cutter, RTX250 trencher, S450TX mini skid steer and BC900 chipper.
According to Jon Kuyers, global product manager undergound at Vermeer Corp., the introductions are a result of the company's recommitment to the rental industry, which it kicked off a year and a half ago.
SC30TX Stump Cutter
The SC30TX features a dependable electronic fuel injection (EFI) gas engine that performs well during cold-weather starts, reducing occurrence of engine flooding over comparable carbureted gas engines. Two individually controlled tracks that provide a zero turning radius. Both features married together make the SC30TX the ideal stump cutter for rental business owners and their customers, Kuyers said.
Video: Watch the Vermeer SC30TX Stump Cutter Start to Remove a Stump
The 27-hp Kohler EFI gas engine produces torque needed for challenging ground conditions and stubborn tree stumps. Along with efficient maintenance and startability the engine provides cost effective fuel economy. Its horizontal shaft design allows for easier access and maintenance due to the elimination of drive belts. The optional AutoSweep system monitors engine speed and automatically adjusts cutter wheel sweep to reduce engine and structural stress.
Two individually controlled tracks enable a zero turning radius. Each track is operated by its own joystick for simplicity. This, along with its compact 35-in. wide footprint of and 7-in. tracks, contributes to easier maneuverability in tight spaces and reduced yard disruption.
The 16-in. cutter wheel on the SC30TX is positioned in the center of the unit for easy alignment with the stump. Vermeer-exclusive Yellow Jacket cutter system offers extended life of cutting teeth and easy maintenance. Each tooth provides two full wear cycles, while its universal design can fit any position on the cutter wheel. A chip containment curtain directs cuttings to a pile and away from the operator. 
RTX250 Trencher
The RTX250 is a rubber-tracked, steerable pedestrian trencher that is designed for the needs of rental businesses and utility contractors.
Video: Demo of Vermeer RTX250 On the Job
Powered by a 27-hp Kohler electronic fuel injected (EFI) gas engine that delivers more power over competitive models to dig 8-in. wide trenches to a 48-in. depth.
Vermeer has recently introduced the Kohler EFI gas engine platform into its utility product line. It has a number of benefits — as compared to conventional carbureted engines — such as lower fuel consumption, easier maintenance, improved starting due to the elimination of the choke and cleaner emissions. In the RTX250, the EFI engine provides potentially lower cost of operation over previous pedestrian trenchers and the power recovery needed to dig difficult trenches.
This trencher uses a two-handlebar VZ steering system that allows mobility and operation without the need for numerous joysticks or significant operator training. A dedicated platform means additional counterweights are not necessary in order for the unit to trench properly and maintain proper balance.
The dedicated rubber track system is designed to minimize ground pressure. The undercarriage is designed for excellent traction in tough soil conditions while keeping speed and stability constant. The unit is 35.5 in. wide — a small footprint for maneuvering in tight areas, such as residential yards and congested jobsites.
S450TX mini skid steer
The newest member of the Vermeer mini skid steer family is well suited for rental customers, as well as landscapers and general contractors who need a compact machine that can perform various tasks. With its ability to accommodate a wide range of attachments, the S450TX is a highly versatile machine for contractors.
A 500-lb. SAE-rated operating capacity with a 1,430-lb. tipping capacity gives the S450TX a lot of muscle for its size. Vermeer has incorporated a four-pump hydraulic system, which provides performance and efficiency when powering attachments. A single pilot-operated joystick is now integrated into the S450TX platform, which makes the machine easy to maneuver and operate in comparison to manual control systems. The operator can also experience a smooth range of operation without having to balance the engagement of two separate controls.
The S450TX offers the customer the ability to customize the machine with the choice of engine and track options. The Kubota 24.8-hp diesel engine and Kohler EFI 27-hp gas engine both provide excellent torque performance and are designed for those who use attachments requiring greater engine torque.
The S450TX is designed with a spring-cushioned platform that keeps operators out of the mud and debris. The platform features cushioning on the front and side for additional support when working in rough terrain. An operator presence system suspends ground drive and attachment motion if the operator steps off the machine. LED lighting for warning lights offers excellent visibility and longevity. With a rear panel and side shields for greater service access, S450TX operators are offered quicker maintenance.
BC900XL Chipper
Vermeer introduced its newest brush chipper, the BC900XL. With the ability to chip heavily branched material up to 9 in. in diameter, the Vermeer BC900XL is ideal for line clearing and general cleanup needs.
The BC900XL features a large 9- x 14-in. feed opening to help boost productivity by reducing the need to trim heavily branched material before feeding it into the chipper. A 33-in. diameter disc rotates at 1,400 rpm and features two steel chipper knives with two usable cutting edges each. Two shear bars also have two usable edges to help extend wear life.
Another feature — the patented SmartFeed system — monitors engine rpm and automatically stops and reverses the single horizontal feed roller when feeding larger, hardwood material, helping to enhance chipping productivity. A 40-hp Kohler Command CH1000 gas engine provides the power to pull and process difficult branch material. The engine also offers a no-spill oil-filter-change feature for ease of serviceability.
The Vermeer BC900XL is equipped with safety features such as a long feed table design, bottom feed stop bar and a four-position feed control bar. The bottom feed stop bar is strategically located to make it possible for the operator's leg to strike the bar and shut off the feed, either intentionally or automatically, in an emergency situation.