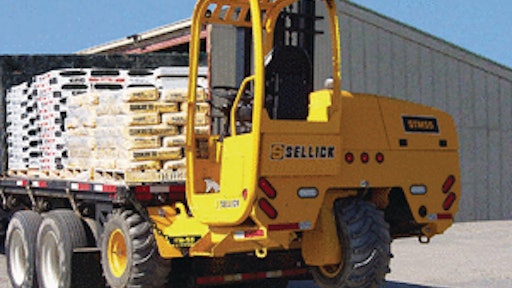 100A Winch-Hoist
The 100AB standard electric winch-hoist is designed for multiple-story construction worksites and long-lift applications, elevator construction and repair as well as moving rolling loads weighing up to 8,000 lbs.
1,000-lb. single-line or 2,000-lb. double-line lift
Worm gear reduction for positive load holding
Dynamic braking for instant stopping
Includes 115-volt brake motor, a low-voltage 10-ft. pendant control and high-capacity cable drum
Frictionless bearings
My-Te Products Inc.
16000 Wind Attachment
An attachment is available for use on any 440-ton rated standard Manitowoc 16000 crawler crane to boost its capacity to place the latest generation of wind turbines (1.5 MW and above).
Enhanced lift ability when working at short radii
No modifications required to the base crane
Enables a 44% capacity increase at 60 ft.
Does not require use of longer fixed or luffing jibs
Manitowoc Cranes
4064 Crane
The 4064 crane features a 40,000-ft.-lb. moment rating and a 6,400-lb. maximum capacity.
Hexagonal boom hydraulically extends from 10 to 22 ft.
360° continuous rotation
Planetary gear hoist winch with a 4,200-lb. single line, bare drum capacity and no-load line speed of 45 fpm at 6 gpm
Controlled via a remote wire pendant or FM radio remote control
Standard load sensor and anti two-block
Liftmoore Inc.
Compact Telescopic Handlers
JCB's compact telescopic handlers can be outfitted with a quick-attach for handling various attachments.
520-40 measures 61 in. wide and 78 in. high, yet has a 4,000-lb. rated operating capacity at its 13-ft. 2-in. full lift height
524-50 has a 5,000-lb. maximum lift capacity at its full 16-ft. 5-in. lift height
527-55 delivers a 6,000-lb. maximum lift capacity at 18 ft.
Loader breakout force from 8,157 to 8,993 lbs.
Single joystick raises and lowers boom and controls attachment rollback and dump
JCB Americas
Custom Power Winches
These industrial power winches feature modular designs that make customization quick and trouble-free.
Provide lifting and pulling power up to 100,000 lbs.
Rugged welded steel frame construction
Available modifications include non-standard drum sizes and configurations, limit switches, cable pressure bars, hydraulic and pneumatic motors and variable speed controls
Thern, Inc.
EPSILON Timber and Recycling Crane
The EPSILON timber and recycling crane is a hydraulic knuckleboom crane (loader) designed for high-cycle, heavy-duty applications.
Features a double slewing system and steel casting column, radio remote or stand-up controls, spotlights and linkage system between the crane column and main boom
Includes highlights of EPSOLUTION, EPSCOPE AND EPSLINK
Palfinger North America
G Series Rough-terrain Forklifts
The 14,337-lb. 586G Series 3 and 16,684-lb. 588G Series 3 rough-terrain forklifts feature Tier III-certified Case Family 4.5 liter turbocharged engines rated at 80 net hp.
6,000- and 8,000-lb. lift capacities with a lift speed of 105 fpm
Load control available for smooth operation and minimal chain stress
Feature easy-to-operate controls, a choice of seats and operator compartment entry from either side
Compact, low-profile design enhances stability
CASE CONSTRUCTION EQUIPMENT
G10-43A Telehandler
The G10-43A model telehandler is suited for use in commercial and residential construction applications including steel erection and framing.
Includes standard outriggers, a maximum capacity of 10,000 lbs. and a capacity of 7,000 lbs. at the maximum reach height of 43 ft.
Spacious, enhanced-visibility cab and comfortable operator environment
Feature pilot-operated joystick controls, a wrap-around dashboard and easy-to-read gauges
Full range of common JLG family attachments
JLG Industries, Inc.
Genie Dual-capacity Telescopic Booms
The Genie S-60X, S-60XC, S-60 Trax and S-80X feature restricted platform capacities up to 1,250 lbs. and maximum outreach up to 71.5 ft.
500-lb. unrestricted operating envelope
Outreach automatically restricted by selecting the appropriate platform capacity
Ramped boom control system provides smooth boom functions due to angle sensors and limit switches
Fixed-width axles provide faster set-up time, while active oscillating axles provide greater traction
Terex Aerial Work Platforms
IAWP-15 Aerial Work Platform
The IAWP-15 aerial work platform has the ability to drive over a 35% grade and can negotiate tight areas with its zero degree inside turning radius.
Unique design and dual extension decks for unrestricted platform capacity of 617 lbs.
Platform height of 15 ft.
Four six-volt marine-grade deep-cycle batteries produce 180 amp hours each, generating enough power for over 400 lift cycles or driving in excess of 5.5 miles
Rated a two-man unit but can be easily and safely operated by one operator
Simple controls and a large LCD screen featuring system diagnostics and status
Absolute E-Z Up
IMT Articulating Cranes
This articulating crane product line offers lift capacities ranging from a 1,740- to 35,405-lb. maximum rating at a radius of 14 ft. 5 in.
Eight mid-range cranes with SL (single link) or DL (dual link) configurations

"Over-bending" feature means the working area between the main boom and jib is no less than 195°

Rated Capacity Limiter (RCL)

Internal hose routing system
Iowa Mold Tooling Co., Inc.
Lift Jockey LJS2000
The Lift Jockey LJS2000 counter-balance fork truck has a load capacity of 1,000 lbs. and is designed to fit through standard doorways.
Can pick up any width pallet using either pallet or block forks
Three interchangeable heavy-duty masts lift loads to heights of 7 ft. 6 in., 8 ft. 6 in. or 9 ft. 6 in.
Tilt system tilts mast several degrees forward and back to facilitate easy pickup and discharge of loads
Lockable, fold-up operator platform
Electric-start 8-hp Honda engine
Stone Construction Equip. Inc.
Lift-Safe Winches
Lift-Safe hydraulic winches are engineered for enhanced safety with redundant braking systems.
Utilize hydraulic fail-safe brakes and counter-balance valves to provide both static and dynamic braking
Provide optimum load control in lifting applications
Designed for increased operational flexibility
Available in a variety of configurations
Bloom Manufacturing Inc.
Model M30 Winch/Hoist
The Model M30 equal speed winch/hoist has a 25,000-lb. pulling capacity.
Optional hydraulic motors
Stainless steel drum seal surfaces
Internal spring-applied, hydraulically released brake
Unidirectional sprag clutch will not permit load to be lowered unless brake is hydraulically released
Planetary gear train with anti-friction bearings used throughout winch assembly
Pullmaster Winch Corporation
MT Series Telehandlers
The MT Series offers a welded box-section design, four-wheel drive, three steering modes, frame leveling and quick-attach mounting system.
MT 6034 has a 34-ft. 3-in. lift height and a rated operating capacity of 6,000 lbs.
MT 6642 has a 42-ft. lift height and a 6,600-lb. rated capacity
MT 8044 lifts 7,000 lb. to the full lift height of 44 ft. and 8,000 lbs. to 37 ft.
99- or 115-hp John Deere diesel engine and three-speed powershift transmission
Manitou North America Inc.
RS10-55 and RS12-42
The RS10-55 has a 10,000-lb. rated lift capacity and a 55-ft. maximum lift height, while the RS12-42 has a 12,000-lb. rated lift capacity and a 42-ft. maximum lift height.
Feature a 115-hp turbocharged diesel engine, four-speed powershift transmission, three steering modes and quick-attach work tool mounting system
Welded box-section boom design for added strength
Rear axle stabilizer system
Spacious operator's environment with pilot-assisted controls
Optional Personnel Work Platform (PWP) Safety System
Gehl Company
Sellick STM55LP Low Profile Truck Mounted Forklift
The STM55LP 5,500-lb. low-profile truck-mounted forklift shares many of the design features of the Sellick four-wheel machines, including optimal visibility and a roomy operator's platform.
Easy to operate
Quick and nimble to help increase loading times
Three-wheel drive
Sellick Equipment Ltd
SJ 46AJ Articulating Boom Lift
The 46-ft. SJ 46AJ engine-powered articulating boom lift will be available in two configurations featuring a jib (46AJ) or no jib (46A).
Standard 360° continuous turret rotation
Zero tailswing
Axle-based 4WD system
Optimal positive traction and terrainability
Direction-sensing drive and steer controls
Skyjack
SR & ISR Series Crawler Boom Lifts
The SR and ISR Series Crawler Boom Lifts feature platform heights of 40, 46, 60 and 70 ft. with or without an articulating jib.
55% gradeability
Standard compact three-stage boom with harsh environment package
Selectable drive system with high-speed, high-torque and low-speed modes
Articulating jib boom models provide nearly 6 ft. of additional horizontal and vertical reach with a 130° working range
Aichi - Toyota Material Handling, U.S.A. Inc.
UniLift Trailer-mounted Boom Lift
UniLift trailer-mounted boom lifts feature working heights up to 36 ft., battery power, 360° effective coverage and quick conversion for use as a universal crane.
Power jack setup option allows for quick and easy outrigger setup
Unit weights of less than 3,000 lbs. enable towing behind a pickup truck
Can be easily maneuvered in and out of tight work spaces - even on turf
Built-in charger with automatic shutoff
LDC Industries, Inc.