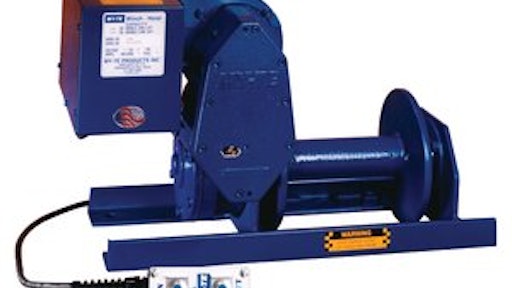 100A Winch-Hoist
The 100A standard series electric winch hoist is suitable for pulling jobs with loads up to 8,000 lbs.
1,000-lb. single or 2,000-lb. double line lift
Worm gear reduction for positive load holding
Dynamic braking for instant stopping
115-volt AC power
Low-voltage 10-ft. pendant control
Cable drum holds 250 ft. of 1/4-in. cable
Full power reversible
My-Te Products Inc.
2032E Electric Scissor Lift
The 32-in.-wide Compact 2032E and 42-in.-wide Compact 2247E electric scissor lifts are designed for various uses in the industrial environment.
Platform features an anti-tilting device and 30-second elevating time
Slope rating of up to 25%
2.5-mph forward speed
6-ft. 6-in. height when stowed
5-in. ground clearance
Compact 2747E and Compact 3347E also available with working
heights of 33 and 39 ft.
Haulotte US Inc.
A65TD Atrium Spider Lift
The A65TD incorporates features that enable it to access difficult areas in hotels, casinos, stadiums and other unique building architecture.
71-ft. working height and 33-ft. side reach
Fits through a single 35-in.-wide door and is capable of climbing stairways
Non-marking track drive with only 8-psi contact pressure
Battery powered with high-output battery charger for "Charge while Operating" extended operation
Optional generator provides continuous operation and 110V to the platform
Display panel at platform and ground
Man & Material Lift Engineer.
AB46 Articulated Boom Lift
The updated AB46 articulated, self-propelled boom is offered as an electric two-wheel-drive or diesel-powered four-wheel-drive version.
52-ft. 9-in. working height and 24-ft. 7-in. outreach, with a 5-ft. 140° jib
Multi-functioning boom operation via two separate pumps
1-ft. 11-in. inside turning radius
Improvements include a stronger jib weldment, traditional pinion and swing bearing, Helac rotary platform actuator, fully proportional controls and electric emergency lowering unit
Snorkel
Crayler Forklifts
Crayler forklifts offer the speed, power, lift capacity and maneuverability to quickly deliver materials over rugged terrain and through crowded work sites and tight spaces.
4,500- to 6,500-lb. lifting capacities
Short truck-mount overhang
Light weight and close center of gravity
Center seat positioning provides improved view for judging load centers
Steering system allows a 180° wheel turn
Three-pump hydraulic drive system allows wheels, mast and steering to operate independently
Palfinger North America
ES Series
The improved ES Series scissor lifts feature a hydraulic system design that combines the hydraulic pump, reservoir and motor with the lift cylinder into a single assembly to reduce or eliminate hydraulic leaks.
Electric drive motors provide longer duty cycles and higher capacities
Shortened function-ready delay time for faster startup
Redesigned U-shaped channel on each side of deck extension allows easier operation
Cast steel wheels provide more resistance to abuse
Onboard display delivers instant feedback on machine status and a visual indication of battery condition
JLG Industries, Inc.
HS 895 HD Crawler Crane
The HS 895 HD crawler crane can work as a true 220-ton lift crane, a 60,000-lb.-class clamshell machine or a 40,000-lb.-class dragline.
Fuel-efficient 900-hp Liebherr V-12 turbocharged diesel engine
Simple joystick operation
Can assemble and disassemble itself and load onto trucks without crane assist in less than four hours
Three swing motors for powerful, more precise swing control
Optional Dragline Interlock and Redundant control systems
Liebherr-America, Inc.
Leo Series Portable Hoists
The Leo and the Leo XXL electric utility portable hoists are equipped with variable frequency drive controllers that offer a number of speed settings to make lifting of delicate materials easier and safer.
Push button pendant and upper limit switch assembly for easy up and down movement that instantly stops when upper limit switch is activated
Sturdy electrical controller with overload sensing device
Available for use in conjunction with the I-beam mounting option
Heavy-duty Leo XXL can accommodate a maximum payload of 2,000 lbs. and can travel up to 200 ft.
Beta Max Inc.
Lift-Safe Winches
Lift-Safe hydraulic winches are engineered for enhanced safety with redundant braking systems.
Utilize hydraulic fail-safe brakes and counter-balance valves to provide both static and dynamic braking
Provide optimum load control in lifting applications
Designed for increased operational flexibility
Available in a variety of configurations
Bloom Manufacturing Inc.
Mobile Ergonomic Handlers
The Mobil Ergonomic Handlers are designed to pick, place and install heavy glass, curtain walls, granite and sheet rock to 4,000 lbs.
Manipulator system provides up to 16 directions of powered movement to enable seamless handling and precision installation procedures
Many lifting and gripping systems available including vacuum frame adjustable to fit all glass units regardless of frame patterns and depths
Most models fit into commercial passenger elevators and through standard doors to permit indoor multi-story operation



Arlington Equipment manufactures a complete line of patented Mobile Ergonomic Handlers with the muscle to handle and install heavy glass to 2,000 lbs. Contractors and fabricators are using these machines for installation projects and in shop handling. Most models fit into passenger elevators and through man doors. The manipulator operates in 16 directions of powered motions and provides robot-like micromotion precision. The vacuum lift frame is adjustable to fit any window and frame configuration. MEHs install heavy glass and curtain walls from the inside of multi-story buildings. They do not require special permits, work year round regardless of weather and substantially reduce labor costs. Power options: Some models include battery electric, gasoline, propane or diesel.
Arlington Equipment
Model M30 Winch/Hoist
The Model M30 equal speed winch/hoist has a 25,000-lb. pulling capacity.
Optional hydraulic motors
Stainless steel drum seal surfaces
Internal spring-applied, hydraulically released brake
Unidirectional sprag clutch will not permit load to be lowered unless brake is hydraulically released
Planetary gear train with anti-friction bearings used throughout winch assembly
Pullmaster Winch Corporation
PiggyBack PB80 Forklift
The PiggyBack PB80 truck-mounted forklift delivers up to 4 tons at a time precisely where theyre needed on site.
Suitable for prefabricated lumber, beams, precast concrete, brick and stone siding and roofing
Standard all-wheel drive, heavy-duty mast, flotation tires, stabilizers and 62-hp Caterpillar turbo diesel engine
Optional 7- to 12-ft. masts, longer forks, hydraulic fork positioner and load support arms
Princeton Delivery Systems Inc.
Rig-Release Remote Releasing Hook
The Rig-Release remote releasing hook enables the operator to set loads at any height, then release the rigging from a safe distance.
Can be used with a basket or choker hitch
Capacities from 1 to 15 tons
Options include upward pull, protective coating and low profile-direct connect
Manual and radio release models available
All units conform to ASME standards
Construction Lifters
RT540E Crane
The 40-ton RT540E rough-terrain crane features dual-axis, electronic joysticks and a sleeker, more modern cab with an automotive-style control panel.
102-ft. four-section, full-power main boom available with offsettable telescopic swingaway jib for a tip height of 154 ft.
160-hp Cummins QSB 6.7L Tier III engine
Load-sensing hydraulic system uses piston pumps for crane functions
4.7-ton counterweight pinned to the superstructure
Includes a load moment indicator and anti-two block system
Grove Worldwide
RTC-80130 Series II
The RTC-80130 Series II 130-ton rough-terrain crane features a five-section, 162-ft. formed boom and a 10-ft. heavy-lift fly with over 20 tons of capacity
171-ft. maximum boom tip height
Optional 31- to 55-ft. bi-fold lattice fly and three 18-ft. lattice extensions deliver a maximum tip height of 278 ft.
21,022-lb. maximum line pull with 431-fpm maximum line speed
Microguard Rated Capacity Limiter
Hydrostatic drive with variable speed piston pumps supplying hydraulic power to all six wheel drive motors for optimal creep control
Four independent steering modes for added maneuverability
Link-Belt Construction Equip.
Scalable Mobile Controller
The Scalable Mobile Controller is designed to control and monitor machine function, as well as offer the option of load moment indication.
Can be installed on virtually any machine
Scalable approach enables use for applications from monitoring standard control functions to complicated custom control solutions
Optional graphic operator consoles
Hirschmann Automation and Control, Inc.
SJ 61T/SJ 66T Boom Lifts
The SJ 61T/SJ 66T boom lifts offer greater terrainability utilizing the axle-based four-wheel-drive system, which features a "Detroit Locker" type rear differential and limited-slip front differential.
Intuitive direction sensing drive and steer control system and 45

° steering angle deliver a very tight turning radius

65-hp Deutz diesel engine

Features include 50% gradeability, an oscillating axle, 360

° turret rotation and

proportional controls

Optional 3.5-kW generator and welder-ready package
Skyjack
SL6000 Crawler Crane
The SL6000 crawler crane is powered by a 429-hp Hino E13C-UV Tier III-compliant diesel engine, and incorporates six variable-displacement hydraulic pumps.
Standard version offers a 276-ft. standard main boom, 354-ft. long boom and a luffer option of 197-ft. main boom plus 236-ft. luffing jib
Heavy lift version with additional mast offers a 276-ft. standard main boom, 354-ft. long boom and a luffer option of 217-ft. main boom plus 236-ft. luffing jib
Super heavy lift version with HL mast and 551,400 lbs. of additional palette counterweight offers a 276-ft. standard boom, 413-ft. long boom and luffer option with a 276-ft. main boom plus 276-ft. luffing jib
Kobelco Construction Machinery - CNH
TL37 and TL49K
The UpRight TL37 and TL49K trailers are articulated boom lifts featuring 43- and 55-ft. working heights.
Lightweight TL37 features a stable, in-line boom and hydraulic outriggers, jib and powered cage rotation as standard
TL49K offers a robust, heavy-duty boom and a variety of power options, including bi-energy
Designed for simple repair and maintenance
UpRight USA
UniLift Boom Lifts
The UniLift battery-powered, trailer-mounted boom lifts feature working heights up to 42 ft. with 360° effective coverage.
Telescopic and articulated models available
Enable quick conversion for use as a universal crane
Power jack setup option allows for quick, easy outrigger setup
Built-in charger with automatic shut-off
Unit weights less than 3,000 lbs. enable towing behind a pickup truck and easy maneuvering in and out of tight areas
LDC Industries, Inc.
Z-40/23N Articulating Boom
The 15,230-lb. Z-40/23N offers a 4-ft. 11-in.-wide profile and a 2-ft. 11-in. turning radius, allowing it to easily fit through standard-sized double doors and maneuver through tight passageways and congested work areas.
21-ft. 3-in. up-and-over maximum clearance, 46-ft. 5-in. maximum working height and 22-ft. 8-in. maximum horizontal reach
Variable-speed technology quickly repositions loads up to a 500-lb. lift capacity within the booms entire range of motion
True multi-function control system allows operation of several functions simultaneously
AC drive system combines DC batteries with three-phase AC drive motors for quiet, energy-efficient operation and continuous control of drive speed
Genie Industries
Companies in this article