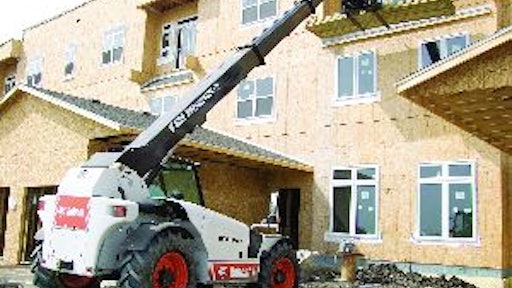 Bobcat V638 VersaHandler TTC
18,275-lb. V638 VersaHandler telescopic tool carrier features a three-stage boom with a maximum lift height of 38 ft. 11 in.
6,700-lb. maximum load capacity
26-ft. 11-in. maximum forward reach
Side-mounted engine
Hydrostatic transmission with inching pedal and dynamic braking system
Rigid unitized frame
Optional field-installed stabilizer kit
Mustang Radio Remote Control for Telehandlers
Virtually eliminates the need for a helping hand on telehandler applications
Allows telehandler boom to be raised and lowered, extended and retracted, all from remote control pendant
Operators can also start up or shut down machine from remote
Available on Mustang telehandler models 742, 944 and 1155
Lull Model 1044 C Series II
80 in. of horizontal boom travel for accurate load placement.
10,000-lb. maximum lift capacity with a 54-ft. maximum lift height
115-hp John Deere diesel engine
Modulated powershift transmission with four-speed forward and three-speed reverse
SkyTrak Model 8042
6,000-lb. capacity at its 41-ft. 11-in. maximum lift height
1,800-lb. capacity at 26-ft. 7-in. maximum reach
Auxiliary hydraulics for attachment use
Stabil-TRAK rear axle stability system
+/- 10 degree frame leveling
Four-wheel drive and steer
Gradall Model 544D10-55
10,000-lb. maximum lift capacity and a 5,000-lb. capacity at its 55-ft. maximum lift height
90 degree rear-pivot steering
Forks and load are kept inside tight turning radius at all times, creating excellent maneuverability
JLG Personnel Work Platform
For use with most JLG, Gradall, Lulland SkyTrak telehandlers
32-sq. ft. platform with a 1,000-lb. capacity
Rapid installation with secure locking
Swing entry gate with sturdy steel mesh flooring
Eight lanyard attachment points
Compliant with the requirements of ANSI/ITSDF B56.6-2005
Terex GTH-844
Smooth joystick controls
Handles various attachments
8,000-lb. maximum lift capacity
Maximum lift height of 44 ft.
27-ft. maximum reach
99-hp John Deere diesel engine
Manitou MT 6642
6,600-lb. lift capacity
42-ft. lift height
28-ft. 3-in. maximum forward reach
99- or 115-hp John Deere engine
Three-speed power shift transmission
Four-wheel drive
Frame leveling
Haulotte Top Lift
Six models with up to 4-ton lifting capacities and lift heights to 55 ft. 9 in.
Quick couplers for various attachments
Ergonomically designed, ROPS/FOPS cabs offer continuous 360 degree visibility via more glass and a higher cabin height
Features include a driver safety system, ergonomic seat with armrests and complete dashboard
MTA Distributors Contractor Lift from Sumner
18-ft. lifting height
650-lb. capacity
Rolls through standard doorway and tailgates
Reversible forks
Lockable 5-in. polyurethane casters
Gehl RS5-19
11-ft. turning radius
Boom reach of 19 ft. 1 in.
5,000-lb. lift capacity
360 degree view from standard ROPS/FOPS canopy
Two direct mechanical joystick controls for boom and fork tilt
64-hp turbocharged, water-cooled Deutz diesel engine
New Holland M Series
Operating weights from 21,781 lbs. to 25,353 lbs. and lift capacities from 3,500 to 5,000 lbs.
Maximum lift heights from 42 to 45 ft. with 29- to 31-ft. maximum forward reach
Low-profile, low-boom design
Turning radii of 153 in.
Three steering modes
95- (M427) and 120-gross-hp (M428 and M459) IVECO engines
MEC TH60/TH80
The TH60 and TH80 offer 6,000- and 8,000-lb. lift capacities with lift heights to 41.5 ft.
Three-stage, four-plate, robotically welded boom
Adapter plate allows use of skid-steer attachments
Load-sensing, fully powered orbitol steering with three steer modes
100-hp Deutz diesel engine
Ingersoll Rand VR-530C
100-hp Perkins turbocharged engine
Hydrostatic transmission
Low and high all-wheel drive modes
Travel speeds from zero to 15.4 mph
Steering modes include two-wheel, four-wheel and crab
30-ft. maximum lift height
21-ft. maximum forward reach
Genie Superlift Contractor
Can be operated by one person
Lifts, lowers and moves loads with the aid of six interchangeable accessories: standard forks, adjustable forks, boom, load platform, pipe cradle and fork extensions
SLC-12 can lift 650 lbs. up to 12 ft. 11 in.; SLC-18 lifts 650 lbs. to 18 ft. 6 in.; SLC-24 can handle up to 650 lbs. to 24 ft.
Companies in this article