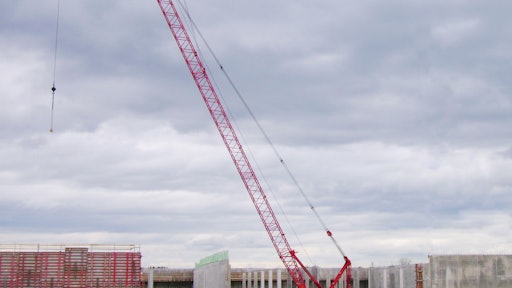 Toronto, Canada-based MJR Contractors purchased a Manitowoc 12000-1 crawler crane to join the other machines working at Tullamore Pumping Station and Reservoir in Caledon, Ontario. "The job at Tullamore is fairly large and we needed a crane that could crawl between the pumping station and reservoir to make big lifts," says Romeo Duarte, vice president of MJR.
The 110t capacity 12000-1 features heavy lifting power, but in a smaller, easier to set up configuration. The crane can be rigged with up to 70.1 m of main boom, while its jib extension can be rigged up to 82.2 m. At the Tullamore jobsite, the crane is configured with 48.8 m of main boom and 18.3 m of jib.
The 12000-1 will complement the work being performed at the Tullamore jobsite by a Manitowoc 8500 crawler. Cranes are being used to set forms and pour concrete, place large pipes in the ground and assemble concrete forms, among other duties. MJR also plans to rent the cranes to a structural steel contractor that will be working at the reservoir and pumping station.
On site to assist with erecting the new crane is a National Crane NBT55 boom truck. The NBT55 will also help load and unload trucks at the jobsite.
The NBT55 is suited for jobsites where maneuverability is a priority. It is available in 49.9t and 45.4t capacities, and comes with either a 31.1 m or 39.0 m four-section, full-power boom. It boasts fully integrated machine controls and a LMI.
The $42.63 million Tullamore Pumping Station and Reservoir project began in the fall of 2011 and is expected to finish December 2012.